Lou Gehrig's Final Resting Place
Introduction
Kensico Cemetery was established in 1889 at a time when many of the cemeteries in New York City were unable to accept additional internments. Kensico is the final resting place of numerous actors, actresses, notable business people, and athletes. including Yankees legend, Lou Gehrig. Lou Gehrig played for the New York Yankees from 1925 to 1939 which includes a record-setting streak of appearing in 2,130 consecutive games. The streak ended only with his retirement due to ALS in 1939.
Images
A photo of Lou Gehrig's grave site.
A photo of Lou Gehrig in his Yankee's uniform.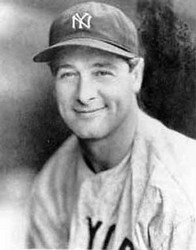 A photo of Lou Gehrig with fellow Yankee Babe Ruth.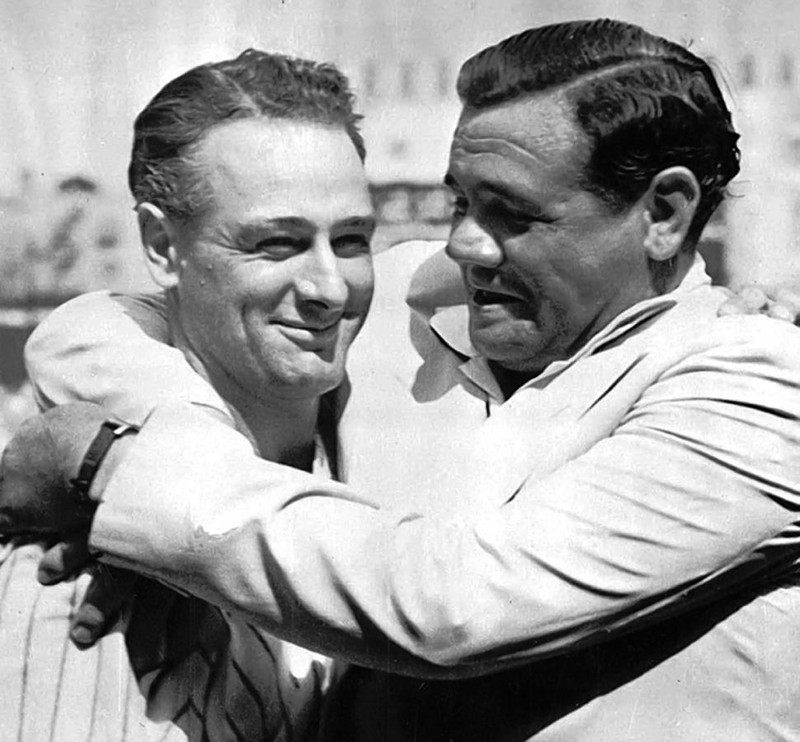 Backstory and Context
Historical Kensico Cemetery in upstate New York is the final resting place of legendary baseball player Lou Gehrig. While visiting Kensico one can find Lou Gehrig's gravestone at plot section number 93 and lot number 12686. Both Gehrig and his wife Eleanor's ashes are located inside the headstone.1 
Henry Louis Gehrig was born in New York City on June 19, 1903, to German immigrants Heinrich and Christina Gehrig. Although he had a rather poor upbringing Lou Gehrig's mother insisted he receive a good education. At the age of 18, Gehrig attended Columbia University on a football scholarship pursuing a degree in engineering. As if fate had different ideas for him, New York Giants manager John McGraw insisted Gehrig should play baseball during the summer. Despite the fact that it was against collegiate rules to play baseball while playing football, Gehrig played baseball anyway.2
Though Gehrig did get in a bit of trouble due to his baseball playing, eventually he was called up to the majors in September of 1923. He became a full-time New York Yankees player in 1925. Also known as the "Iron Horse", Gehrig went on to play 2,130 games straight for the Yankees despite numerous broken bones and back problems. While playing alongside Babe Ruth might have been a challenge for the spotlight, these two baseball legends were an unstoppable force on the Yankees baseball team.2 
In 1938 after playing as a Yankee for 13 seasons, Lou Gehrig was diagnosed with a very rare form of a degenerative disease known as amyotrophic lateral sclerosis. ALS is now more commonly known as Lou Gehrig's disease. Gehrig's last game with the Yankee's was played in April of 1939. In his famous farewell speech held at Yankee stadium Gehrig considered himself "the luckiest man on the face of the earth". In 1939, two years before he died, Gehrig was elected into the Baseball Hall of Fame. When Lou Gehrig died at the age of 37 on June 2, 1941, President Franklin D. Roosevelt and over 1,500 people sent flowers and cards of condolences to Gehrig's wife Eleanor. 2
During his baseball career, Lou Gehrig won a total of six World Series Championships and holds many records. These records include 23 career grand slam home runs, and the American League record for most career home runs by a first baseman with 493.2
Sources
Lou Gehrig, Kensico Cemetery, Find A Grave website http://www.findagrave.com/cgi-bin/fg.cgi?page=gr&GRid=385 accessed 2/2/21
Biography of Lou Gehrig, Lou Gehrig Society Website, CMG Worldwide . Accessed June 2nd, 2021. https://www.lougehrig.com/biography/.
Additional Information