Steve Jobs' Garage
Introduction
During the early 1970s, this suburban home was owned by Paul and Clara Jobs, the foster parents of future Apple Computers executive Steve Jobs. The garage and bedroom served as the place where Steve Jobs, Steve Wozniak, and Ronald Wayne experimented with computer boards and discussed the potential of the computer as for personal use. In this home, the three young men created the Apple I computer and also incorporated the Apple Computer company. The house was designated as a historic site in 2016.
Images
Steve Jobs' Garage (CI Corps)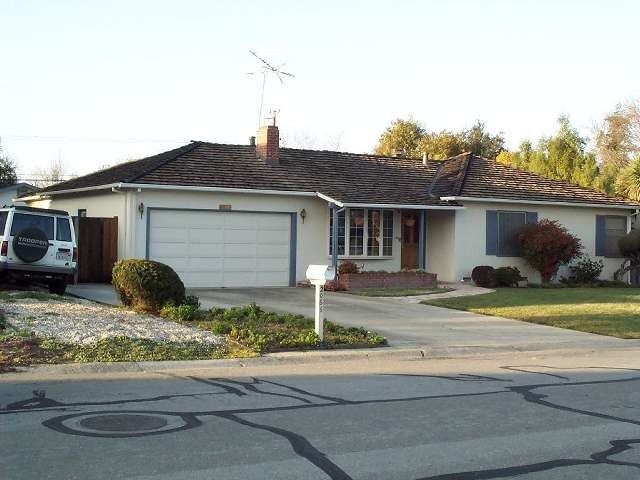 Backstory and Context
As a seventh-grader, Steve Jobs moved in with his foster parents (Paul and Clara), who lived in this 1950s ranch-style house. Jobs first learned how to tinker with things from his foster father. However, it was Jobs' 1971 meeting with his neighbor Steve Wozniak, a lover of electronics and employee of Hewlett-Packard (HP) that placed Jobs on the path to immense success. The two young men met in 1971. Jobs, still in high school at the time, took a summer job at Hewlett Packard.

After high school, Jobs attended Reed College but soon dropped out of school and took a job at Atari. While at Atari, Jobs worked as a night-shift technician throughout the mid-1970s similar to his friend Wozniak who had left HP for Atari in 1973. Meanwhile, Wozniak continued to take an interest in building computers and the two young men continued their interest in the potential applications of computer technology.

On April Fools Day in 1976, Jobs, Wozniak, and fellow Atari worker Ronald Wayne officially formed Apple Computers. By this time, Wozniak had designed the first computer the company produced at this home with the help of Jobs. In the attached garage and Jobs' bedroom, Jobs and Steve Wozniak assembled the first 50 Apple 1 computers based on Wozniak's design. They sold the new computers to Paul Terrell's Byte Shop in Mountain View for $500 each (adjusted for inflation, this is a cost of about $2,100 in 2018).

Nine months later, the Apple Computer Company has secured enough capital to move operations to nearby Cupertino. By that point, Wayne had sold his interests in the company for a mere $800 to both Jobs and Wozniak. The start-up company grew to become one of the most influential computer and electronic companies of the late 20th and early 21st century. Apple's headquarters became known as the Apple campus, consisting of six different buildings that served the company through 2017. The company has now moved into the new "Apple Park," a circular building that, as noted by many observers seems to resemble that of a spaceship.

Sources
Colt, Sam. "A Young Steve Jobs Smelled So Bad He Had To Be Put On The Night Shift At Atari." Business Insider. August 22, 2014. http://www.businessinsider.com/steve-jobs-on-the-night-shift-at-atari-2014-8.

Deffree, Suzanne. "Apple Computer is formed, April 1, 1976." EDN Network. April 01, 2017. https://www.edn.com/electronics-blogs/edn-moments/4410979/Apple-Computer-is-formed--April-1--1976.

Griggs, Brandon. "Steve Jobs' boyhood home becomes historic site." CNN.com. January 04, 2016. https://www.cnn.com/2013/10/30/tech/innovation/steve-jobs-historic-home/index.html.

Lee, Dave. "Apple at 40: The forgotten founder who gave it all away." BBC News. April 01, 2016. http://www.bbc.com/news/technology-35940300.

Spicer, Dag. "Steve Jobs: From Garage to World's Most Valuable Company." Computer History Museum. December 02, 2011. Accessed June 07, 2017. http://www.computerhistory.org/atchm/steve-jobs/.

"Steve Jobs' Garage." CI Corporation. Accessed June 07, 2017. http://cicorp.com/Apple/garage/.








Additional Information