John B. Castleman Monument
Introduction
Louisville's bronze statue of Confederate officer John Breckinridge Castleman astride his mare was erected in 1913, funded in part by the subject himself. Widely credited as the "father" of Louisville's parks, a deeper look into history shows that, though he played a role in the park system's creation, it was far from single-handed; in addition, he was the driving force behind the segregation of the city's parks. Following violent demonstrations by white supremacists in Charlottesville, Virginia over the weekend of August 11-13, 2017, the Castleman Monument plaque was covered in red paint, and the words Never Again were painted across the statue. Led by Standing Up for Racial Justice (SURJ), several protests have been held throughout the week, demanding the removal of the Castleman Monument. Louisville Mayor Greg Fischer has stated his intent to review all of the city's public art in terms of its relation to white supremacy, slavery, the Confederacy, and the Jim Crow era.
Images
Castleman atop his horse Caroline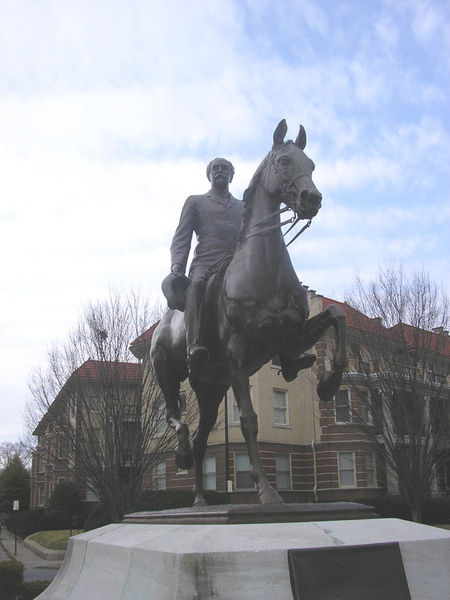 Castleman Monument graffiti, August 2017 (image from WDRB News)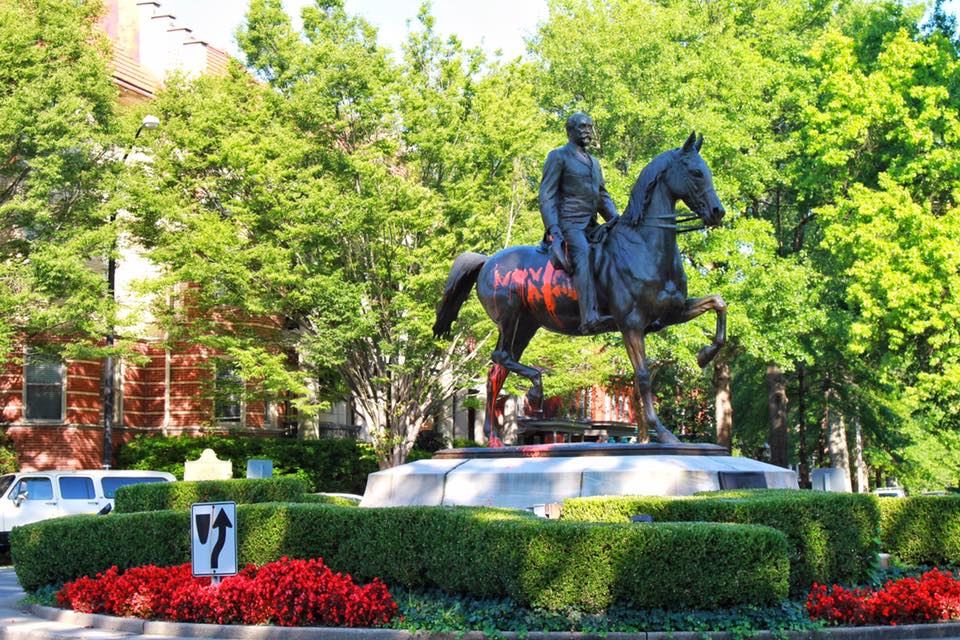 Parks for the People! Profit, Power, and Frederick Law Olmsted in Louisville by Eric Burnette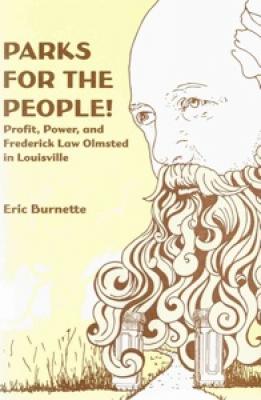 Backstory and Context
Context and History
Nationwide, there are over 700 Confederate monuments and statues on public property such as courthouses and other official buildings, as well as parks. Though some were erected immediately following the American Civil War, there was a sharp increase in public art dedicated to the Confederacy around 1900-1920, particularly in the South. During this time, states were enacting oppressive, segregationist Jim Crow laws while the Ku Klux Klan (formed immediately after the Civil War) revived dramatically. The 1950s and 1960s Civil Rights Movement led to backlash from segregationists and white supremacists, and the dedication of new Confederate statues and monuments rose even more steeply. The Castleman Monument in Louisville, Kentucky was erected during the first of these two surges, in 1913. A founder of the American Saddlebred Horse Association, Castleman is depicted in riding clothes, mounted on his mare, Carolina. Generally credited as the father of Louisville's park system, Castleman has sparked much debate in Louisville as citizens disagreed over whether the monument represented his part in the Confederacy or his role in creating a beloved city facility.
John B. Castleman (1841-1918), born in Lexington, Kentucky on a slave-owning farm, recruited forty-one men in 1862 to join John Hunt Morgan's Confederates in Tennessee. Castleman became captain of the Kentucky Calvary Confederate Company D, riding with Morgan on raids through Kentucky until 1864, when he failed in an attempt to free Confederate prisoners in Chicago in what is known as the Northwest Conspiracy. Subsequently, he attempted to burn Union supply boats at St. Louis, and fled to Indiana, where he was caught. Thanks to his brother-in-law, a St. Louis judge who intervened on Castleman's behalf, his death sentence for spying and treason was reduced to banishment from the United States by President Abraham Lincoln. After Lincoln's assassination, President Andrew Johnson allowed Castleman (who was studying medicine in Paris) to return to the United States in 1866. Castleman studied law at the University of Louisville, then formed an insurance company with his father-in-law. In 1878 he returned to the Kentucky militia, allowing him, in 1898, to join the United States Army as a colonel in the Spanish-American War. After serving as governor of Puerto Rico, Castleman returned to Louisville and was appointed Kentucky adjutant general following the assassination of Governor William Goebel in 1900.
The Louisville Park System, including Cherokee, Shawnee, Iroquois, and Central Parks, is usually credited to John B. Castleman. However, the proposal for the parks system came from a Union Army veteran, Andrew Cowan, who lobbied for a Park Commission, invited landscape architect Frederick Law Olmsted to design Louisville's system, and gained the land for Cherokee Park for the city. Cowan, a native of Scotland who had moved from New York to Louisville after the Civil War, received little credit for his work on the Parks Commission; local politics were dominated by ex-Confederates at the time. Castleman, who became president of the Parks Commission, opposed the choice to hire Olmsted and the location of Cherokee Park, according to Louisville historian Eric Burnette. Castleman wanted Cherokee Park built on his own property in order to profit from the sale of the land to the Commission; when the much larger plot which is now Cherokee Park was selected instead, Castleman still got his profit when the Commission developed Tyler Park on his land, particularly by selling real estate bordering the new park. Observing African-Americans on the tennis courts of Cherokee Park, Castleman promptly segregated the courts, then worked to segregate Louisville's entire park system. The Black citizens of Louisville were barred from entry, with the city offering them Chickasaw Park in 1922 as a "consolation prize," until desegregation by U.S. Supreme Court ruling in 1954. Andrew Cowan, whose work and choices shaped the parks, had believed they should be, "free to all people, irrespective of condition or place," in society (1).
In 1913, Castleman and a group of his friends funded the monument in his honor, which stands near, and facing, Cherokee Park. Castleman died five years later. Today, the nature of his legacy stands in question as the city of Louisville, and the nation, attempts to address the symbols of white power and inequality represented by twentieth-century monuments to Confederates and segregationists.

Sources
1. Burnette, Eric. "Thank Andrew Cowan for Louisville parks, not Castleman." The Courier-Journal. May 26, 2017. Accessed August 20, 2017. http://www.courier-journal.com/story/opinion/contributors/2017/05/26/give-andrew-cowan-statue-thank-....
2. McAlister, Shay. "The story behind the statue drawing controversy in Louisville." WHAS 11 News. August 15, 2017. Accessed August 20, 2017. http://www.whas11.com/news/local/the-story-behind-the-statue-drawing-controversy-in-louisville/46444....
3. Novelly, Thomas. "A controversial statue: 5 things to know about John B. Castleman." The Courier-Journal. August 15, 2017. Accessed August 20, 2017. http://www.courier-journal.com/story/news/history/2017/08/15/controversial-statue-5-things-know-john....
4. Ristevski, Hayden. "Well-known monument in Highlands neighborhood vandalized." WDRB News. August 13, 2017. Accessed August 20, 2017. http://www.wdrb.com/story/36124533/well-known-monument-in-highlands-neighborhood-vandalized.
5. Southern Poverty Law Center. "Whose Heritage? Public Symbols of the Confederacy." 2017. Accessed August 20, 2017. https://www.splcenter.org/sites/default/files/whoseheritage_splc.pdf.
6. Weatherman, Lynn. "John Breckenridge Castleman." The Kentucky Encyclopedia. John E. Kleber, ed. 1992. University Press of Kentucky.
Additional Information