Filson Historical Society
Introduction
Established in 1884, the FilsonHistorical Society is the oldest and largest privately-supported organization dedicated to Kentucky history. The Filson has been located in the historic Ferguson Mansion since 1986, where it offers one of the most extensive research libraries in the region with nearly two million documents and a collection of 50,000 books. The organization also maintains a gallery space that preserves and shares the history of Kentucky and the Border South region with interpretive exhibits drawn from their collection of historic artifacts, portraits, manuscripts, and rare books. Of special interest to historians, the Filson's Special Collections Department preserves thousands of archival collections that include one-of-a-kind and original historic letters, maps, portraits, diaries, and photographs.
Images
The Filson acquired the Ferguson Mansion in 1986. This Beaux Arts mansion was built in the 1920s for the family of Edwin Hite Ferguson, a leading industrialist. The building later became a funeral parlor in the 1920s.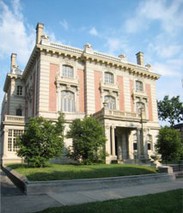 This historical marker is located in front of the historic mansion.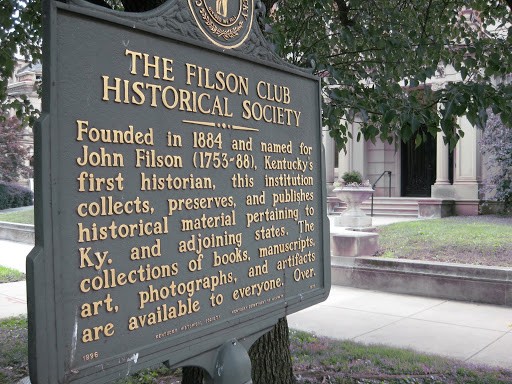 Backstory and Context
This historical society was established by a group of ten men in 1884 with the intention of preserving and sharing the history of Louisville and Kentucky, a mission that has since grown to include the surrounding Ohio Valley region. The group decided to name their new organization after Kentucky historian John Filson, author of the 1784 book, The Discovery, Settlement, and Present State of Kentucke. The organization operates an archive and gallery in an Old Louisville mansion that was completed in 1905 for local industrialist Edwin Hite Ferguson. The historic mansion served as a funeral home between the 1920s and 1984 when it was acquired by the Filson Historical Society.
Today, the Society publishes a quarterly journal and also offers a variety of programs such as reading groups and lectures, as well as thematic tours and programs for families. The Filson also sponsors thematic conferences, such as a 2019 event dedicated to women's history in Kentucky and the Ohio Valley. Of special interest to historians who appreciate whiskey, the Filson offers a Bourbon Academy, a one-day educational program that explores the history of Kentucky's signature libation.  
Sources
History of the Filson Historical Society, Official Website of the Filson Historical Society. Accessed March 27th 2021. https://filsonhistorical.org/about-us/history/.
Filson Historical Society, Lewis and Clark National Historic Trail, National Park Service. Accessed March 27th 2021. https://www.nps.gov/places/filson-historical-society.htm.
The Filson Historical Society: A Kentucky gem, Louisville Future. March 28th 2018. Accessed March 27th 2021. https://louisvillefuture.com/sponsored/the-filson-historical-society-a-kentucky-gem/.
Additional Information