Captain Tom Ryman Historic Marker
Introduction
Captain Thomas Green Ryman, owner of the Ryman steamboat line and builder of the Union Gospel Tabernacle, lived at this location. Ryman made his early fortune by selling alcohol but was so moved by a sermon about the evils of drink that he built the Union Gospel Tabernacle, which was renamed Ryman Auditorium in honor of Captain Ryman after he died in 1904. The Queen Anne frame house featured a slate roof, seven gables and two turrets, and served as the home of Captain and Mrs. Ryman and their seven children from 1885-1926. The house was razed in 1940. One of those seven children wrote a short history about her father's first boat, which she claims ran aground or sank 13 times. The daughter also claims that each of these accidents occurred on the 13th day of the month.
Images
This historic marker shows a rough sketch of what Ryman's home looked like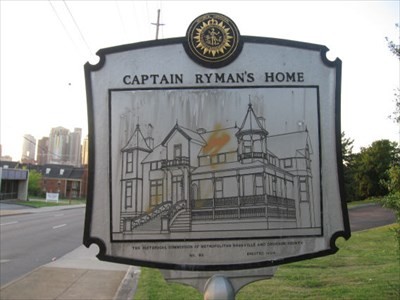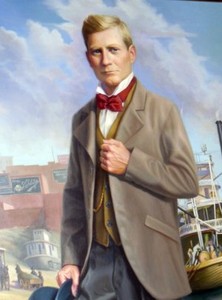 Captain Tom Ryman's house, from Tennessee Virtual Archive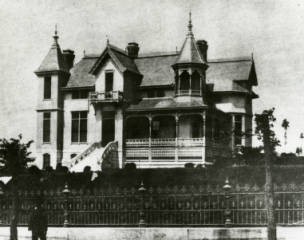 Backstory and Context
Thomas Green Ryman was born south of Nashville in 1841. The Ryman family relocated to Chattanooga when Ryman was still a young boy. It was there that he learned the ways of river life by fishing alongside his father in the Tennessee River. When Ryman was 19, in 1860, his family returned to Nashville and his father passed away shortly thereafter. Using the skills he learned as a boy, Ryman earned money to support his mother and four siblings by fishing throughout the Civil War years.
Although barely literate, he was a shrewd and industrious businessman amassing a fleet of 35 riverboats by 1885 which was named the Ryman Line. That same year, legend has it that Captain Thomas Ryman became fed up with the immensely popular Reverend Sam Jones preaching against the evils of alcohol and gambling - two of the very things that made him money in his saloons and on his riverboats. So on May 10, at age 44, Ryman and some friends went to one of Rev. Jones' famous tent revivals to raise a ruckus. But something in Jones' sermon spoke to Ryman and he was so deeply affected that his life was changed forever. He pledged to construct a building large enough to hold all who wanted to hear Sam Jones and others preach. He wanted to ensure the citizens of Nashville would never have to attend a revival under a tent again.
The Union Gospel Tabernacle took seven years and approximately $100,000 to complete. On June 1, 1892 Rev. Jones preached in the newly completed building he inspired. He declared, "I believe for every dollar spent in this Tabernacle, there'll be $10 less spent in the future on court trials. This tabernacle is the best investment the city of Nashville ever made."
It was at Ryman's funeral on Christmas Day 1904 that Rev. Jones proposed to 5000 mourners that the building be renamed the Ryman Auditorium in his honor. The idea was immediately embraced. From that day forward, the Union Gospel Tabernacle became known as the Ryman Auditorium.
Sources
Captain Tom Ryman's Exhibit, Tennessee Virtual Archive, accessed February 1, 2015. http://cdm15138.contentdm.oclc.org/cdm/search/collection/p15138coll12.
Additional Information