Hotel Ponce De Leon, 1888-1967
Introduction
In 1882, Henry Flagler, a New York entrepreneur and a co-founder of Standard Oil, became interested in the commercial possibilities of tourism along the Florida coast. He explored the potential of the small but historical city of St. Augustine, selecting a location to build a resort that would serve as a winter get-away for wealthy residents of major East Coast cities. This hotel and the railroad and other works by Flagler became the leading reason why St. Augustine and other Florida communities grew rapidly in the first half of the 20th century. Plans for this hotel were completed in 1887 and construction was completed a year later. Flagler and other developers followed the success of this property by funding railroads and other resorts further south in future years. The hotel closed in 1967. The main hotel building has been restored and is now part of the Flagler College campus.
Images
A historic postcard of the resort from the early 20th century. Flagler built this and other hotels along his Florida East Coast Railway which accelerated tourism and commercial development throughout the state.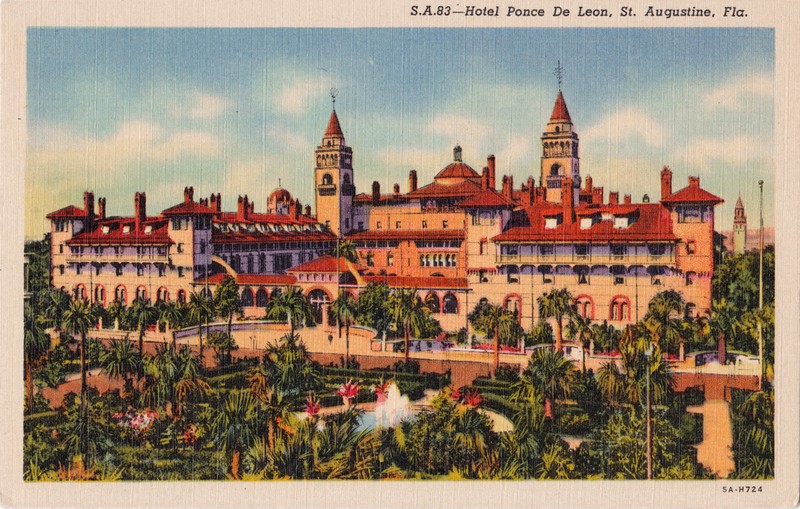 The hand-carved columns in the former lobby rotunda-now a part of Flagler College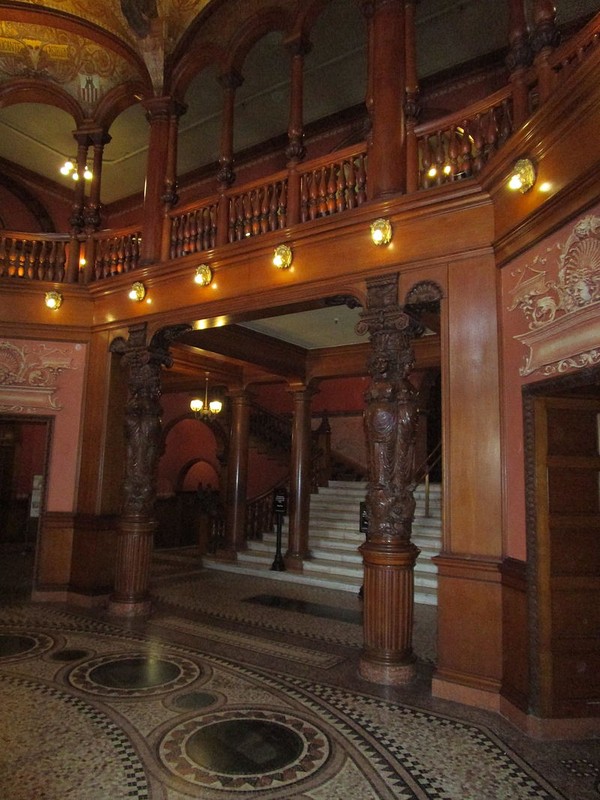 Flagler College offers historic tours of their campus that includes the opportunity to see some of the original furnishings while learning more about Flagler and the former resort.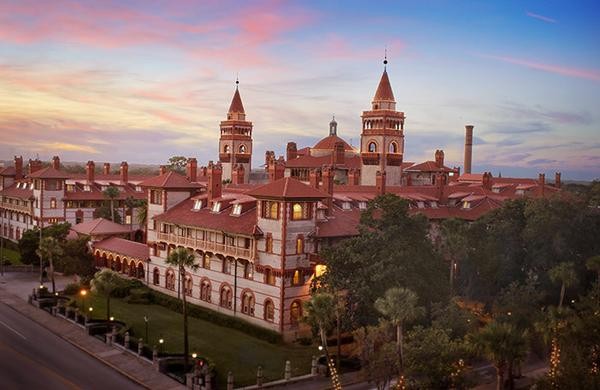 Ponce de Leon Hotel in the 1910s-photo was taken from the former Alcazar Hotel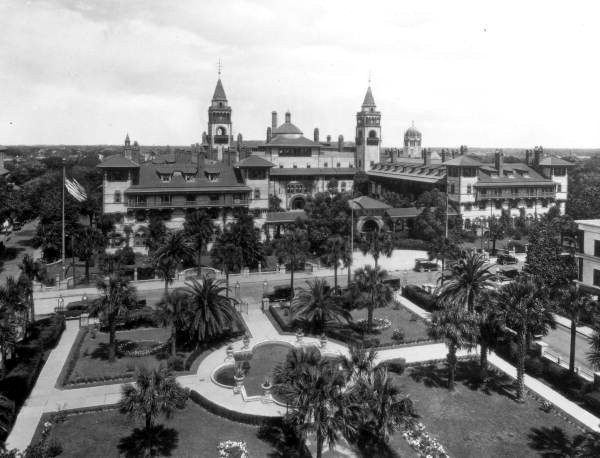 The hotel's main dining room in 1891.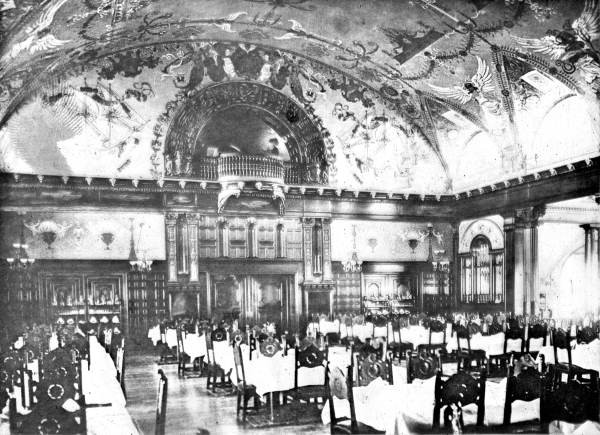 Aerial view of modern day Flagler College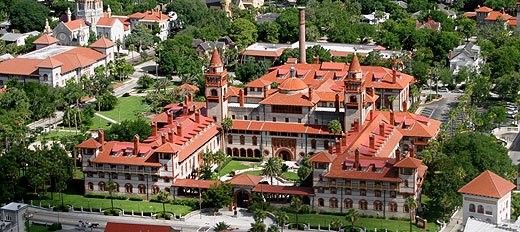 Backstory and Context
Although Flagler's investment eventually paid dividends, the first years of the new resort were difficult owing to an epidemic of yellow fever in 1895 as well as one of the coldest winters on record. The hotel earned a reputation for service thanks to the talents of employees such as headwaiter Frank Thompson who would go on to become a pioneer advocate of racial equality in the early 20th century. Guests to the hotel during these early years could enjoy baseball games organized by Thompson and other Black employees of the hotel who created a team known as the Cuban Giants. This team played and defeated some of the leading white major league stars during the offseason. Flagler, an entrepreneur, and co-founder of Standard Oil wanted to form a "winter resort" of sorts, so he opened this hotel to attract northern snowbirds (NPS.gov). It was added to the National Register of Historic Places in 1975, and it became a U.S. National Historic Landmark in 2006. (Josh)
This and three other of Flagler's Florida hotels flourished during the 1920s and even survived the Great Depression. As was the case at several other large hotels, the War Department operated the hotel as a training facility for the coast guard during World War II. After the war, development throughout the area brought numerous discount hotels and chains to the area, eroding the hotel's business at the same moment that the costs of maintaining the historic building were becoming more burdensome. In 1967, this hotel closed and the property was sold to Flagler College. The college has vowed to preserve the buildings historical, architectural, and unique structure (Flagler.edu).
Upon its completion in 1888, this hotel was the largest building to be constructed by using only poured concrete. Flagler's close friend Thomas Edison helped assure the building had reliable electric service by personally negotiating the shipment of generators from his firm to the Florida resort. The building featured interior stained glass furnishings designed by Louis Comfort Tiffany while ceiling murals in the lobby of the hotel were designed by Italian artist Virgilio Tojetti. Henry Flagler hired John Carrere and Thomas Hastings from a "New York firm, McKim, Mead, and White," in 1887 to design the hotel (NPS.gov). Mr. Flagler chose the theme of Spanish Renaissance in order to maintain the theme of the nearby city and other establishments.
Flagler College was founded in 1968 by Lawrence Lewis, Jr. a businessman, philanthropist, and a benefactor of generations of conservative politicians. Since its establishment in 1968, the college has expended roughly $60 million to reestablish the hotel and other historic buildings on campus as well as to add new facilities (Commonfund.org). Today the original hotel building is used as Ponce De Leon Hall, this is home to women's dorms, the main dining hall for students, administrative offices, and it is used as a space for large events (Pelletier). Flagler College, a liberal arts institution, seems to be distancing itself from its liberal arts status by adding majors such as business and hospitality. However, liberal arts are still highly regarded with a solid number of majors in the field of Humanities, such as History, Philosophy, Religion, and the specific major of Liberal Arts (Pelletier).
In order to preserve the purity of the buildings, students residing within the original building are not allowed to use their fireplaces or light candles due to the building having a seven-minute burn rate. Virtually nothing can be put on the walls such as tape, or tacks to avoid damage (Pelletier). Initially, the college was just the original building, but since then they have added many new buildings such as Kenan Hall, which was the first library and is now an academic building, and it was built roughly twenty years ago. Since changing Kenan Hall to strictly a building for classrooms, lecture halls, and administrative offices, Flagler College has built a new library, as well as a student center. Pollard Hall, another building for classrooms was built just off campus in downtown St. Augustine, directly across the street from the main campus. Buildings such as this were built throughout downtown St. Augustine for more classroom space. Although these new buildings have kept up with the theme of Spanish Renaissance architecture, they do add their own modern twist (Pelletier).
Sources
"Energetic youth in 'America's oldest city'." Commonfund.org. Accessed June 18, 2016. https://www.commonfund.org/2013/10/03/flagler-college.
Graham, Thomas. "Hotel Ponce De Leon." National Park Service - National Historic Landmark Nomination Form. February 17, 2006. https://npgallery.nps.gov/GetAsset/abdfa0c3-9006-4c9c-ae73-699fe40d3798.
"Hotel Ponce de León." National Park Service - Along the Georgia and Florida Coast. Accessed June 18, 2016.
https://www.nps.gov/nr/travel/geo-flor/26.htm.


"Hotel to College." Flagler.edu. Accessed June 18, 2016.
http://www.flagler.edu/about-flagler/hotel-to-college.
Josh. "The 'Shocking' Ponce De Leon Hotel." Florida Memory Blog. January 21, 2015. www.floridamemory.com/blog/2015/01/21/the-shocking-ponce-de-leon-hotel.

Pelletier, Elizabeth. Personal Interview. 20 Oct. 2017.
"St. Augustine 26) Hotel Ponce de León." NPS.gov https://www.nps.gov/nr/travel/geo-flor/26.htm.
Additional Information