NASA Ames Research Center & Moffett
Introduction
NASA's Ames Research Center is a leading research facility that plays an important role in many of NASA's missions. The facility is home to over $3 billion in equipment, and has been in operation since the 1940s (and part of NASA since its establishment in 1958). The center is named in honor of Joseph Sweetman Ames, a founding member of the National Advisory Committee for Aeronautics (NACA), one of several federal agencies that were precursors to NASA. Ames conducted wind-tunnel research, helped NACA license technological innovations to businesses to spur the economy, and chaired the Foreign Service Committee of the National Research Council.
Images
This research lab was named in honor of Joseph S. Ames in 1944, one year after he passed away.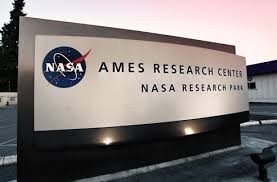 Pioneering aviation leader Henry H. "Hap" Arnold called Ames "the great architect of aeronautical science."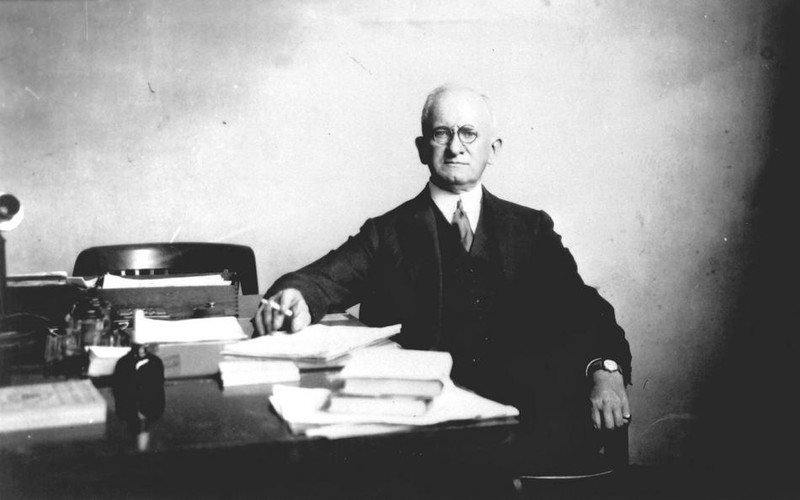 Backstory and Context
NASA Ames Research Center grew out of Moffett Field, named for Admiral William A. Moffett who planned for the construction of two Naval Air Stations, both commissioned in the early 1930s. The first arose in 1931, designed as a Navy base for which to test Navy airships. And then, in 1939, Congress authorized a second laboratory to be built at Moffett, intended to be used by the National Advisory Committee for Aeronautics (NACA), the precursor to NASA. It was there that numerous research projects took place, including the study of moon rocks collected during the Apollo lunar landings.
Construction of the facilities at Moffett Field began in 1939, and operations commenced two years later, in 1941. By 1944, NACA named the facility in honor of Joseph S. Ames, a founding member of NACA and leading aerodynamicist, as well as the former president of Johns Hopkins University. Ames' passionately pursued research focused on aircraft structures.
Some of its original facilities include multiple wind tunnels used to test and refine aircraft and guided missiles; today, the facilities serve similar purposes for satellites. Those structures prove to be, by far, the most famous and visible sites, now known as Hangars #1, #2, and #3. However, by the late 1950s it wasn't guided missiles that served as the focus of research; Ames' top priority consisted of providing most of its support to NACA, notably by developing a lunar program.
The military research did continue, including in the 1960s during the height of the Cold War. Ames emerged as the leading builder of flight simulators in the 1960s, and the Ames Vertical Motion Simulator still enables testing of a variety of aircraft.
But, as time went on, Ames' scientists and engineers increasingly worked on space-related and other scientific projects. For instance, Ames workers performed the testing and refining of the re-entry capsules and thermal protection in the Center's new Arc Jet Complex and hypervelocity ranges. The arc jets later contributed to thermal protection for all of NASA's crewed programs, including the space shuttle, as well as planetary missions like the Galileo satellite to Jupiter.
Over the years, Ames has grown into an expansive scientific facility. Among the many programs, Ames has a life science program, boasts of various centrifuges, and operates genome facilities. As well, one can find at Ames nanotechnology labs, and an astrochemistry laboratory that simulates deep space, a bio-mat greenhouse laboratory to study Earth's earliest living organisms, and bio-signature labs.
Furthermore, scientists at Ames explore exoplanets; the center provides scientific and management leadership of NASA's Kepler mission, which has discovered over 6,500 exoplanets and exoplanet candidates. Lastly, Ames serves as a partner for NASA's Stratospheric Observatory for Infrared Astronomy (SOFIA), the world's largest airborne astronomical observatory, as well as for the International Space Station, and Mars Science Laboratory and the Mars Curiosity Rover. Indeed, the team at Ames developed the landing system for NASA's Mars Science Laboratory and tested the deployment of an early parachute design.
The research facility's proximity to America's technology center -- Silicon Valley -- proved to be a fortuitous one. In 2014, NASA leased the management of Hangar One and Moffett to Planetary Ventures, a subsidiary of Google, for sixty years. Google announced plans to restore the hanger, which is expected to be completed by 2025.
In 2017, several Ames facilities were listed on the National Register of Historic Places. These include the Ames Administration building, the Aviation Systems Division's flight simulation and guidance laboratory, the Arc Jet Complex, and the NASA Ames Wind Tunnel Historic District.
Sources
"Ames Research Center." NASA. Accessed April 07, 2018. https://www.nasa.gov/centers/ames/about/index.html.

Bamburg, Bonnie. "Nomination Form: United States Naval Air Station, Sunnyvale, California- Historic District." National Register of Historic Places. November 9, 1991. https://npgallery.nps.gov/GetAsset/202e0923-bfd9-412b-a73a-66dbb590f188

Redd, Nola Taylor. "Ames Research Center: R&D Lab for NASA." space.com. January 12, 2018. . https://www.space.com/39381-ames-research-center.html.

"US Naval Air Station, Sunnyvale, CA: Historic District (Moffett Field)" National Parks Service, Santa Clara's Historic County: California's Silicon Valley, A National Register of Historic Places Travel Itinerary. . Accessed April 6, 2018. https://www.nps.gov/nr/travel/santaclara/usn.htm

Additional Information