Mohler House
Introduction
The William E. Mohler House was constructed circa 1900. Also known as "Hill Grove," this three-story residence was built for the prominent lumberman and civic leader who also owned the Mohler Lumber Co. and built the first water works in the town of St. Albans. It is considered to be one of the finest examples of the Victorian Queen Anne architectural style in West Virginia.
Images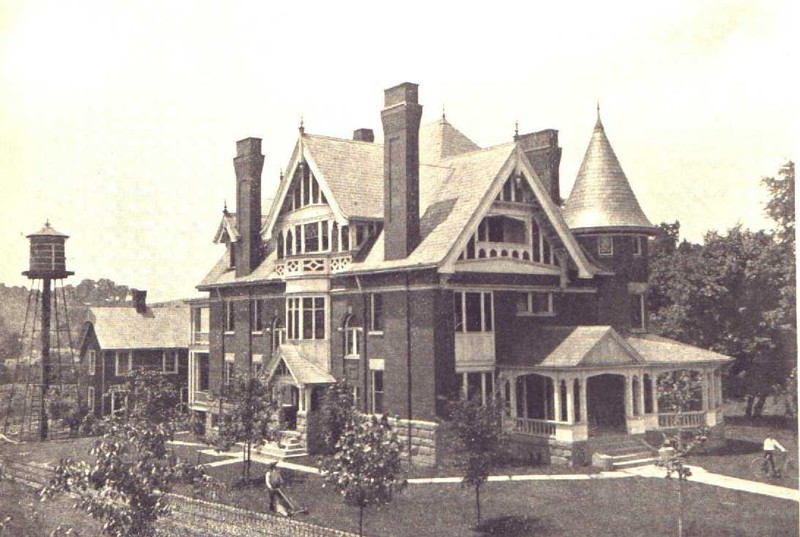 Mohler House in present day.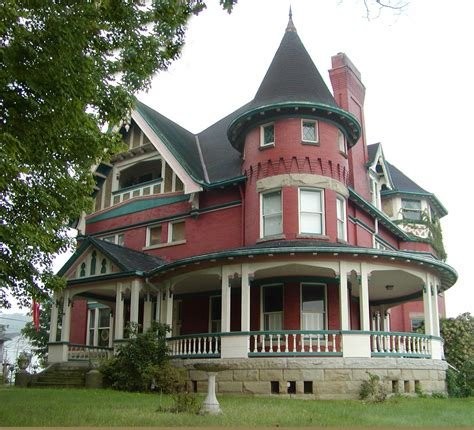 Mohler Obituary in Charleston Daily Mail

Backstory and Context
William E. Mohler was a prominent businessman in the Saint Albans area who owned the Mohler Lumber Company. He owned thirteen other residences in the Saint Albans area, sat on the board for directors for several banks and was president of the Saint Albans Electric and Water Company. Mr. Mohler was a prominent figure in the public eye and had many financial interests in Kanawha County and beyond. His business dealings did not end at Saint Albans. He was stockholder in the Boone County Bank in Madison, WV and stockholder of the Panaguio Mines Company in old Mexico along with being a stockholder of the Mexican Mill and Transportation Company.
William Mohler was born to D.F. and Ellen Mohler in Augusta County, Virginia in 1854. His father was a wagon contractor for the Confederate Government for two years during the Civil War. He, also, had connections in the iron manufacturing and owned a sawmill in Augusta. William attended school in Virginia and pursued the same interests as his father, business. March 28, 1882, William and his brother founded the largest lumber businesses in the state of West Virginia. Their mills were supplied with logs from Boone, Raleigh, and Logan counties. In 1888, they built a sawmill at Kanawha County's Lock Seven. This became the chief property for the Mohler Lumber Company and William would later retire from here in 1918. Mohler Lumber owned over 7,000 acres on the Coal River. Business was his major interest and he was highly successful in his endeavors.
The house was built in 1900 and was a twin of the now-demolished Payne House, formerly located in Charleston, WV. Mohler obtained the plans from Mr. Payne and hired his own builder to build his house in St. Albans. The architect of the Payne House was angered because Mohler usedhis plans, and he did not receive credit for it. The Mohler iHouse is a fine example of the Queen Anne Style and features a corner turret, ballroom, four brick chimneys, and stained and lead glass windows.
The Mohler House has had its fair share of history happen in it. After William Mohler died the house was owned by his youngest daughter, Ruth Mohler Phillips. She was married to Walter Phillips, who was the Chief of Staff for General William Short during the Pearl Harbor attack. The Phillips married in the home in the 1920s. During World War II, the Mohler residence housed 95 women who worked at the Naval Ordinance Plant in South Charleston. The house accommodated these women because of its thirteen rooms, six of which are bedrooms.

The Mohler House is a St. Albans landmark. Listed on the National Register of Historic Places in 1982, it has withstood the ravages of time and has been preserved by past and present owners such as the Church of the Trinity.
Sources
Chambers, S. Allen. Buildings of West Virginia. Oxford: Oxford University Press, 2004.

"Mohler House." Digital image. Midland Trail National Scenic Byway. Accessed April 18, 2018. http://www.midlandtrail.com/Trip-Planner/Historical-Homes-Museums.aspx.


Pauley, J. Michael and Richardson, Neil W. "Mohler, William E. House." National Register of Historic Places Inventory/Nomination Form. Department of Culture and History. December 1, 1982

St. Albans History. St. Albans, WV: St. Albans Historical Society, 1993.


Additional Information