Herring Motor Car Company
Introduction
Between the early 1900s and World War II, Des Moines was home to numerous automobile manufactures, assembly lines, and other industries associated with the automotive industry. By 1920, the section of Locust Street that stretched from 9th street to 15th street was known as "Auto Row." Future Iowa Governor and US Senator Clyde L. Herring operated one of those automobile manufacturing companies, the Herring Motor Car Company, at this location. The building was constructed in 1912. Within three years, the building was expanded from four stories to six stories. Herring was fortunate to have become a close business associate of Henry Ford, acquiring an exclusive deal with the burgeoning industrialist. Herring's company sold and even assembled Ford vehicles at this location. By 1915, the Herring Motor Company was assembling as many as 30 cars per day. Herring attempted to enter politics during the 1920s before his successful campaign for the governorship of Iowa in 1932.
Images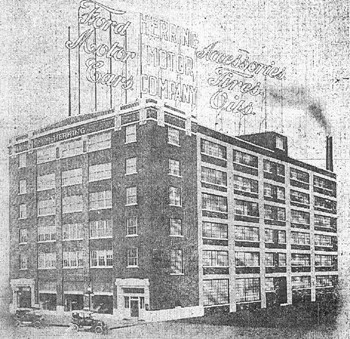 Near "Auto Row" was many of the 20 automobile dealers that were in Des Moines by the early 1920s, including Clemens Automobile Company. This ad comes from the 1916 Des Moines City Directory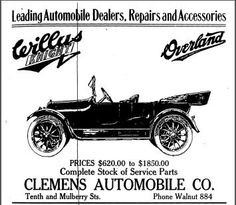 Sources
Kramme, Michael. "Herring, Clyde LaVerne" The Biographical Dictionary of Iowa. University of Iowa Press, 2009. Web. 20 January 2015.
Additional Information