St. Valentine's Day Massacre Site
Introduction
The Saint Valentine's Day Massacre is the name given to the 1929 murder of seven mob associates of the North Side Irish gang led by Bugs Moran during the Prohibition Era. The massacre was the culmination of a power struggle as Al Capone took control of organized crime in Chicago. It remains the most infamous of all gangland slayings in America, and demonstrates both the cunning and savagery of Al Capone. By dressing his men as police officers, Capone was able to make his attack look like a normal police raid on bootleggers. Making it look as though they were only going to arrest the members of the rival gang (or seek a bribe) Capone's "police" officers opened fire after ordering the men to line up against the wall. After the massacre, the mob led by Al Capone and his successors controlled organized crime in Chicago
Images
North Side Gang members following the St. Valentine's Day Massacre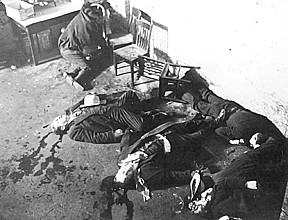 Today, a small grassy area just to the south of a housing project for the elderly marks the site of the massacre.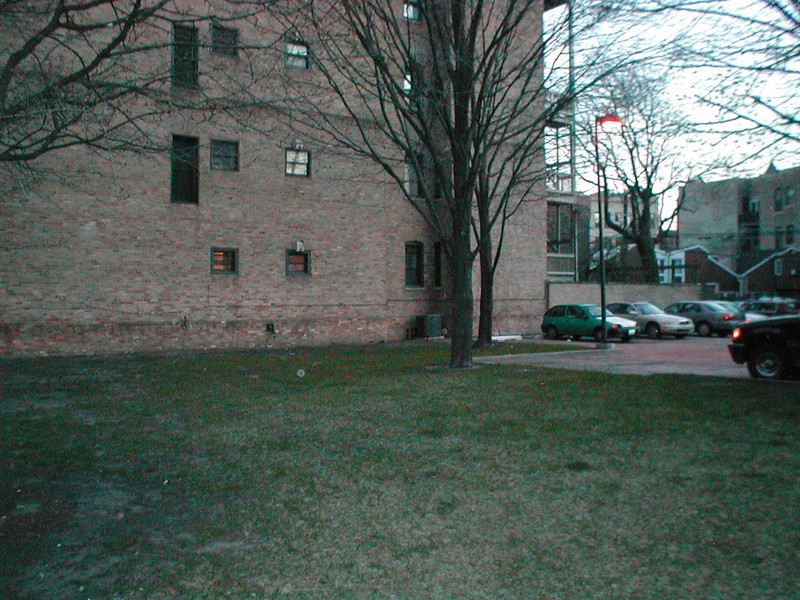 Police and onlookers in front of the SMC Cartage Company following Capone's massacre of rival gang members.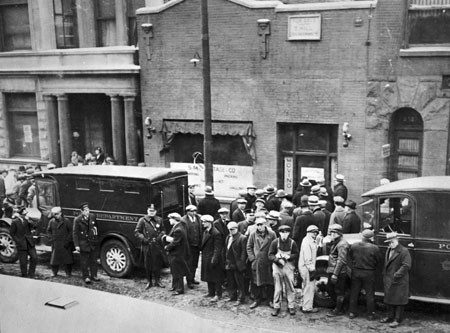 Russell Lewis took combined a satellite image of the street and created this map the historic structures using information from the 1935 Sanborn Fire Atlas.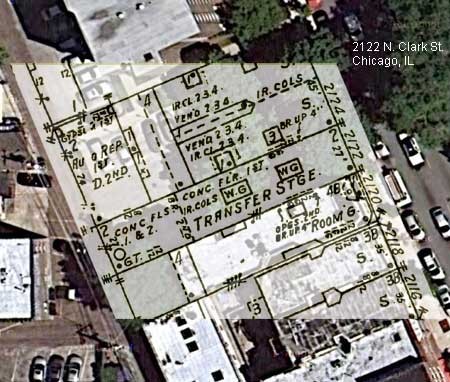 Backstory and Context
By 1929, Capone's only real competition was the gang led by George "Bugs" Moran. Al Capone decided once and for all to wipe out the competition in the north and take over all the illegal gambling, prostitution and bootlegging in Chicago. He employed lookouts in boarding houses across the street at 2119 N. Clark and a secured better vantage point from 2139 N. Clark.

On February 14, 1929, at about 10:30 a.m., four men burst into the SMC Cartage Co. garage (2122 N. Clark) that Moran used as a headquarters for his various criminal enterprises. Two of Capone's men were dressed as police officers. The quartet presumably announced a raid and ordered the seven men inside the garage to line up against a wall. Then they opened fire. Capone men fired more than 70 bullets into the victims. Six of the seven killed were members of Moran's gang; the seventh was an unlucky friend of one of the gang members who was simply in the wrong place at the worst possible time.

When police officers from Chicago's 36th District arrived, they found one gang member, Frank Gusenberg, barely alive. In the few minutes before he died, they pressed him to reveal what had happened, but Gusenberg wouldn't talk. As a result, many of the details of the massacre are still unknown.

The building passed through a number of owners over the next two decades, with locals and tourists often disturbing the business to witness the bullet-pocked wall. In 1949, the building owner placed plaster over the bricks in hopes of discouraging the public from interrupting business in his warehouse. In the 1960s, the neighborhood was slated for an urban housing project and the warehouse and neighboring structures were demolished. Some of the bullet-ridden bricks were preserved, sold at auction to collectors. Some of these original bricks are on display at the Mob Museum in Las Vegas, while others remain in private collections around the country.

Sources
John O'Brien, The St. Valentine's Day Massacre, Chicago Tribune Feb 14, 2014 http://articles.chicagotribune.com/2014-02-14/news/chi-chicagodays-valentinesmassacre-story_1_al-capone-smc-cartage-co-george-bugs-moran Chicago History Museum blog by Russell Lewis, http://blog.chicagohistory.org/index.php/2012/02/2122-north-clark-street/ accessed 2/14/15
Additional Information