Wentworth by The Sea
Introduction
Construction of the Wentworth Hotel's oldest section was completed in 1874. Serving as host for vacationers and conventioneers, the Wentworth has witnessed much over its 120 plus years of existence. One of the region's most famous luxury hotels, it has served as a backdrop for movies, entertained captured Admirals, and housed diplomatic delegations to the Twentieth Century's first major peace negotiations. Near constant expansion of the hotel's facilities occurred from 1875 to the mid 1900's. Closed in 1982, the hotel fell into disrepair and was nearly demolished. Now a member of Historic Hotels of America, a program of the National Trust for Historic Preservation®, the Wentworth has undergone extensive restoration efforts. Once again, Wentworth by the Sea is a luxury seacoast hotel.
Images
Wentworth by the Sea today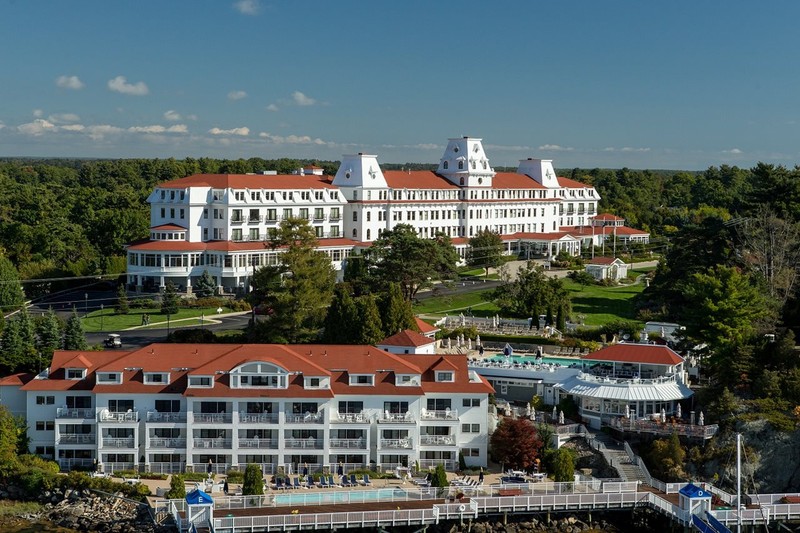 Wentworth by the Sea in Winter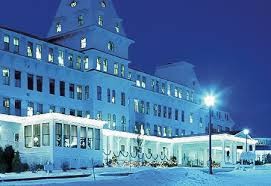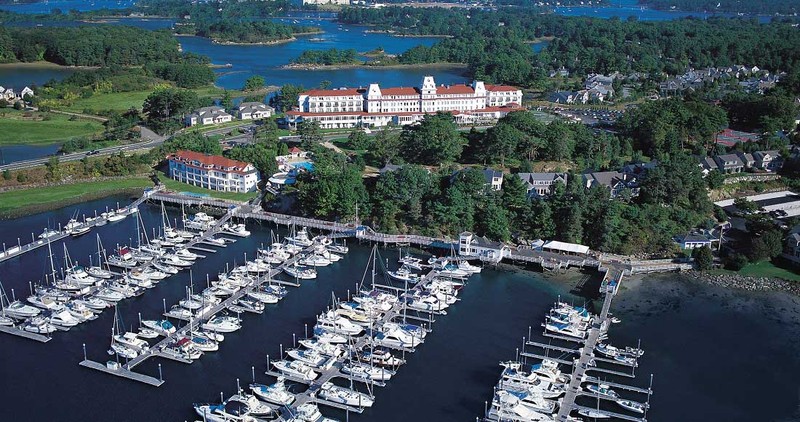 Wentworth at its low point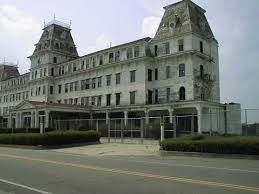 Delegations from Russia and Japan for The Treaty of Portsmouth negotiations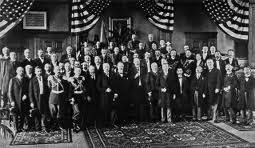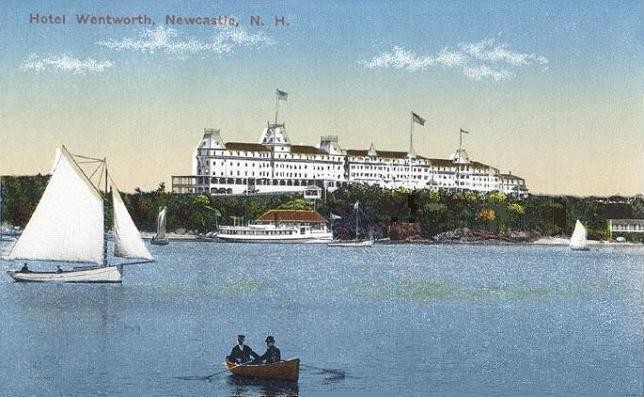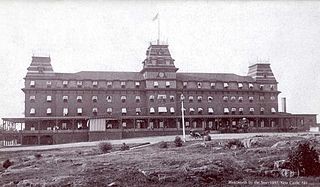 Backstory and Context
In 1874, Daniel Chase and Charles E. Campbell built the Wentworth Hotel in New Castle, NH, outside of Portsmouth. Constructed for a price of $50,000, the hotel features 84 rooms.
1
A succession of owners operated the hotel until Frank Jones, a Portsmouth brewer, purchased it in 1879. Jones is credited with making many improvements to the facility including a third floor, a dining room, and a carriage house. The hotel's guest capacity in 1881 was 450 guests. It was the Jones era that President Chester Arthur stayed at the hotel, Arthur was visiting the nearby Portsmouth Naval Shipyards. The Spanish American War brought an interesting and popular visitor to the hotel. Though he and his men were held captive at the nearby naval shipyards, Spanish Admiral Cervera was often seen at the Wentworth, without his men. Frank Jones died in 1902 and the Wentworth.
2
One of the Wentworth's brightest hours occurred over thirty days in 1905. U.S. President Theodore Roosevelt brought together delegates from Russia and Japan to Portsmouth in order that they might negotiate an end to their war. Delegates conducted most of the negotiations at the Portsmouth Naval Shipyard but the Wentworth provided quarters, dining, and private meeting areas. Wentworth's Rose Garden provided a retreat where the two nations leading delegates walked in order to speak privately. The subsequent Treaty of Portsmouth that ended the Russo-Japanese War was signed on September 5, 1905 at the shipyards.3
With the death of Jones, the Wentworth again experienced a quick succession of owners until 1920. Harry Beckwith was responsible for many improvements to the property. One prominent improvement was the construction of a multi-purpose facility, referred to as the ship that surrounded a salt-water pool. "The Ship" also featured dressing rooms, a bar, and a theater. Harry Beckwith changed the hotel's brand from The Wentworth Hotel to The Wentworth by the Sea. Harry Beckwith maintained a strict racial policy throughout his ownership; Blacks and Jews were not welcome.4
Harry Beckwith sold the hotel in 1946 to Major James Smith of Texas for a reported price of $200,000.5 Major Smith and his wife operated the hotel until 1980. In 1965, the Wentworth commemorated the sixtieth anniversary of the Treaty of Portsmouth.6 During the Smith's ownership period, the Wentworth hosted many events including reunions of military units and golf tournaments.7,8 In 1949 the Wentworth hosted the annual meeting of the National Association of Collegiate Commissioners. One of the topics discussed by the commissioners of the nation's collegiate athletic conferences was the selection of a site for the College Football Hall of Fame. Several possible locations were discussed, with the favored site being at New Brunswick, NJ.9
In 1980, the Smiths sold the Wentworth and the hotels fortunes declined. Suffering financially the Wentworth was closed in 1982. In such bad condition that is was nearly demolished, the hotel was saved through the efforts of group named "Friends of the Wentworth". Benefitting from a six year, $30 million reconstruction the hotel has been returned to its former status. The reconstruct sought to preserve the hotels architecture and unique character. These efforts were rewarded, the Wentworth has received awards from architectural, preservation, and hospitality organizations.10 The Wentworth by the Sea is a member of the Historic Hotels of America, a program operated by the National Trust for Historic Preservation, dedicated to the preservation of historic hotels.11
Sources
1. "Noted Resort Hotel Dates Back to 1872", Portsmouth Herald, Portsmouth, NH, March 13, 1946, p. 1, Newspapers.com, downloaded March 27, 2015, http://www.newspapers.com/image/56491928 2. "Wentworth-by-the-Sea Collection, 1879-1996 – MS060", Portsmouth Athenaeum, 2006, accessed April 15, 2015, http://www.portsmouthathenaeum.org/findingaids/ms060.htm 3. "Spies & Summer Girls at the Wentworth Hotel", Portsmouth Peace Treaty Trail Sites in New Castle, Japan-America Society of New Hampshire, 2005, accessed April 15, 2015, http://www.portsmouthpeacetreaty.org/wentworth.cfm 4. "Wentworth-by-the-Sea Collection, 1879-1996 – MS060", Portsmouth Athenaeum, 2006, accessed April 15, 2015, http://www.portsmouthathenaeum.org/findingaids/ms060.htm 5. "Wentworth by the Sea, Famed New Castle Hotel, Sold Today to Texas Man", Portsmouth Herald, Portsmouth, NH, March 13, 1946, p. 1, Newspapers.com, downloaded March 27, 2015, http://www.newspapers.com/image/56491928 6. "N.H. Ceremo nies Mark Russo-Japanese Peace", Bennington Banner, Bennington, VT, September 8, 1965 p. 16, downloaded April 15, 2015, Newpapers.com, http://www.newspapers.com/image/63026431 7. "Marines Have Landed", Portsmouth Herald, Portsmouth, NH, Vol XC No 26, June 24, 1976 p. 1, Newspapers.com, downloaded April 15, 2015, http://www.newspapers.com/image/56654959 8. "Super-Senior Tourney at Wentworth by The Sea", Portsmouth Herald, Portsmouth, NH, May 3, 1977 p. 8, Newspapers.com, downloaded April 15, 2015, http://www.newspapers.com/image/56560424 9. "Rutgers Likely Site of Grid Hall of Fame", Portland Press Herald, Portland, ME, July 26, 1949 p. 2, Newspapers.com, downloaded, April 15, 2015, http://www.newspapers.com/image/8976263 10. "Wentworth History", Wentworth.com, 2015, accessed April 15, 2015, http://www.wentworth.com/about-us/wentworth-history/ 11. "Wentworth by The Sea", Historic Hotels of America, historichotels.org, 2015, accessed April 15, 2015, http://www.historichotels.org/hotels-resorts/wentworth-by-the-sea/?from=search
Additional Information