The Ritz Carlton, 1921-1969
Introduction
When it opened on June 21, 1921, the Ritz-Carlton Hotel was the tallest building in Atlantic City. Every detail of the structure exuded wealth and status, from the faucets for fresh or salt water in every guest room to the private elevators for beachgoers to the grand staircase and elegant ballroom. The hotel experienced a sharp decline during the Great Depression and filed for bankruptcy in 1937. The hotel resumed operations shortly thereafter, buoyed by the end of the Depression and a contract to house troops during World War II. The hotel experienced a second boom period following the postwar prosperity. The hotel again struggled during the 1960s as guests opted for some of the newer resort and casinos. In 1969, the hotel converted to condominiums.
Images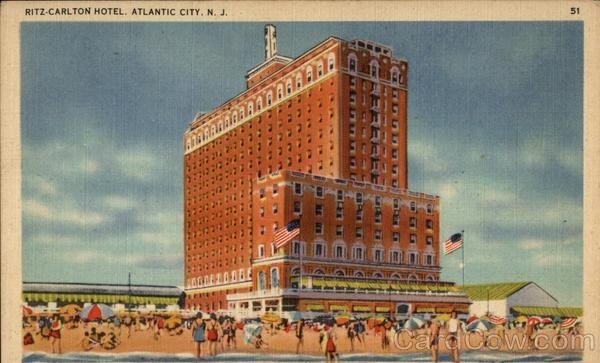 Backstory and Context
During the 1920s, infamous boss "Nucky" Johnson rented the entire 9th floor of the hotel. It was here he and other members of the Republican political machine made deals to profit from Prohibition and maintain control of Atlantic City through payoffs and ties to organized crime. In 1941, Johnson was convicted of several crimes.
Additional Information