The American Royal Museum and Visitors Center
Introduction
A Kansas City tradition since 1899, the American Royal sponsors rodeos, livestock shows, BBQ contests, ranch camps for children, and other exhibitions and competitions. The organization also offers tours of its museum as well as educational programs and community entertainment.
Images
The American Royal museum tells the history of the Kansas City Stockyards, rodeos, fairs, parades, contests, and horse shows. It offers tours by appointment.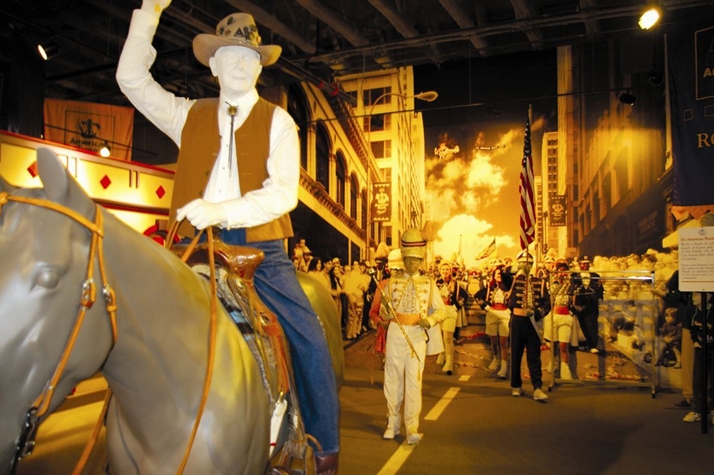 Backstory and Context
The following history of the American Royal comes from the organization's website:
"
The American Royal began in a tent in the Kansas City Stockyards as a national Hereford Show. This show has grown into the annual American Royal Livestock show drawing owner/breeders, future business and agriculture leaders (high school and collegiate), and animal enthusiasts from across the country.
The first American Royal horse show was added in 1905, and has grown to include five shows (Quarter Horse, Hunter-Jumper, Arabian, Saddle Horse and a Youth Show). The horse shows draw horse-enthusiasts, owners, trainers, grooms and riders nationwide from 36 states and Canada. The UPHA/American Royal National Championship Horse Show was voted best horse show in the country in 2002, by the UPHA (United Professional Horseman's Association).

The American Royal grew to include a rodeo in 1949 with the first PRCA-sanctioned rodeo being held in 1976. The American Royal Pro Rodeo was voted one of the top five rodeos in the country in 2004 and again in 2011 by the PRCA. The 2011 American Royal Pro Rodeo was also awarded the PRCA "Remuda" Award. The prestigious award, created by the Professional Rodeo Cowboys Association in 2004, is given to the organization which provides the most elite pen of rodeo stock. The American Royal joins a group of the top rodeos who have received this award. In conjunction with the rodeo, the Royal hosts some of the country's top music entertainers and has recently presented Reba, Lynyrd Skynyrd, Gary Allan and Dierks Bentley to name a few. In 1995, the Royal also began hosting an Invitational Youth Rodeo, drawing top youth competitorss from throughout the Midwest who are selected to compete through their leadership, academics, community service, and rodeo expertise.
The American Royal World Series of Barbecue® has continued to grow since the inaugural event was held in 1980. Spreading over 54 acres in Kansas City's historic Stockyards District, and with over 500 teams competing in four meat categories, The Royal is the largest barbecue contest in the world. Combine this with a barbecue-related trade expo, this four-day food festival is truly the World Series of Barbecue®! In 2011, this event was voted Favorite Family Festival/Event by Kansas City Visitors' Choice. The Barbecue, according to best-selling author Patricia Schultz, has been designated as one of
1,000 Places to See in the United States & Canada Before You Die."
Sources
History of the American Royal, American Royal website, http://www.americanroyal.com/p/about/147 accessed 12/24/2014
Additional Information