Eagle Scout Memorial Fountain
Introduction
The Eagle Scout Memorial Fountain was dedicated in 1968. It pays tribute to the millions of youth who have been named Eagle Scouts since the award's induction in 1911. This 22-foot tall memorial was created by retrofitting a marble clock sculpture from New York City's Penn Station. When the station was demolished during the 1960s, local Boy Scout executive John Starr arranged to have the sculpture transported to Kansas City to serve as a tribute to Eagle Scouts. Architect Maurice McMullen modified the sculpture with a complementary fountain pool and adjacent stairways, which represent the levels a Scout much reach to receive the rank of Eagle Scout.
Images
The Eagle Scout Memorial Fountain is located in Hyde Park and was dedicated in 1968.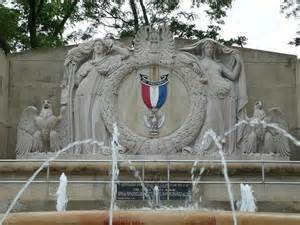 Backstory and Context
In 1910, the Pennsylvania Railroad constructed Penn Station, a massive railroad terminal, in New York City at the present-day site of Madison Square Garden. Encompassing eight acres, the Beaux-Arts style building was designed to resemble an Ancient Greek temple and became one of New York's most prominent facilities in the early twentieth century. Hanging above each of the building's four entrances were identical pairs of 62,000-pound sculptures known as Day and Night. Created by artist Adolph Weinman, the sculptures each consisted of a seven-foot laurel wreath flanked by a woman representing Day (on the left) and a woman representing Night (on the right); each woman in turn was flanked by a sculpture of an eagle. A large clock hung in the center of each wreath.
In 1963, the Pennsylvania Railroad opted to demolish Penn Station as a cost-cutting measure due to the decline of passenger rail travel. Demolition of the station began in 1963 and continued until 1968, when the Madison Square Garden complex was developed on the same site. Several key architecture features from the building were saved, including three of the Day and Night sculptures. In 1966, Kansas City businessman and Boy Scout Regional Council president John Starr successfully requested that the Pennsylvania Railroad donate one of the sculptures to Kansas City to be used as an Eagle Scout memorial. At the time, Kansas City had the highest number of Eagle Scouts in the nation. The Starr family and other donors raised money to convert the Day and Night sculpture into a memorial fountain. Local architect Maurice McMullen designed the renovations. He created a two-tiered fountain with two spiral stairways at the foot of the sculpture and replaced the clock inside the wreath with an oversized model of the Boy Scout Eagle badge. The memorial was placed at the intersection of 39th Street and Gillham Road and dedicated on October 8, 1968.
The Eagle Scout award was first introduced to the young Boy Scouts of America organization in 1911 as a special merit-based award for those who earned at least 21 merit badges. It is the highest rank a Scout can receive and demonstrates exceptional leadership and civic mindedness among recipients. The first Eagle Scout award was given to sixteen-year-old Arthur Eldred in 1912. Since then, over two million youth have been named Eagle Scouts. Notable inductees include astronaut Neil Armstrong, President Gerald Ford, Walmart founder Sam Walton, and television host Mike Rowe. 
Sources
"Eagle award history." National Eagle Scout Association. Accessed August 26, 2021. https://nesa.org/become-an-eagle/eagle-award-history/.
"Eagle Scout Memorial Fountain." Kansas City Parks & Recreation. Accessed August 26, 2021. https://kcparks.org/places/eagle-scout-memorial-fountain-2/.
"Eagle Scout Tribute Fountain." City of Fountains Foundation. Accessed August 26, 2021. https://www.kcfountains.com/single-post/2016/08/25/eagle-scout-tribute-fountain.
Ventura, Lori. "Madison Square Garden Lives in Kansas City." Kansas City Fountain Tours. March 23, 2021. Accessed August 26, 2021.  https://www.kcfountaintours.com/eagle-scout-memorial-fountain/. 
Additional Information