Grinter Place State Historic Site
Introduction
Annie and Moses Grinter married in 1838. Soon after, they established a farm at this location overlooking the Kansas River. Annie Grinter, a member of the Lenape (Delaware) tribe, worked alongside her European-American husband as they operated a farm, orchard, trading post, and ferry that took passengers across the river. Their success allowed them to begin building this stately home in 1857. The Kansas State Historical Society operates the home as a small museum. They also offer several educational programs for area schools on the property.
Images
Image from Kansaspedia-click the links below to learn more from this official website of the Kansas State Historical Society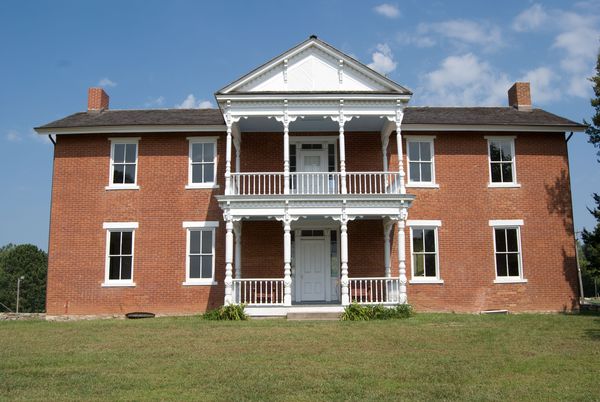 Backstory and Context
Although the Delaware had been promised that they would be able to remain in this section of land that became part of the new state of Kansas, a new treaty in 1866 required members of the tribe to either leave or formally renounce their membership in the tribe. Annie chose to stay with her husband, along with nearly 70 other tribal members who chose to stay in Kansas. The remainder of the tribe were required to leave.
Sources
Annie Marshall Grinter, Kansaspedia, http://kshs.org/kansapedia/annie-marshall-grinter/15140 accessed 12/21/14
Additional Information