Bullet Hole in the 3rd Floor South Window
Introduction
This bullet hole can be found in the south windows on the third floor. While its exact origins remain a mystery, it likely dates to the 1920s or 1930s, also known as The Pendergast Era. It may have been the result of a shootout gone awry during a bank robbery across the street from the Central Library, then the First National Bank.
Images
This bullet hole on the third floor has led to much speculation and serves as a reminder of a bank robbery that occurred across the street.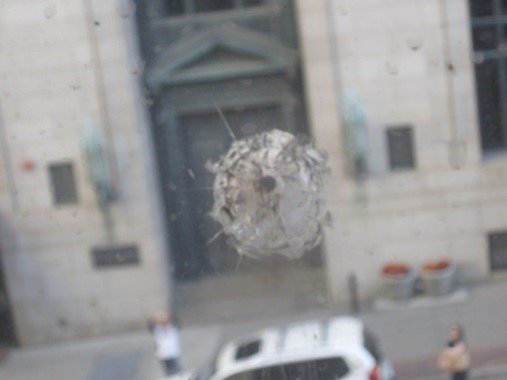 Tom Pendergast (right) with future US President Harry Truman in 1936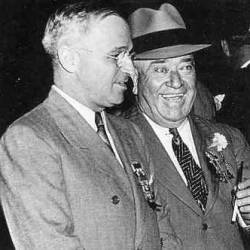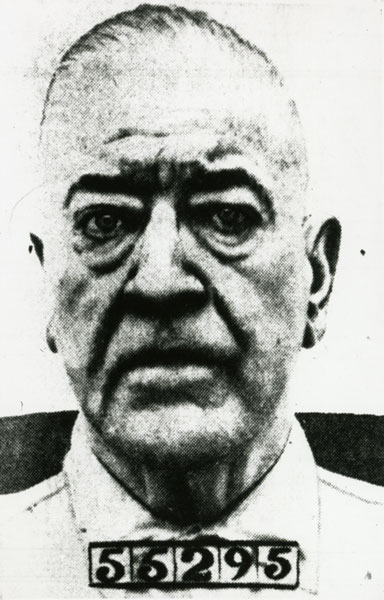 Backstory and Context
Kansas City in the 1920s and 30s was under the rule of "Boss" Tom Pendergast. Pendergast was born to Irish immigrant parents in St. Joseph, Missouri in 1875. He relocated to Kansas City in 1894 to join his brother James, a successful businessman and saloon owner. Because of his powerful social influence, James was voted city alderman of Kansas City's First Ward, and younger brother Tom watched his every political move closely. When James died in 1911, Tom ran for his brother's seat and won.
Pendergast stepped down from the city council in 1916, and quickly rose up the ranks in Kansas City Democratic politics to become the chairman of the Jackson County Democratic Party in 1925.
As chairman, Pendergast created a political machine that effectively controlled the entire city. During the Great Depression, Pendergast financed aid operations and worked to create jobs for poor and working-class Kansas Citians who could not find work. During Prohibition, he bribed the Kansas City Police to turn a blind eye to his illegal bootlegging operation and gambling rings. He fixed elections to keep friends in power, and in return, Pendergast ensured that his businesses received government contracts.
Pendergast's most famous political protégé was Harry S Truman. Pendergast helped Truman win a county government position in 1922, which paved the road for his 1934 election to the United States Senate. Truman, of course, would go on to become vice president, and then President of the United States in 1945.
Pendergast's machine began to come crashing down in 1936 when the newly elected governor of Missouri, Lloyd C. Stark, indicted 278 people in Pendergast's circle for voter fraud. 200 of those men saw jail time.
Later that year, federal authorities discovered that Pendergast had interfered in a city lawsuit against an insurance company, earning him $750,000. Pendergast declined to include this sum on his tax returns. From this, federal authorities charged Pendergast with tax evasion, proving that he had skirted nearly $500,000 in federal taxes in 1935 and 1936 alone. Pendergast pled guilty and spent 15 months in jail, plus five years of probation.
After his time in prison, Kansas City tried its best to erase Pendergast's political influences. City officials passed several anti-corruption measures and city officials hired by Pendergast were fired. With Pendergast's downfall, the era of machine politics in Missouri was officially over.
Tom Pendergast died of a heart attack in 1945 at the age of 72.
Sources
Harper, Kimberly, Stephanie Kukuljan, and John W. McKerley. "Thomas J. Pendergast," SHSMO Historic Missourians. n.d. https://historicmissourians.shsmo.org/thomas-pendergast.
Kniggendorf, Anne. "Rich Past, Rich Lore," KC Studio. January 21st 2022. https://kcstudio.org/rich-past-rich-lore/.
Image Sources
https://cafnr.missouri.edu/2012/01/a-concrete-pedigree/

https://historicmissourians.shsmo.org/thomas-pendergast