Effie Mae Winders Kauffman Grand Reading Room
Introduction
Based on 20th-century reading rooms, the room has a 34-foot-high glass skylight ceiling, mahogany paneling, and custom reading lamps. To construct the Reading Room, a hole was cut from the fourth level slab, and steel girders running east to west were removed. The girders were each 30 inches tall and 30 feet long and weighed 18,000 pounds. They were cut into thirds for easier removal by cranes.
Images
Effie Mae Winders Kauffman Grand Reading Room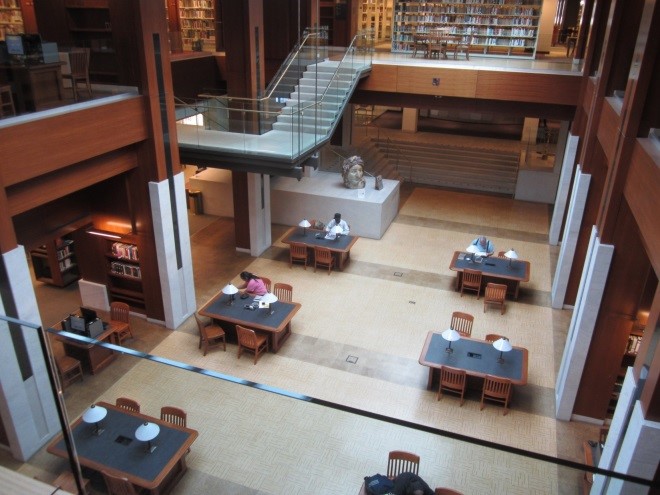 This donated work of art is located near the reference desk and is titles "Scales of Justice"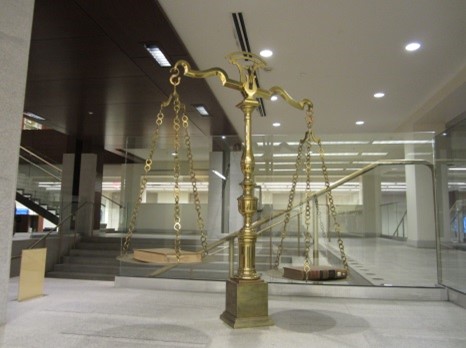 This bullet hole in the glass window on the third floor is believed to have been the result of a shootout at a bank across the street. on 3 south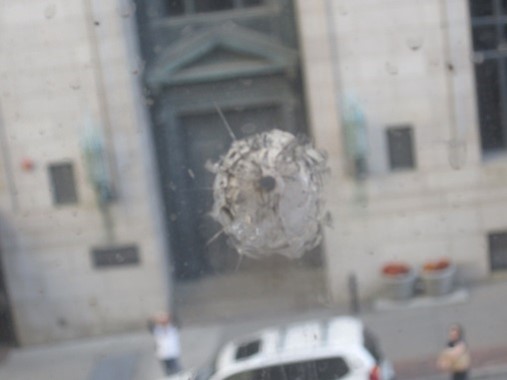 Backstory and Context
The bank lobby once included two "nests" for snipers who stood guard whenever the bank was open to prevent theft. While First National was never robbed, there is a bullet hole in the glass on 3 South that is believed to been caused by a shootout across the street at what was the New England Bank Building.
Sources
Library Tour Notes "History Central Library 15 April 2004
Conversation with Phil O'Neal of Dunn Construction About the Adaptive Reuse of the First National Bank Building as the New Central Library