Rogers - McFeely Memorial Pool
Introduction
Operated by the Latrobe-GLSD Parks and Recreation. Available during the summer months. You can purchase passes through the Latrobe-GLSD Parks & Recreations office. Pool party packages are available as well as a range of many different aquatics lessons. Annually the pool hosts its "Pooches in the Pool" dog swim event from 11 A.M. to 1 P.M. at the end of each summer. The cost is $10 per family.
Images
Rogers-McFeely Memorial Pool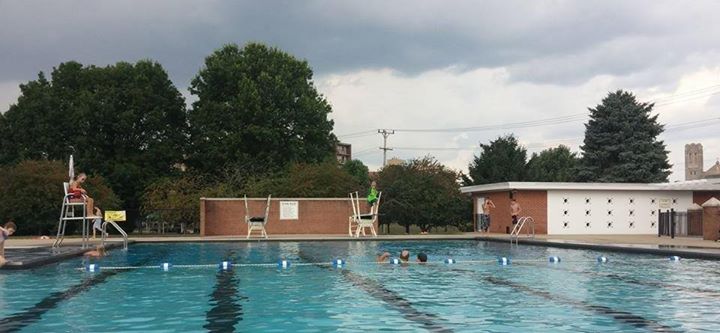 Backstory and Context
Built in 1959 by James and Nancy McFeely Rogers, the parents of the children's television star Fred Rogers.
Concerned about children drowning when they were swimming in the creek, James and Nancy McFeely Rogers underwrote the construction and continued to fund of a municipal swimming pool. They also went on to build other landmarks around the Latrobe area.
When being interviewed about the Rogers family, Latrobe resident Kathryn Elder said, "It's impossible to overestimate what his family did for the community. And they never wanted thanks or credit or wanted to change anyone. They just wanted to make things better. If you go to any estate sale around here and listen carefully, you will hear older people telling stories about things the family did quietly, things they never wanted any credit for."
Sources
Erdley, Deb. Fred Rogers' lasting legacy, continuing ties to his Latrobe home, TribLive. February 17th 2018. Accessed July 1st 2020. https://archive.triblive.com/local/westmoreland/fred-rogers-lasting-legacy-continuing-ties-to-his-latrobe-home/.
Ruediger, Louis B.. Dogs take over Rogers-McFeely Memorial Pool in Latrobe for season-ending swim, TribLive. September 7th 2019. Accessed July 1st 2020. https://triblive.com/local/westmoreland/dogs-take-over-rogers-mcfeely-memorial-pool-in-latrobe-for-season-ending-swim/.
Image Sources
https://allevents.in/latrobe/pooches-in-the-pool-rogers-mcfeely-memorial-pool/171620786720240

Additional Information