The Kettle Arcade Building
Introduction
Constructed in 1873 through the efforts of George Kettle, this indoor space connected two existing buildings and used the neighboring structures as side-wall support. Kettle constructed only front and rear walls for the arcade itself. In the 1980s, the building was decorated with a mural featuring key figures from Denver's early history, including William Larimer, Chief Little Raven, sharpshooter Annie Oakley, con man Soapy Smith and Denver Mayor Robert Speer.
Images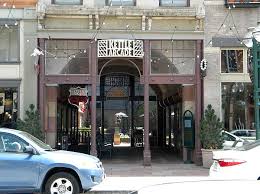 1988 Mural commissioned for the ceiling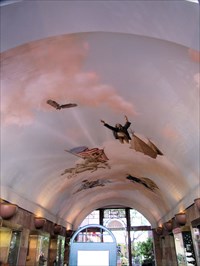 The Kettle Arcade Building - Squished between two other buildings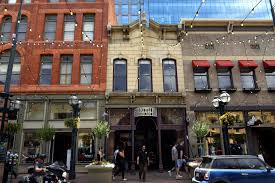 Backstory and Context
The Kettle Arcade is the first building in Denver to be built using the neighboring walls as its own and was part of a movement to renovate the wooden buildings in Larimer Square. The Kettle Arcade has a mural detailing Colorado History and was also the site of the first settlement of people of European descent in Denver. In 1865 there was a great fire in the square and since many of the original structures were made of wood, the city responded with a mandate requiring commercial buildings to utilize stone.
The Kettle Arcade was built in 1873. The building was constructed by George E. Kettle. Kettle was a cattleman, butcher, and real estate investor. Using the existing walls of the buildings on either side. He then built a front and rear wall and completed the structure using local sandstone. What makes this place special is that it was the first building in Denver to be built in this manner.
In 1988 a mural was commissioned for the ceiling. It features some important figures in Colorado History.
Chief Hosa aka Chief Little Raven – He was chief of the Arapahoe tribe that lived close to Denver City. They had seasonal teepees they lived in. He originally welcomed the "whites" to share his camp.
Soapy Smith – He is an infamous Con Man. He ran successful saloons across Colorado. He was also the leader of a gang that had heavy influence on politicians. 
William Larimer – He was the founder of the Denver City Territory. The site of the first settlement of Denver is named after him. 
Robert Speer – Elected as Mayor of Denver in 1904. He spearheaded the Denver City Beautiful campaign. This was an effort to upgrade the city. 
Annie Oakley – She was second to none when it came to sharp shooting. She is the original feminist. She supported a woman's ability to do anything they wanted. Some believe Annie Oakley passed through Denver. Although the artist may have been mistaken for Calamity Jane. 
Sources
Vaccarelli, Joe. Historic Denver growing walking tours for 2017, The Denver Post. May 26th 2017. Accessed June 30th 2020. https://www.denverpost.com/2017/05/26/walking-tours-historic-denver/.
Larimer Square. Accessed June 30th 2020. https://www.larimersquare.com/50/history.html#five.
Larimer Square, Real Colorado Travel. April 3rd 2013. Accessed July 2nd 2020. https://realcoloradotravel.com/larimer-square/536/.
S, Joe. Larimer Street #6, Kettle Arcade Murals, Chief Hosa, Annie Oakley, Denver History. December 11th 2017. Accessed July 2nd 2020. https://denverhistory.blog/2017/11/11/larimer-street-6/.
Image Sources
Public Domain

Public Domain

Larimer Square

Additional Information