Hardyville Cemetery
Introduction
The Hardyville Pioneer Cemetery is all that remains of the original pioneer settlement of Hardyville. William H. Hardy founded Hardyville in 1864 where the Mojave Road crossed the Colorado River. The town was an important ferry crossing, steamboat landing, and shipping point for area mines. It was also the Mohave County seat from 1867-1872. When the ferry was moved to nearby Needles, California, in 1833, the settlement declined. The A&P Railroad had been completed at Needles. However, it was still the site of sporadic mining, milling, and ranching activity well into the early 1900s. Decades later, Bullhead City was founded in the same area. A historical marker for the cemetery was dedicated by the Fort Mojave Chapter of the Daughters of the American Revolution in 1999.
Images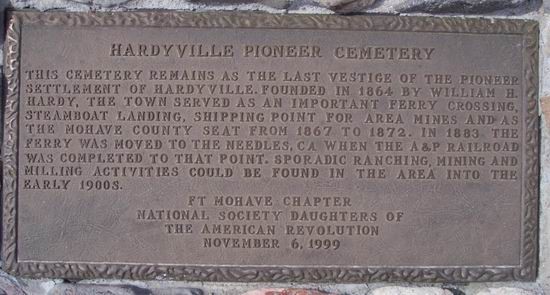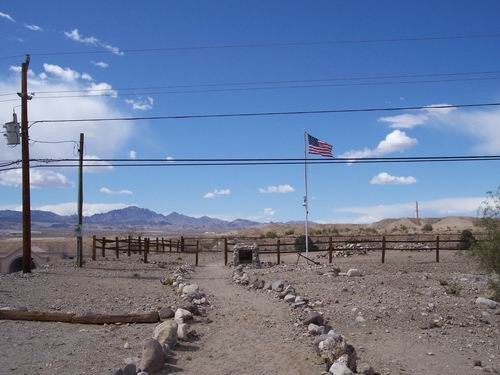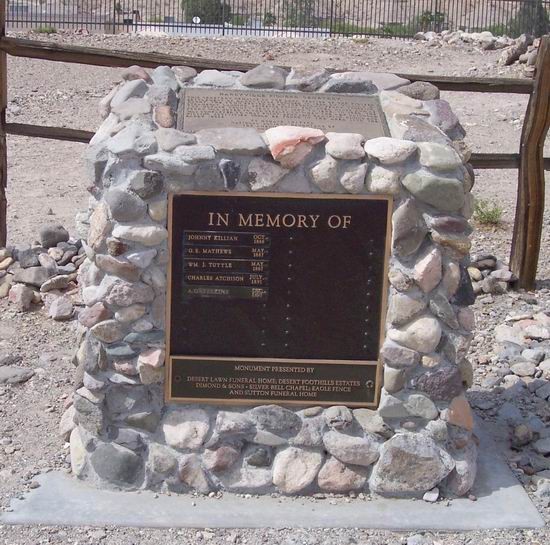 Backstory and Context
William Harrison Hardy founded Hardyville in 1864. Hardy was a New York native and entrepreneur who moved to Arizona to establish a ferry service and steamboat landing where the Mojave Road crossed the Colorado River. He had help from George Johnson's steamboat company. Hardy was a Mohave County supervisor and a member of the Arizona Territorial Legislature. He is also credited with inventing the riveted mail sack.
From 1864 to 1883, steamboats made regular trips up the Colorado from Port Isabel, delivering supplies to nearby mines. From 1867 to 1873, it was the county seat of Mohave County. At that time, the population was 20. As Brig. Gen. James Rusling described it:
"Hardyville itself was then more of a name than place, consisting chiefly of a warehouse and quartz-mill, with a few adobe shanties. Near Hardyville, some ten or twenty miles away in the outlying mountains, there were several mines—gold, silver, and copper—of more or less richness, and the mill was located here to take advantage of the two great essentials, wood and water. The mill, however, was standing idle, like most enterprises in Arizona, and but little was doing in the mines."
The community started declining after the county seat was moved to Cerbat. Worse, the value of silver decreased. And after the Atlantic and Pacific Railroad opened a railroad bridge in Needles, California, in 1883, the community declined further. In the 1950s, another community was built around Davis Dam in the same area - Bullhead City. Today, the cemetery is all that remains of Old Hardyville. There is a historical marker, a memorial plaque, and several unmarked graves.
Sources
Smith, Peggy. Hardyville Pioneer Cemetery, United States Cemetery Project. Accessed June 30th 2020. http://www.uscemeteryproj.com/arizona/mohave/hardyville/hardyville.htm.
Theobald, John. Theobald, Lillian. Arizona Territory Post Offices & Postmasters, The Arizona Historical Foundation. Phoenix, Arizona. 1961.
Hinton , Richard Josiah . The Handbook to Arizona: Its Resources, History, Towns, Mines, Ruins, and Scenery. San Francisco, California. Payot, Upham & Company, 1878.
Rusling, James F.. Across America, by James F. Rusling, Project Gutenberg. Accessed June 30th 2020. http://www.gutenberg.org/files/42706/42706-h/42706-h.htm.
Additional Information