Booth-Craig House
Introduction
Located on the Northwest corner of North Mulberry and West Third Street's the Booth-Craig House is today the home to the Richland Area Chamber of Commerce. The house was constructed between 1879 and 1881 at a cost of $15,000 by Orin H. Booth. The architect for the home was Levi C. Scofield, architect for the Ohio State Reformatory. Booth, superintendent of the Western Union Telegraph office in Mansfield, only lived in the home for two years before his death at the age of 52. A year after his death Dr. James W. Craig bought the home from Booth's widow. In May of 1977, the Richland County Chamber of Commerce purchased the building and completed renovations the following year.
Images
Craig-Booth House c. 1900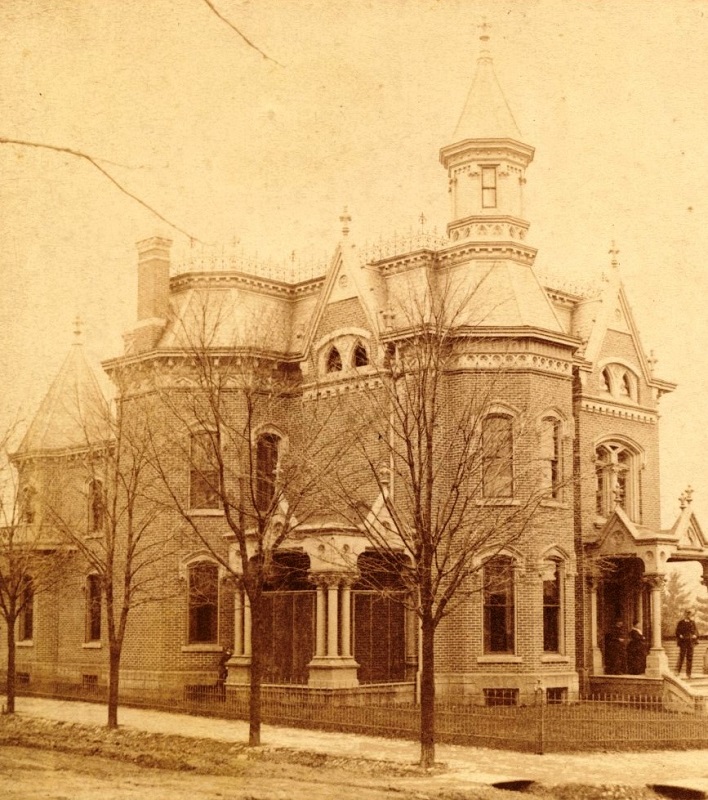 Backstory and Context
It was around 1879 that Booth made a contribution to Mansfield that is still around today, but until recently, it was attributed to another. The Booth-Craig House sits on the northwest corner of Mulberry and West Thirds Streets and is today the home of the Chamber of Commerce. Thanks to architectural historian Craig Bobby and Oak Hill Cottage, we once again know the true beginning of this structure. The 1882 Mansfield City Atlas clearly shows Booth's name on the property and newspaper articles chronicle its construction, saying it will "be one of the finest, if not the finest, residence in the city" and its architect was none other than Levi C. Scofield, the architect of the Ohio State Reformatory.
Chamber building combines both Victorian and Queen Anne architecture. The stained glass was imported from Europe and the block marble for the five fireplaces was quarried in Vermont. Edge brass hardware throughout the house was made in Hartford, CT and the homes woodwork was milled locally from oak, cherry, and walnut; the main door was inlaid with curly maple.
The Chamber began a search for new headquarters in November 1974 and, in May 1977, the property at 55 North Mulberry Street, Mansfield, OH was purchased. Renovation was completed in 1978. In 2001, work began on more extensive renovations to restore much of the building to its original beauty. A new slate roof was laid down, masonry work was completed, painting was done and windows were repaired.
Sources
About the Richland Area Chamber of Commerce, Richland Area Chamber & Economic Development. Accessed June 29th 2020. https://www.richlandareachamber.com/about-us.
Schlechty, Jayson. Orin H. Booth: The Man Who Brought the Telephone to Mansfield, Sherman Room Blog. Accessed June 29th 2020. https://theshermanroom.wordpress.com/2020/06/25/orin-h-booth-the-man-who-brought-the-telephone-to-mansfield/.
Additional Information