White Sands Proving Ground Visitor's Center
Introduction
White Sands Proving Ground is located in the Jornada del Muerto desert about 35 miles southwest of Socorro, New Mexico. White Sands is the location of Trinity, the code name for the first detonation of a nuclear weapon. the test was conducted as part of the Manhattan Project on July 16, 1945. The site is now part of the White Sands Missile Range which was declared a National Historic landmark district in 1965.
Images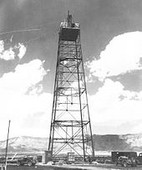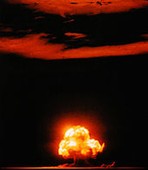 Backstory and Context
By the time the United States entered WWII Germany was ahead in the race for an atomic bomb. Long before its entry into the war the U.S. had become concerned with the nuclear threat from the Axis Powers. In October of 1939 President Roosevelt received a letter from Albert Einstein describing the possible use of uranium in sustained nuclear reaction and the construction of extremely powerful bombs. He expressed concern that these bombs could be delivered by ship but doubted they could be delivered by air. In his letter Einstein noted that Germany had stopped export of uranium from Czech mines, Germanys newly acquired territory. Roosevelt took the warning seriously and in May of 1942 signed an order creating a secret project to develop a nuclear weapon. The project became known as The Manhattan Project.
The first atomic bombs were designed and built in Los Alamos, NM. The search for a suitable test site began. Safety and security required a remote, isolated and unpopulated area. The scientists also wanted a flat area to minimize secondary effects of the blast, and with little wind to spread radioactive fallout. the sites that were considered are: the Tularosa Valley; the Jornada del Muerto Valley; the area southwest of Cuba, and north of Thoreau; and the lava flats of the El Malpais National Monument, all in New Mexico; the San Luis Valley near the Great Sand Dunes National Monument in Colorado; the Desert Training Area and San Nicolas Island in Southern California; and the sand bars of Padre Island, Texas.
The site was finally chosen on September 7, 1944, lay at the northern end of the Alamogordo Bombing Range, in Socorro County between the towns of Carrizozo and San Antonio, in the Jornada del Muerto The only structures in the vicinity were the McDonald Ranch House and its ancillary buildings, about 2 miles (3.2 km) to the southeast. Scientists used this as a laboratory for testing bomb components. By July 1945, 250 people worked at the site, code named Trinity. On the weekend of the test, there were 425 present. The test site is now part of the White Sands Missile Range.
Additional Information