Sam Thompson Building
Introduction
The Sam Thompson Building, built in 1929, has long had a connection to Carroll University. This is of no surprise given the location of the building and that it was also owned for a time by the university. Though the property is no longer owned by Carroll, the shared history still connects the two locations. With a storied history as both a local business, hosting a variety of stores such as a grocery store and a pharmacy, to being a campus library and a beauty school, the Sam Thompson Building has had a storied history in the Carroll University neighborhood.
Images
A modern day view of the Sam Thompson Building.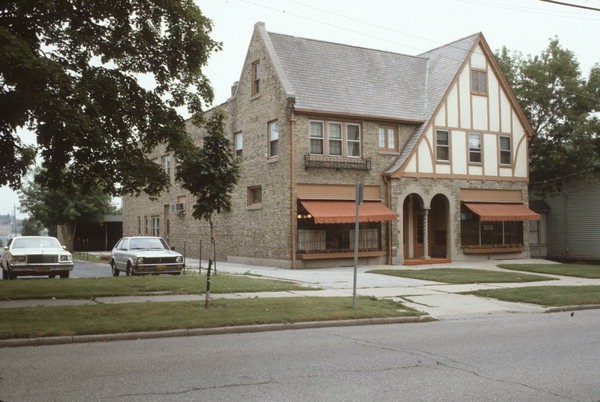 The Sam Thompson Building shortly after its construction.
Backstory and Context
The Sam Thompson building was constructed in 1929 by architect S. A. Snyder in the Tudor Revival style, which was prevalent in Waukesha during the 1920s, especially with commercial buildings. The building's appearance suggests a home more than a business, and the sloping gable in the front of the building and arched entrances are indicative of an attempt to blend in with the Gothic architecture of nearby Carroll University.
The building was first owned by the eponymous Sam Thompson, but little is known of him and he isn't even listed as the first occupant in city directories. Due to the building being a commercial residence, it was occupied by a number of tenants, including Goerke's Grocery, the National Tea Co. and the Campus Pharmacy to name a few.
When the property was owned by Carroll University, it fulfilled a number of roles, such as being used as a campus library(or was that a bookstore? perhaps I'm remembering wrong) as well as housing the campus beauty studio. Even though the building is no longer owned by Carroll, this quaint little building that now houses an antique shop has been connected to Carroll since its conception, both in terms of design, and in the facilities that it housed while owned by Carroll, and showing that this otherwise unassuming building has deep history with Carroll University.
Sources
https://www.wisconsinhistory.org/Records/Property/HI28695
http://archives.carrollu.edu/digital/collection/Yearbook/id/10093/rec/4
Image Sources
https://www.wisconsinhistory.org/Records/Property/HI28695

https://www.wisconsinhistory.org/Records/Property/HI28695

Additional Information