Walnut Street Overlook
Introduction
Walk to the place where Walnut Street dead-ends at an overlook to the river below. The park is located atop of steep bluff overlooking the Mississippi River. What you see below you today is not what the builders of the houses around you would have seen prior to the mid-20th century.
Images
Looking west across the river toward the Upper Landing (1895)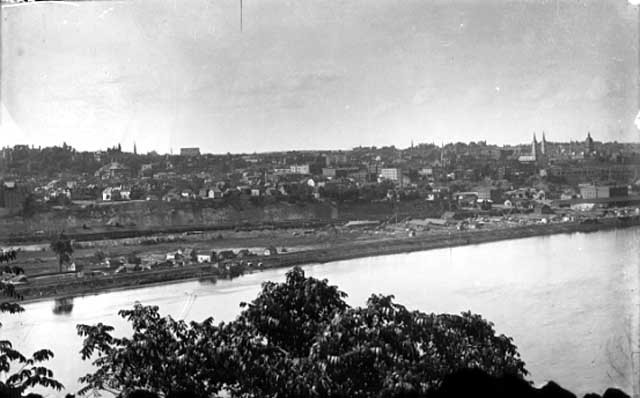 Seven Corners, now location of Xcel Energy Center (1895)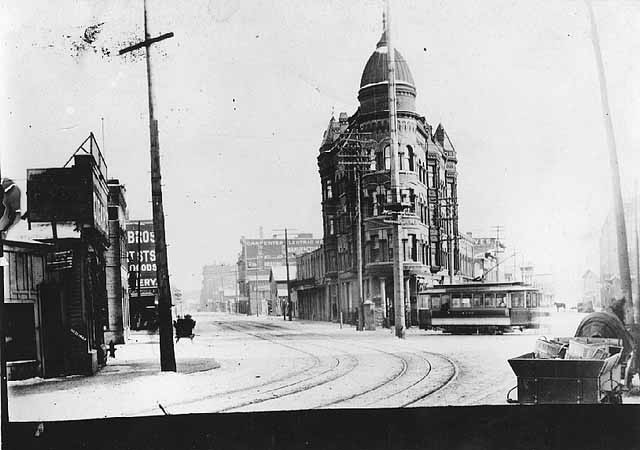 Backstory and Context
In 1890, forty years after Irvine Park was platted as a pasture, the landscape within and around it had changed substantially.
The pasture was an elegant park.
A massive amount of the bluff beneath it had been dynamited back to make room for railroad shops and tracks by the river, thereby destroying Washington Street, which had run parallel to the river along the modern fence line.
St. Paul's population had risen from 1,000 to over 500,000.
The city was a wholesaling and warehousing center and it was on its way to becoming one of the busiest railroad hubs in the United States.
The booming new economy created multiple millionaires each year and drew thousands of migrating Americans and European immigrants to St. Paul for work.
On nearby West 7th Street St. Paulites could purchase everything from cigars to bicycles, brewery workers of could grab after-work drinks at any of its numerous saloons or take their familes to local beer gardens. Below, steam engines bellowed past huffing out coal ash that settled back to earth like Black snow.
Meanwhile, investors had managed after many failed attempts to run streetcars to Summit Hill, drawing the city's elite away from Irvine Park. While the park remained a desirable address, it was no longer the height of fashion, especially as the noisy, bustling city grew up around it.
Sources
Millett, Larry. Lost Twin Cities (MNHS Press, 1992).
Millett, Larry. Twin Cities, Then and Now (MNHS Press, 1996).
Additional Information