Mastodon State Historic Site
Introduction
Mastodon State Historic Site is among the country's most important natural and cultural history sites. It is home to the Kimmswick Bone Bed, from which numerous ancient animal bones, such as mastodons and other now-extinct animals, have been found. This is remarkable in itself, but what makes this site even more significant is the the discovery of Clovis points, or spearheads, in 1979. They were made by the Clovis people sometime around 14,000-10,000 years ago (the term Clovis is named after Clovis, New Mexico, where the first such points were found). This discovery was the first confirmed evidence that prehistoric peoples and animals coexisted. Bones began to be found here in the early 19th century. The site, which includes a museum, hiking trails, and picnic areas, was added to the National Register of Historic Places in 1980.
Images
The museum features this mastodon skeleton as well as many other artifacts and fossils on display.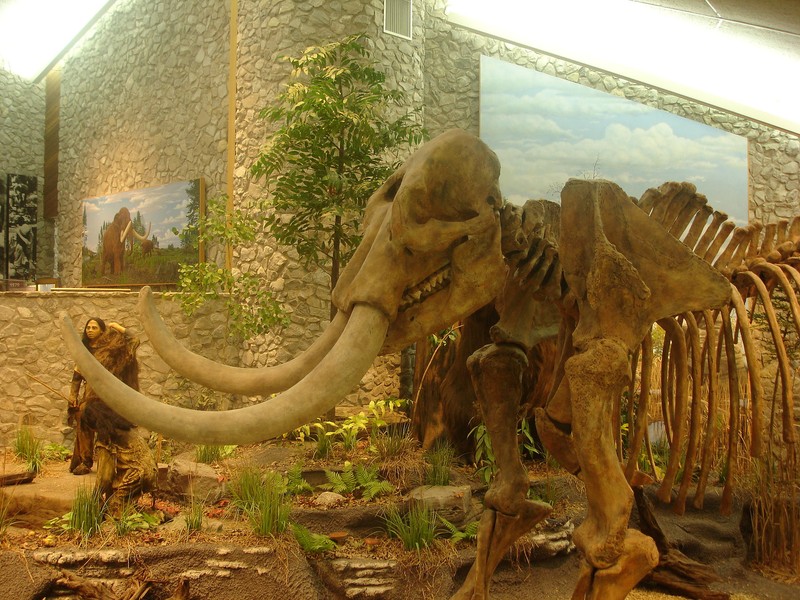 Backstory and Context
The first recorded excavations of ancient fossils in the Kimmswick area occurred in the early 19th century. In 1839,
businessman and museum owner, Albert C. Koch, Ph.D., conducted excavations on a site along Rock Creek. The animal he discovered was an American mastodon, though he initially thought it was a new animal he called the Missouri Leviathan (when the specimen was shown in London, a British anatomist at the British Museum recognized the skeleton was a mastodon).

Further excavations occurred in the early 19th century when
amateur St. Louis paleontologist C.W. Beehler found several fossils including skulls, jaws, teeth, and tusks. However, he did not carefully record his findings so he failed to make the connection between the artifacts and the fossils. In the coming years, the site suffered from non-scientific digs and people simply selling or giving away fossils. A quarry also operated at the site from 1870s to the 1930s.

In the early 1970s, the construction of I-55 threatened the site, prompting calls for its protection. As a result, the
Missouri Department of Natural Resources bought 418-acres including the fossil bed and
designated it a state historic site. Excavations got underway again in 1979. As stated above, it was at this point that the Clovis points were discovered. Other excavations occurred in 1980 and 1984. It appears that no other excavations have taken place since then.
Sources
"Historic Site History at Mastodon State Historic Site." Missouri State Parks. Accessed May 11, 2017. https://mostateparks.com/page/54983/historic-site-history.

Photo: Kevin Saff, via Wikimedia Commons
https://en.wikipedia.org/wiki/Mastodon_State_Historic_Site#/media/File:Mastadon_SHS_museum_skeleton_by_Kevin_Saff.jpg

Additional Information