59 Irvine Park
Introduction
Next, we will walk around the square and explore the histories of some of the historic homes of Irvine Park. They were built in a variety of styles and have lived long and sometimes interesting lives. These homes are lived in. Please keep that in mind as you enjoy the neighborhood. Let's begin with 59 Irvine Park, the turreted cream brick house at the park's northeast corner.
Images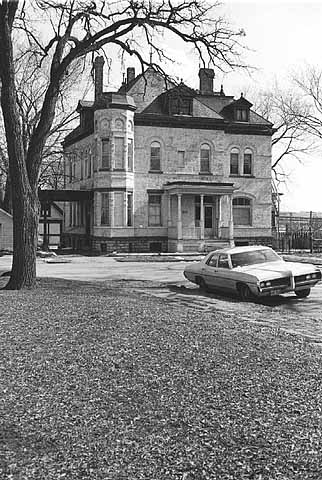 Backstory and Context
Dr. Justus Ohage, a German immigrant and US Civil War veteran, built this house (1889) for his wife Augusta and five children. He was an innovative surgeon and public health official who pushed St. Paul to adopt pure food and drug laws, compulsory vaccinations, and trash removal. Dr. Ohage also mortgaged this house to pay for construction of public baths for working class St. Paulites who lived in tenements without running water.
Two of his children lived in the house until 1946. A year later the new owner subdivided it into rental apartments. Dr. Ohage's great-nephew restored the house and rebuilt the wooden tower in the 1980s, a century after his uncle had it constructed.
Sources
Millett, Larry. The AIA Guide to the Twin Cities (MNHS Press, 2006).
Minnesota Historical Society. Placeography. Accessed June 24th 2020. http://www.placeography.org/index.php/Justus_Ohage_House,_59_Irvine_Park,_Saint_Paul,_Minnesota.
National Park Service. Harriet Island, Harriet Island Regional Park. February 28th 2020. Accessed June 24th 2020. https://www.nps.gov/miss/planyourvisit/harrisla.htm.
Image Sources
http://www.placeography.org/

www.mnhs.org