Oliver H. Hovda House
Introduction
The Oliver H. Hovda House is a historic home in Absarokee built by its namesake around 1904. Hovda co-founded Absarokee with a cousin and uncle in 1893, and was a prominent figure during the 23 years he lived here. He was the towns' first postmaster (in 1893), founded the first bank in town, and worked as a rancher, livestock broker, businessman, and financier. The house is also significant for its design that combines the Neoclassical and Queen Anne architectural styles. Interesting features include a porch with Doric columns and a small fantail window on the southern gable end. The house operated as a bed & breakfast for a number of years but is a private home today.
Images
Oliver H. Hovda built this historic home around 1904. He co-founded Abasarokee and remained an important figure in the community for two decades.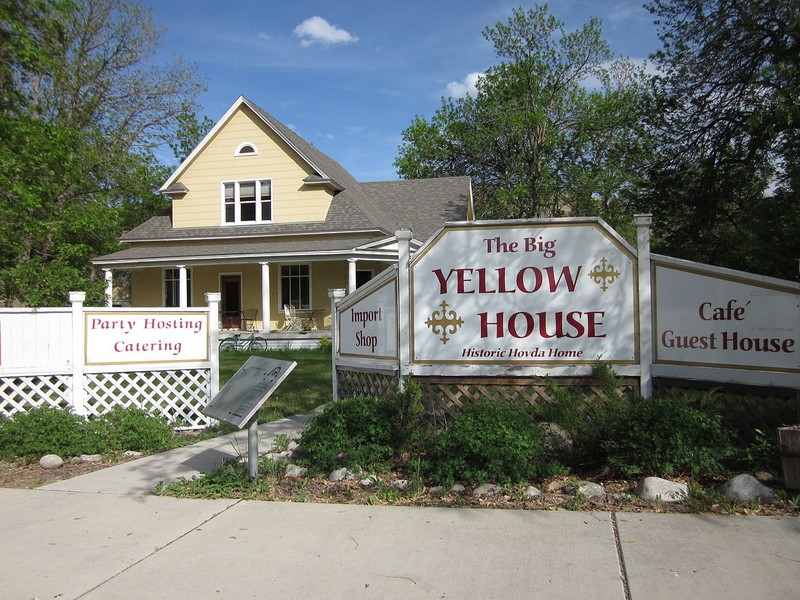 Backstory and Context
Absarokee is located on what was once part of the Crow Indian Reservation. Hovda and his uncle and cousin erected many of the town's first buildings including a trading post, livery stable, hotel, Blacksmith shop, and saloon. The town served as an outpost for the area between Columbus, which was a railroad stop, and the Absaroka Mountains. The trading post eventually became the Absarokee Cooperative Trading Company, which Oliver managed. Hovda also opened another bank in Bearcreek, invested in mining, and owned a hotel in Billings. Hovda and his wife, Belle, lived in the house until around 1910. Hovda's nephew bought it in 1928 and lived here with his family until 1950. In recent years as noted above, the house operated as a bed and breakfast called The Big Yellow House. It became a private home again in 2019.
Sources
Meyers, Christine. "Big Yellow rebirth: Absarokee house reopening to guests starting with 'Italian Night' feast May 14." May 13, 2011. https://billingsgazette.com/entertainment/community/big-yellow-rebirth-absarokee-house-reopening-to-guests-starting-with-italian-night-feast-may-14/article_6a77d1a5-33d2-5442-a70b-aab138c71307.html.
The Montana National Register Sign Program. "Oliver H. Hovda House." Montana Historical Society - Digital Vault. Accessed June 24, 2020. http://digitalvault.mhs.mt.gov/items/show/20889.
Rogers, John P. "Oliver H. Hovda House." National Park Service - National Register of Historic Places Nomination Form. August 16, 1984. https://npgallery.nps.gov/GetAsset/b2070588-31a2-4989-a176-9425f5fb7a0e.
Image Sources
Wikimedia Commons: https://commons.wikimedia.org/wiki/File:The_Big_Yellow_House_Absarokee.JPG

Additional Information