Billy Graham Easter Rally
Introduction
Evangelist Billy Graham held a Rally on Easter Sunday in 1964 in Legion Field in order to preach love and acceptance to the people of Birmingham. In the first integrated crowd in Birmingham, Graham delivered his sermon on "The Great Reconciliation." Graham's speech brought the people of Birmingham together during a period of intensified racial unrest. His use of an integrated venue showed support for the Civil Rights Movement.
Images
Billy Graham speaking at the Easter Rally in Legion Field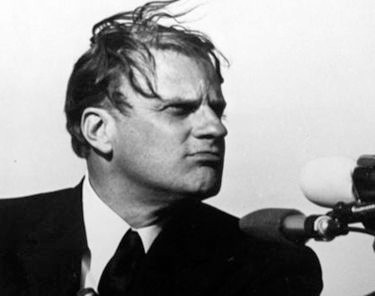 Image of the integrated crowd gathered at Legion Field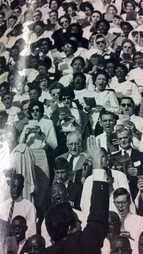 Backstory and Context
Evangelist Billy Graham held a rally at Legion Field on Easter Sunday in 1964 in support of the Civil Rights Movement. Graham's arrival was just after the bombing of 16th Street Baptist Church in Birmingham--an incident antagonizing an area already full of racial unrest.1 Graham was undaunted by the fear and instability pulsing through the streets of Birmingham and decided to continue with his scheduled Crusade.3

Graham showed his support for civild rights by breaking the barriers of segregation by insisting all venues he preached in to be open to all races without separate seating. With an integrated crowd of about 35,000, Graham delivered a sermon focusing on hope for the resurrection of Christ.2 Graham's sermon suggested the propagation of racial inequality as a sin. If men continue to sin, Graham preaches that there will be no hope in solving our social problems.2

Initially, Birmingham police was anticipating violent protests. They dispatched forces to patrol the streets around Legion Field as well as officers to surround the field with only 10 feet between each.2 However, there were no incidents. Instead, many attendees vowed to accept Christ as Savior. Black and whites together enjoyed a message on love, repentance, and faith. Optimistically, it seemed as if Birmingham was moving past days of violent conflict over integration. Later that summer, Graham returned to hold a 10-day Crusade in Montgomery and continue spreading his message and support for civil rights.1



Sources
1. Chismar, Janet. "Billy Graham Breaks Racial Barriers." Billygraham.org. March 31, 2010. http://billygraham.org/story/billy-graham-breaks-racial-barriers.

2. Miller, Steven P. (Winter 2007) "'Another Kind of March': Billy Graham in Civil Rights Era Alabama." Alabama Heritage. No. 83, p. 41-48.

3. "Won't cancel Graham—City denies Negro parade request." Birmingham Post-Herald. March 17, 1964.
Additional Information