Sunnyside (DeBell House)
Introduction
Why does this old place matter? What makes Sunnyside special? Is it important that there may be a log building hidden beneath the wrap-around porch and the clapboard siding? That is part of Sunnyside's lore, it's origins as a log home. An unrecorded tenant farmer may have built a log home as early as the 1740s or at later points in time. But the first unambiguous record of a house is a tax record that shows that Joel Mann had a modest house valued at $500 in 1866. Perhaps that was a log building. Centreville merchant John Daniel DeBell purchased the house in 1878 and expanded it to accommodate his growing family (the 13th child was born in 1886). His son, John Thomas DeBell added to the house again in 1916 and then built a dairy in 1926. When John Thomas died in 1946, his son Stuart continue to manage the dairy through the 1950s. But as Fairfax County grew and dairy farms dwindled, the DeBells moved with the times and opened an insurance office and a restaurant, the Newgate Inn. The family farm, located where the Centreville Regional Library stands today, was sold. But not the family home. If you ask anyone who has lived in Centreville for a while and they will remember another thing that makes Sunnyside special, though they may not know it by name, they do recall the day in 1968 when a huge, old house was lifted off it's foundations onto a trailer and very, very, very slowly moved down Route 29 and brought to this location.
Images
1960s Parade down Rt. 29 in Centreville. Looking south east toward Pickwick Road.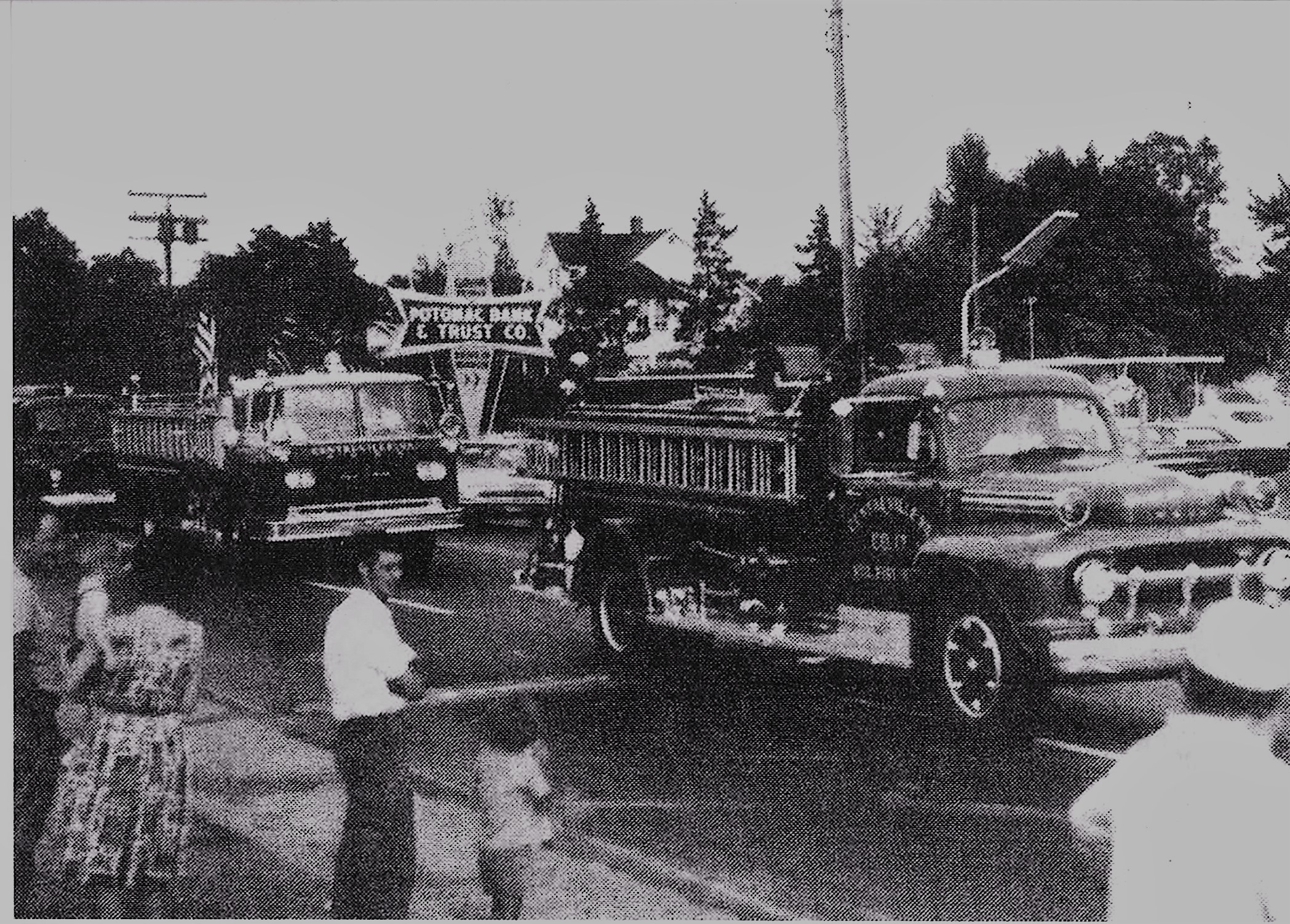 Menefee's Garage, one of a number of service stations in town. Menefee's can be found on Mildred's map.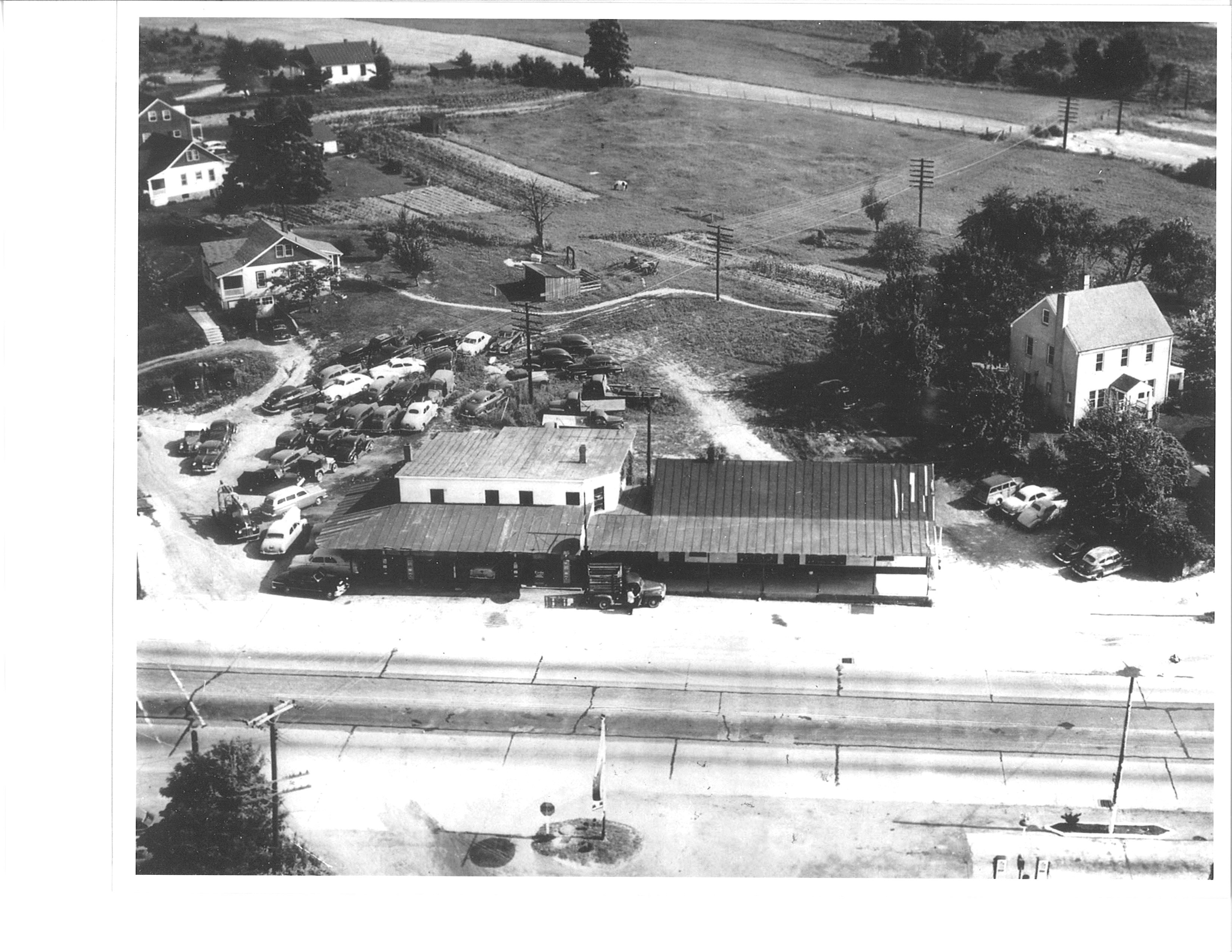 Dorothy Radford, leaving Cabell's Mill, circa 1938.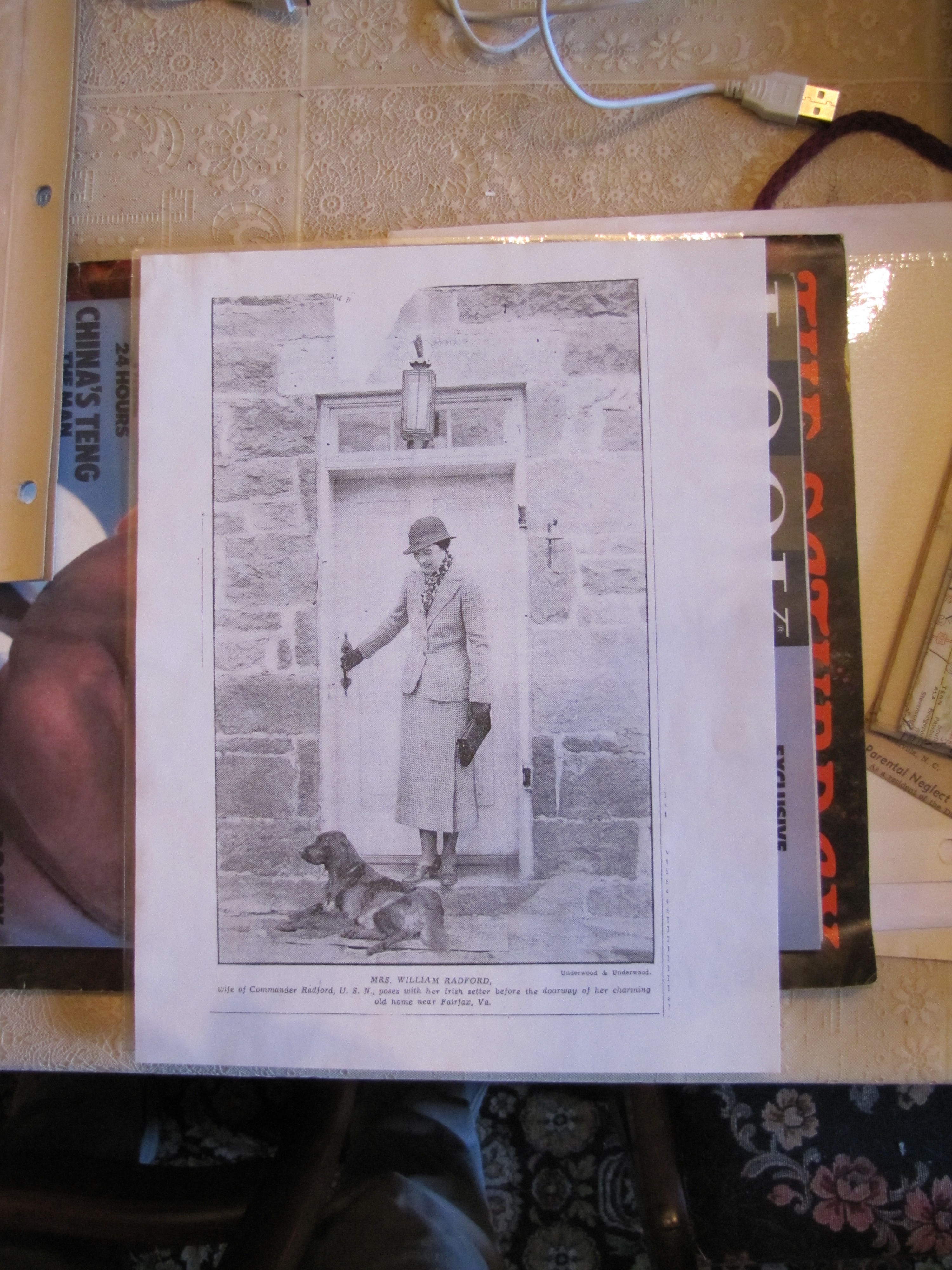 Newsclipping dedication ceremony Ellanor C. Lawrence Park.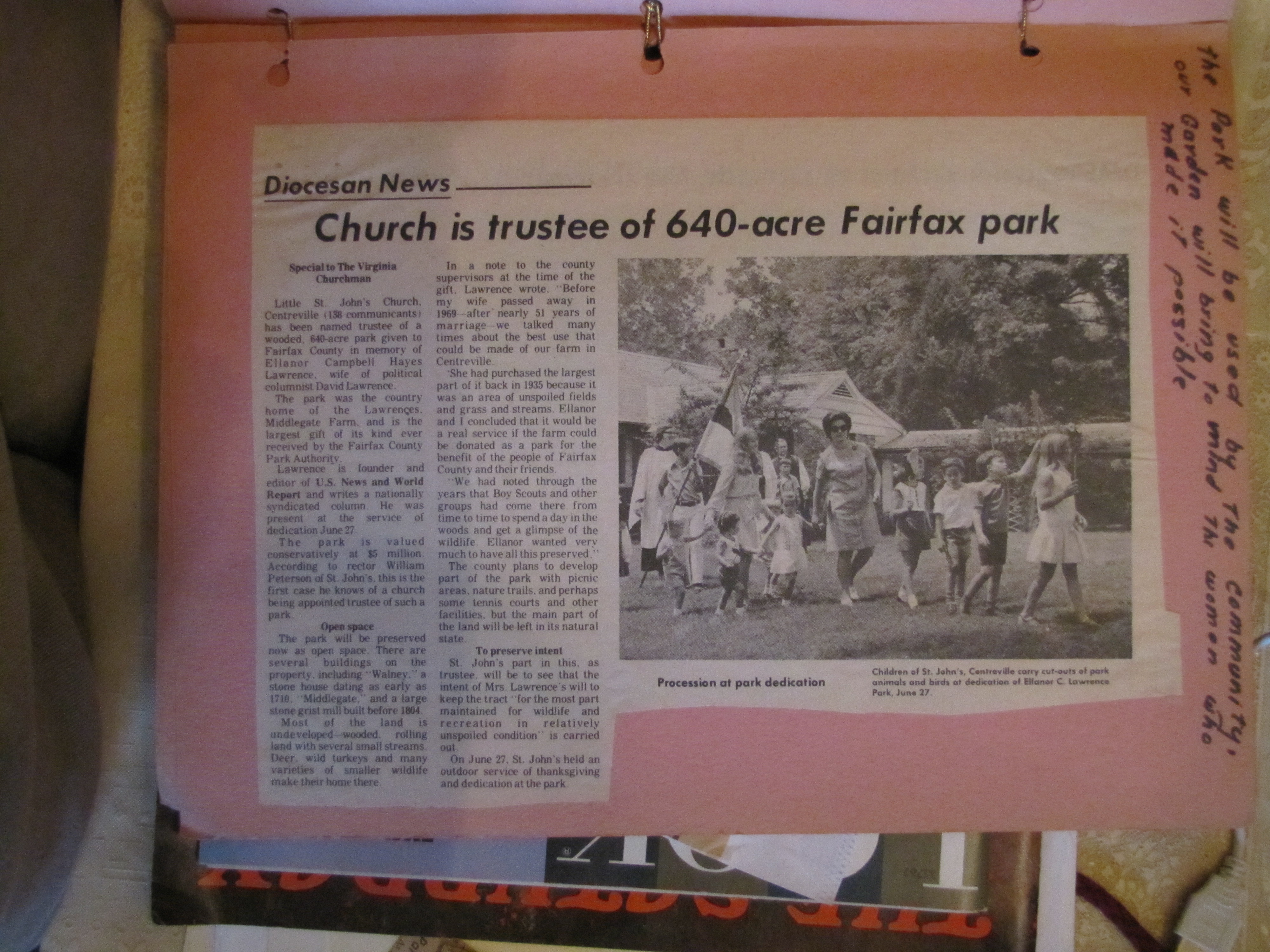 The Reverend Peterson, Saint John's Church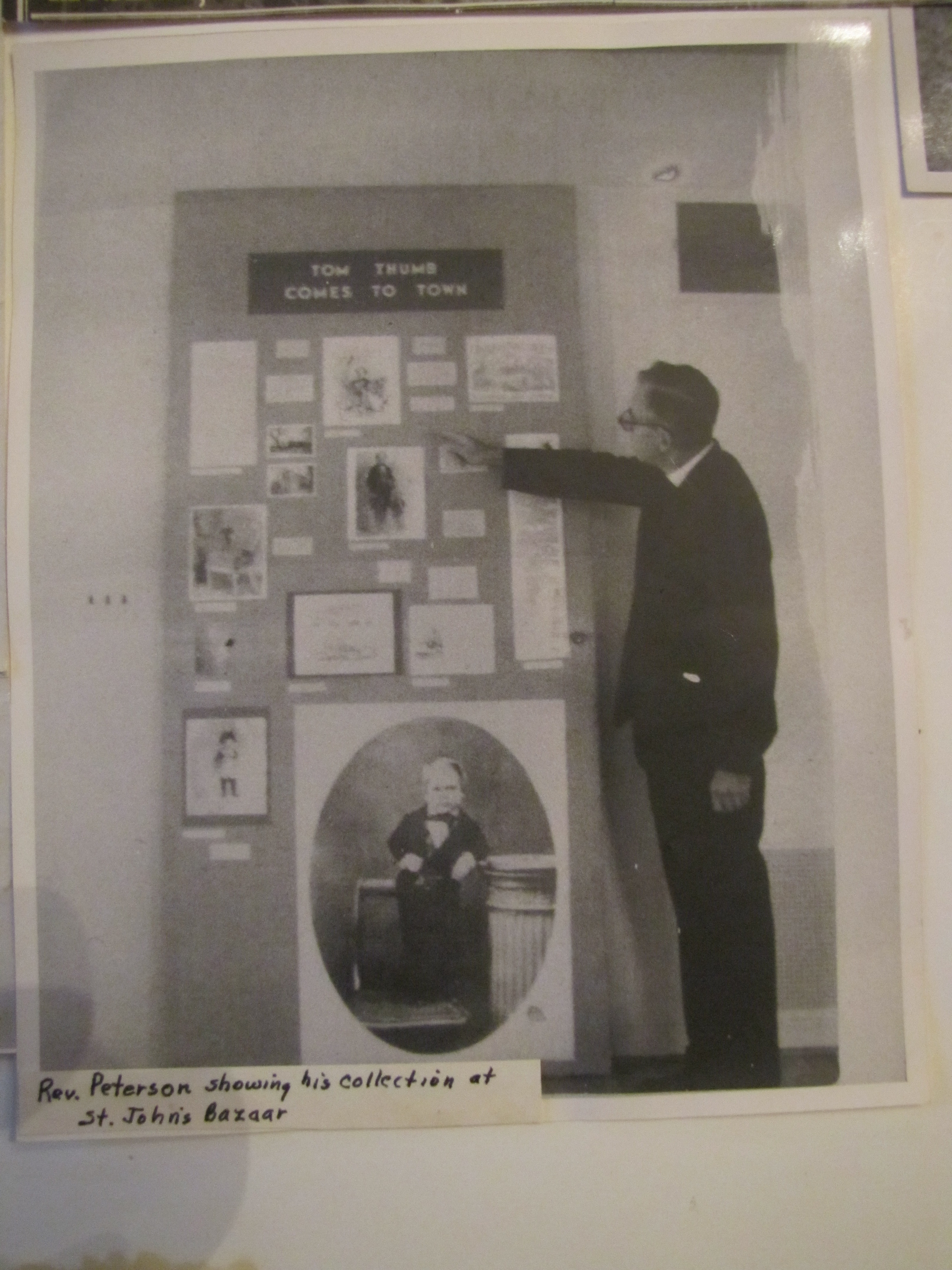 Corner of Braddock Road and Route 29 circa 1950, looking north down Braddock Road. The Esso Station on the left still stands. It was originally built as the second Merchant Tire Store. Also visible on the right, the Centreville Restaurant, now a cell phone store.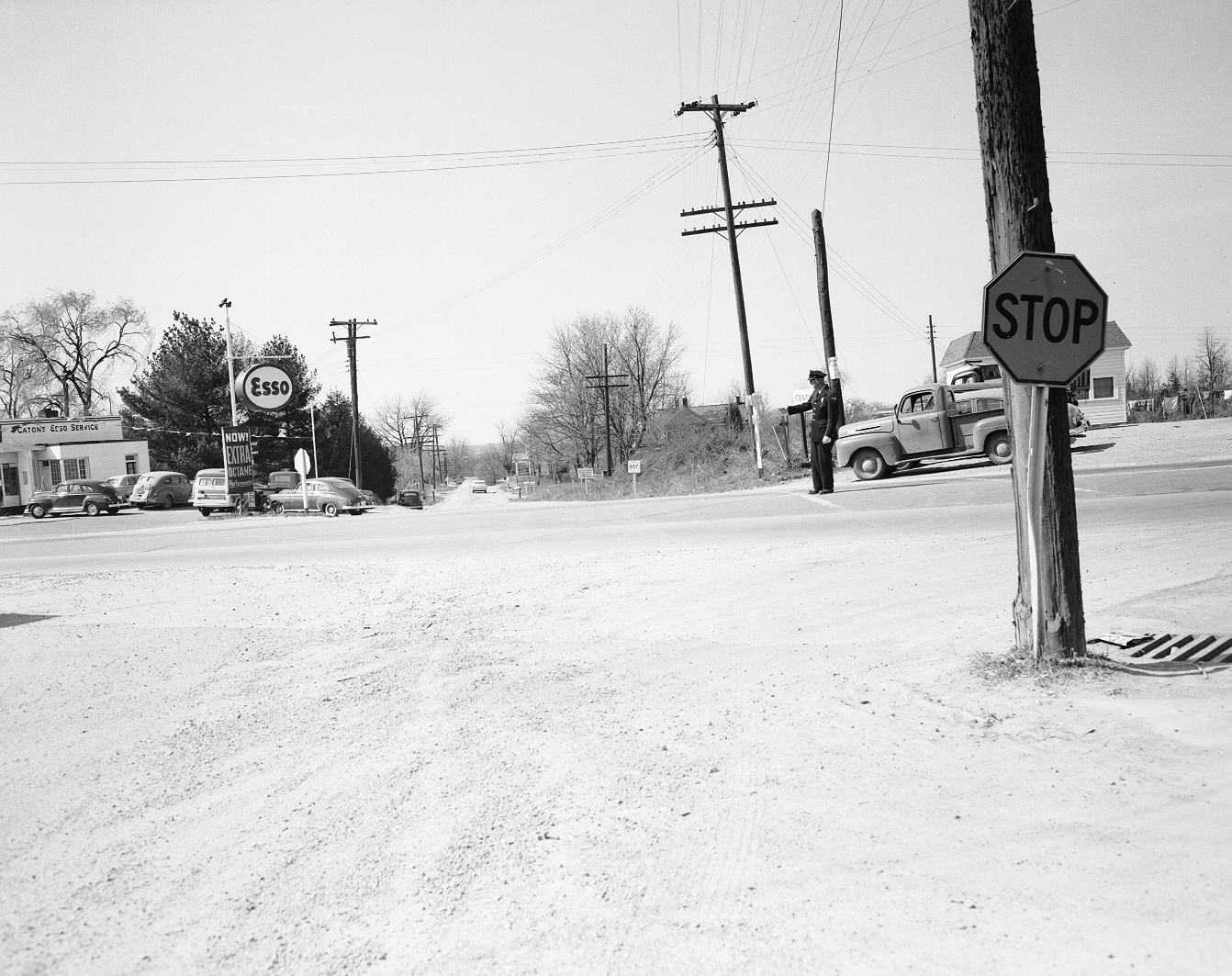 Mildred DeBell Map of Centreville circa 1940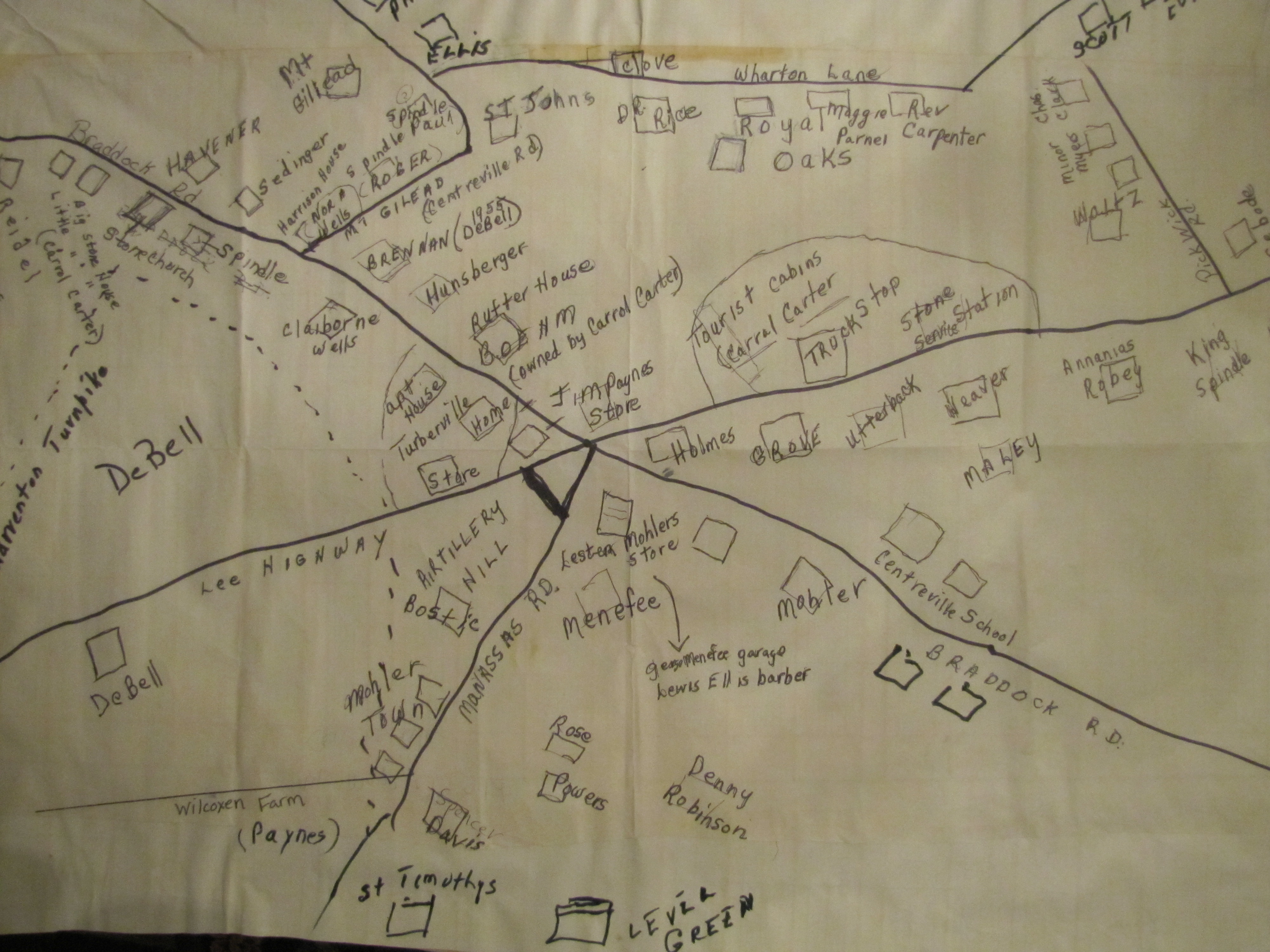 Backstory and Context
But surely it is also the memories associated with a place that make it special? Sunnyside was the home to 6 (or is it 7?) generations of DeBells and the last DeBell resident here, Mildred DeBell, took on the task of preserving the memories of her family and of Centreville.
For many years visitors to Centreville Day could visit a delightful display of Centreville memorabilia collected by the DeBell family going as far back as 1826, organized and presented by Mildred DeBell. The items were, as Mildred described it "a mish-mash" of letters, ledgers, photographs, newspapers and magazines, rationing stamps from World War II, old dairy items, and an heirloom christening gown. Mildred noted that her husband, Stuart, and his mother both tended to be "pack rats."
Many of the items were from the mid-20th century and reflected Centreville's gradual change from rural town to Washington suburb during that period. When Mildred arrived in Centreville in 1938, when she barely out of high school, the town had numerous service stations, three stores, and a truckstop: "Our post office address was Clifton Station," recalled DeBell. "We had a Fairfax telephone number and we went to Manassas to shop." Newspaper clippings and photographs about the opening of Dulles Airport, the Meadows at Newgate (the garden apartment complex that was built after Sunnyside was moved in 1968), London Towne townhouses and Ellanor C. Lawrence Park documented the town's growth.
Other items reflected Centreville's social life and Mildred's life more particularly. The were pictures and records related to Centreville Elementary School, where Mildred taught school, Saint John's Church, and the Rocky Run Garden Club which Mildred, Ellanor C. Lawrence and a handful of other ladies had begun. Lawrence had a home at Middlegate, and there were also photos of an earlier resident of Middlegate, Dorothy Radford, who had been a guest at Mildred's wedding. Personal momentos that took on a broader significance as Middlegate became part of Ellanor C. Lawrence and the Centreville of Mildred's memories, represented by a map, drawn by Mildred later in life, passed from memory to history.
Sources
Bonnie Hobbs. Collecting a Century of Centreville, in The Centre View, Wednesday, Sepember 6, 2006.
Bonnie Hobbs. Mildred DeBell is Sully's Lady Fairfax, in The Centre View, Wednesday, May 7, 2003.
Bonnie Hobbs. A Vital Part of Our Community, Mildred DeBell: Centreville Day 2017 Citizen of the Year, in The Centre View, Wednesday, October 25, 2017.
Fairfax Herald, JT DeBell adds to home, November 10, 1916, p2.
Fairfax Herald, JT DeBell builds dairy, June 25, 1926, p2.
Fairfax Herald, JT DeBell obituary, March 8, 1946, p1
Fairfax Herald, Newgate Inn, April 17, 1970, p4.
Fairfax City Times, S. DeBell advertises general insurance, December 20, 1963, p.4
Fairfax County Tax Ledger, Joel Mann taxed $500 for buildings, 1866. Fairfax County Courthouse Historical Archives
Fairfax County Deed Book W4, p. 490. Love to DeBell, October 5, 1878.




Image Sources
Historic Centreville Society

Historic Centreville Society

Mildred DeBell Scrapbook.

Mildred DeBell Scrapbook.

Mildred DeBell Scrapbook

Fairfax County Public Library.

Mildred DeBell

Additional Information