Harvey Milk Plaza
Introduction
This plaza honors the life of Harvey Milk, the first openly-gay elected official in Californian history. Harvey Milk was an influential gay rights activist and became one of the first openly gay officials in the United States in 1977 after he was elected to be on the San Francisco Board of Supervisors. In 2002, Harvey Milk was cited as the most significant LGBT elected official in the United States. Tragically, one of the reasons that many remember Milk is related to the nature of his death. Former City Supervisor Dan White snuck through a basement window in City Hall and killed Supervisor Harvey Milk and Mayor Moscone on November 27, 1978.
Images
Jane Fonda and Harvey Milk. Photo credit to Huffingtonpost.com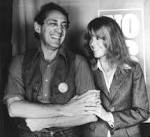 Harvey Milk Plaza is named in honor of the first openly-gay elected official in San Francisco.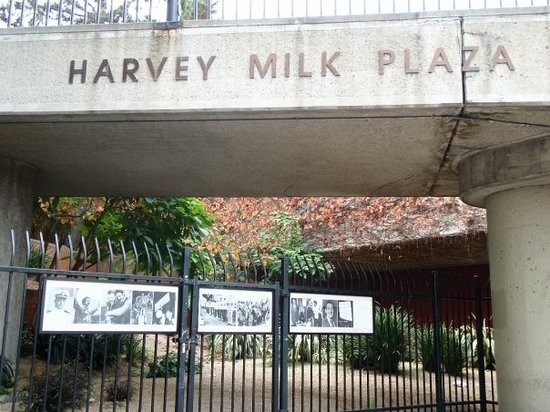 Backstory and Context
Harvey Milk came from a small, middle-class, Jewish family in Woodmere, New York but moved to San Francisco in 1972. He and his partner opened a camera shop on Castro Street named Castro Camera in the heart of the city's gay community. He soon built connections within the community and found his voice. He became a leader in the fight for Gay Rights and was known colloquially as the "Mayor of Castro Street."

Milk first announced his candidacy for a position on the San Francisco Board of Supervisors in 1973. With little money and a lack of political experience, Milk lost the election. Two years later, Milk lost a second election for the same position. In 1977 Harvey Milk finally won a seat on the San Francisco City-County Board, becoming the city's first openly gay official, as well as one of the first openly gay politicians to be elected to office in the United States.

Harvey Milk led a community initiative to strike down Proposition 6, which would have required the city's schools to fire gay teachers and refuse job applications to potential teachers on the basis of their sexual orientation. The film, "The Times of Harvey Milk," tells the story of how many people, including Milk, lobbied and fought against Proposition 6. Their campaign gained support, and the proposition was ultimately rejected with 75% of San Franciscans voting against it. The result shocked the gay community and led to massive celebrations across the state.

Harvey Milk's death march is an example of the impact he had on the gay community. After he had died, hundreds of people attended a candlelit march in support of him. After Milk's killer, former supervisor Dan White was only found guilty of involuntary manslaughter (after confessing to shooting both Milk and the Mayor in City Hall) riots broke out all over San Francisco. White served just over five years of his sentence and was released from prison in 1985. Less than two years later White was found dead in his ex-wife's garage after committing suicide via carbon monoxide inhalation.


Sources
Epstein, Robert, Richard Schmiechen, and Harvey Fierstein. The Times of Harvey Milk. San Francisco, CA: Black Sand Productions, 1984. "Harvey Bernard Milk." Bio. A&E Television Networks, 2014. Web. 12 Dec. 2014. Lindsey, Robert. The New York Times. The New York Times. October 22, 0085. Accessed March 11, 2017. http://www.nytimes.com/1985/10/22/us/dan-white-killer-of-san-francisco-mayor-a-suicide.html?scp=1&sq=Dan%20White,%20Killer%20of%20San%20Francisco%20Mayor,%20a%20suicide&st=cse.


Additional Information