Tower, Wolseley Barracks
Introduction
The tower is the most defining feature of Wolseley Barracks. Located on the west wing of the building facing Elizabeth Street. Originally, the archway at the base of the tower was a tunnel which would lead into the parade square. This feature was closed in to create a reception area for The Royal Canadian Regiment Museum.
Images
Wolseley Barracks c. 1924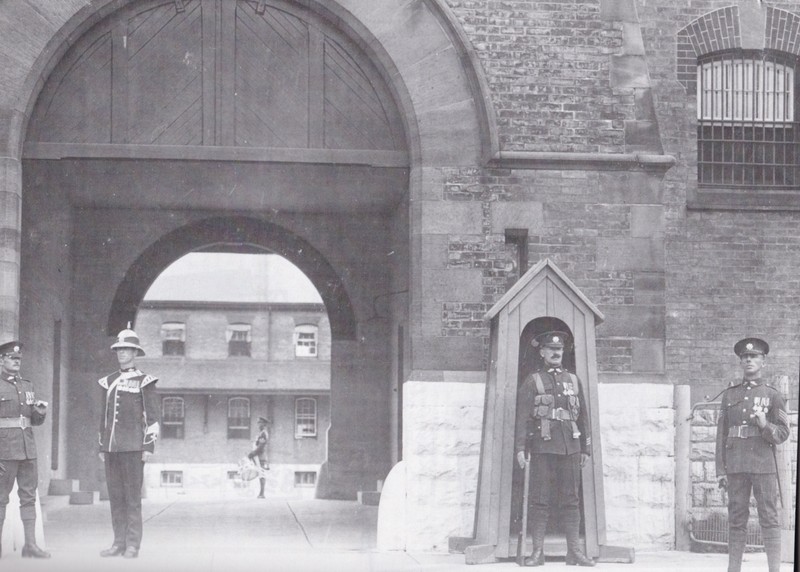 Museum Foyer in the 1980's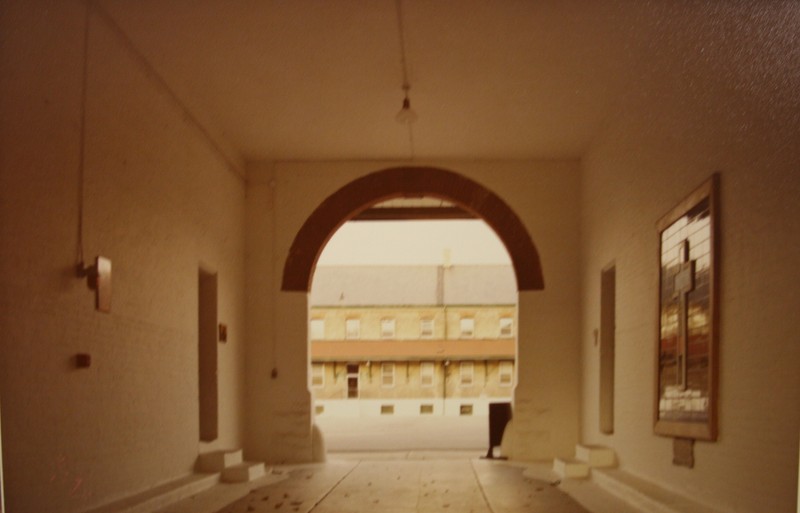 Wolseley Barracks, A Block,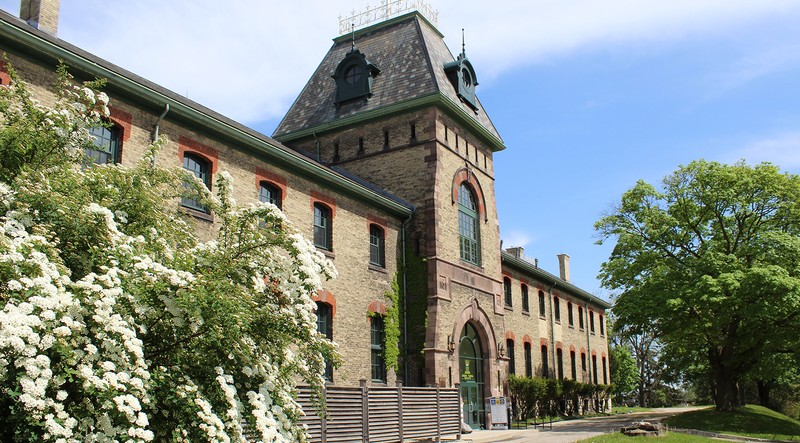 Historic Sites and Monuments Board of Canada Plaque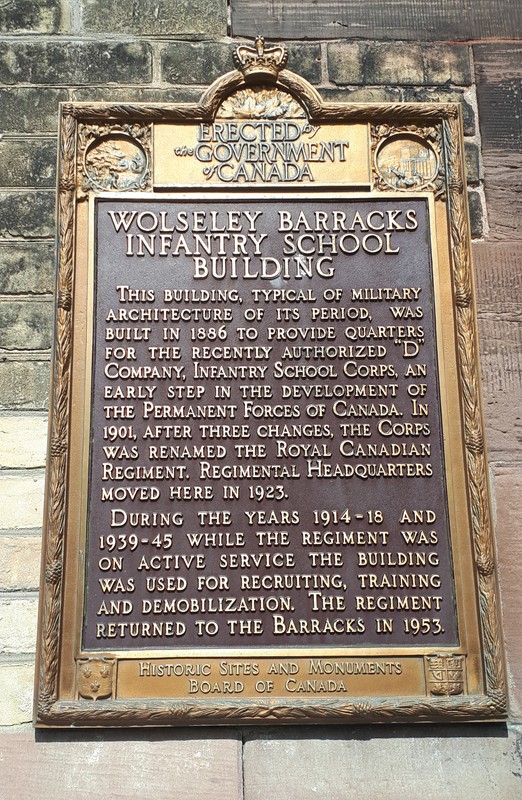 Wolseley Barracks, A Block,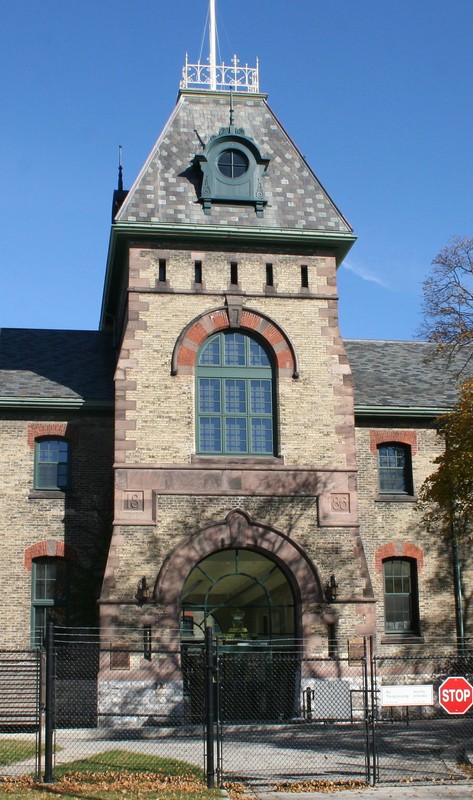 Plaques Given to Commemorate Wolseley Hall 26 June 1970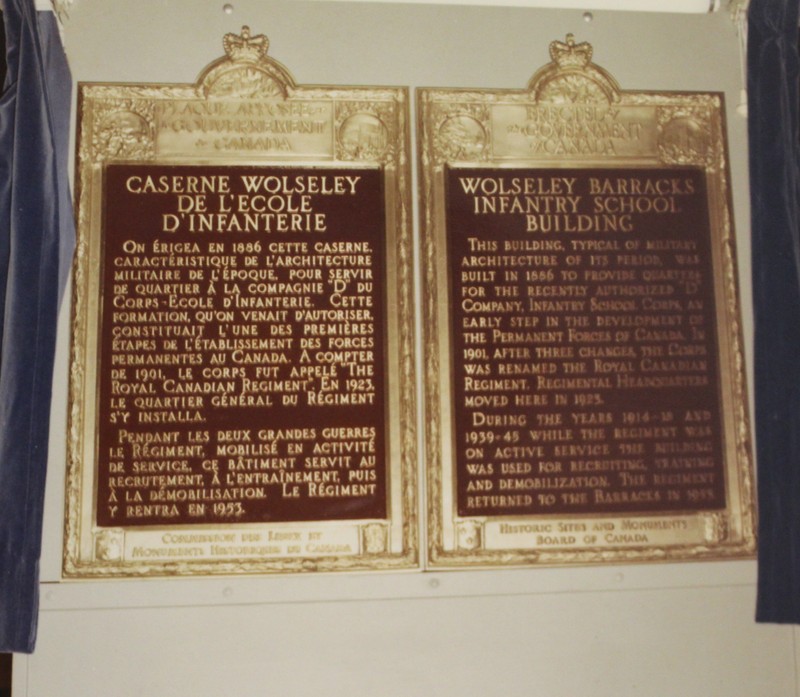 Backstory and Context
The west wing is dominated by the central tower. The decorative features of the tower are indicative of the late 19th century Neo-Romanesque style. There is a 3-level tower entrance with circular arches highlighted by dressings of red stone. It has a gabled roof, which is nicely decorated with three bullseye skylight windows. Below the roof, embrasures surround the entire wall.    
The year 1886, when construction of the building started, is clearly visible above the entrance to the tower. This entrance once provided access to a tunnel that led to the parade square. Following renovations from 2009-2013 the tunnel was enclosed to form the new museum reception area. On either side of the entryway plaques are found from the Historic Sites and Monuments Board of Canada describing the building's significance.  
Historic Sites and Monuments Board of Canada Plaque for Wolseley Barracks Infantry School Building 
This building, typical of military architecture of its period, was built in 1886 to provide quarters for the recently authorized "D "Company, Infantry School Corps, an early step in the development of the Permanent Forces of Canada. In 1901, after three changes, the corps was renamed The Royal Canadian Regiment, Regimental Headquarters moved here in 1923.  
During the years 1914-1918 and 1939-1945 while the regiment was on active service the building was used for recruiting, training and demobilization. The regiment returned to the barracks in 1953.  
Sources
1886, architectural drawings by Henry James, Archives and Research Collection Centre, Western University, London, ON, Durand-Moore Fond.
History, The Royal Canadian Regiment Museum. Accessed June 23rd 2020. http://www.thercrmuseum.ca/en-ca/History.
Stanciu, Georgiana. "The 'Museum Room' at the Infantry School Corps building in London, Ontario. The story behind the Royal Canadian Regiment" Museum ICOMAM Magazine. Museum ICOMAM Magazine. January 12th 2018. 39 - 44. Accessed June 23rd 2020 https://drive.google.com/file/d/1_LLWy4oMYRB5ddwJ32KsCjyh_yJcbu1H/view 
Image Sources
The RCRM Collection

The RCRM Collection

The RCR Museum Photograph

The RCR Museum Photograph

The RCR Museum Photograph

The RCRM Collection

Additional Information