Marker: Uncle Tom's Cabin
Introduction
This Kentucky historical marker preserves the history of a cabin that was located here until 1927 and served as an inspiration for one of the most influential books in American history. Harriet Beecher Stowe based her book "Uncle Tom's Cabin" on the plantation that was located here. Her book demonstrated the cruelty of slavery and the lengths to which the enslaved would go to escape bondage at a time when many white Americans, especially those in Northern cities, rarely considered the plight of the slave. The success of the book and the compelling nature of Stowe's characters bolstered the fledgling anti-slavery movement. In fact, Abraham Lincoln credited Stowe's work as a major reason for the rise of the Republican Party and its platform of preventing slavery's expansion. This site was originally part of a sprawling plantation that included many cabins where enslaved people lived as they produced crops and performed other uncompensated labor on several thousand acres of land. While most agree that this plantation was an inspiration for Stowe's book, there are conflicting accounts related to the connection between this plantation and the book's character of George Harris. Many believe that George Lewis Clark, an enslaved man on the plantation, framed Stowe's portrayal of Harris. However, Stowe once claimed that another man, Josiah Henson, was the inspiration for the character, a sorry collaborated by Henson. The site is a short distance from Berea College, the first integrated college in the South, as well as White Hall, home of abolitionist General Cassius Marcelius Clay, Sr. The marker is several hours from the birthplace of Abraham Lincoln and Jefferson Davis, and 18 miles east of the first Union-recruiting station south of the Ohio River, Camp Dick Robinson.
Images
Uncle Tom's Cabin Marker in Paint Lick, Kentucky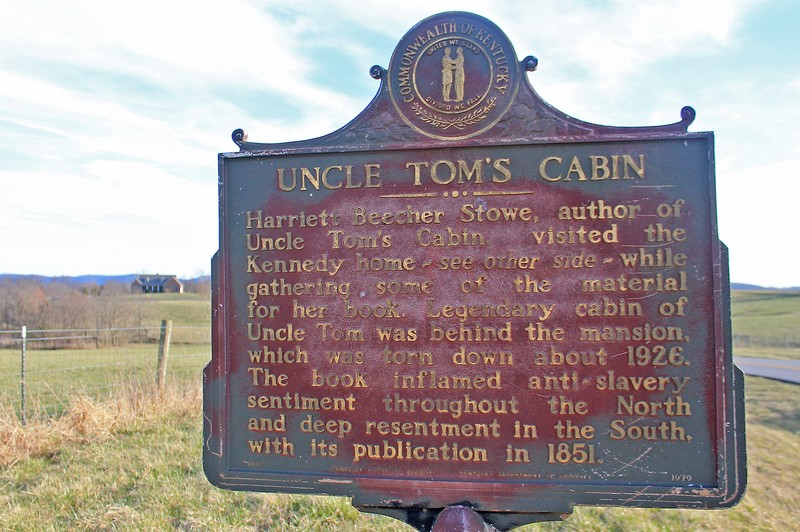 Uncle Tom's Cabin Marker in Paint Lick, Kentucky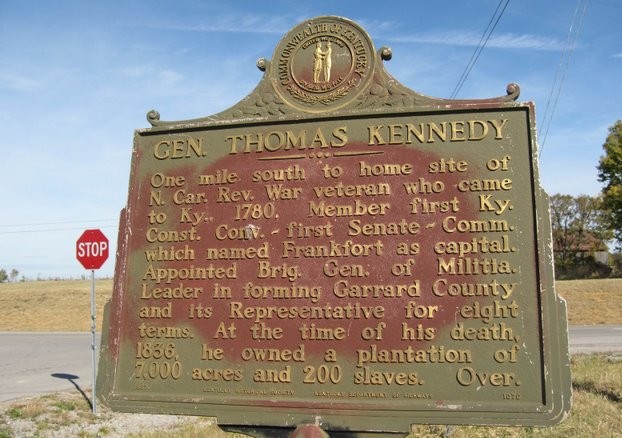 Harriet Beecher Stowe, 1870s-80s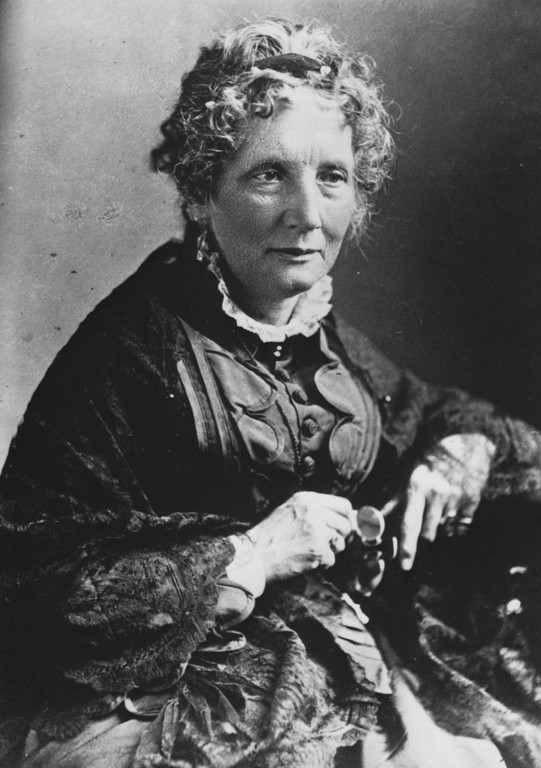 Rev. Josiah Henson and his second wife, Nancy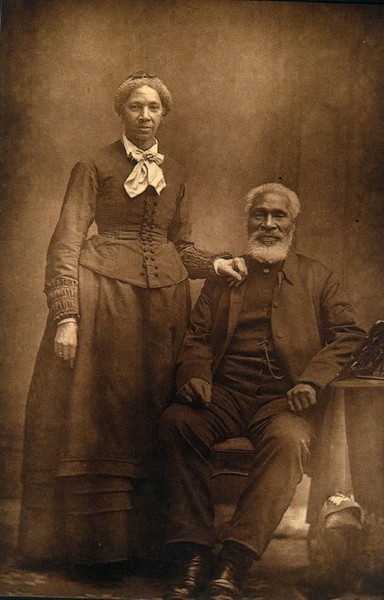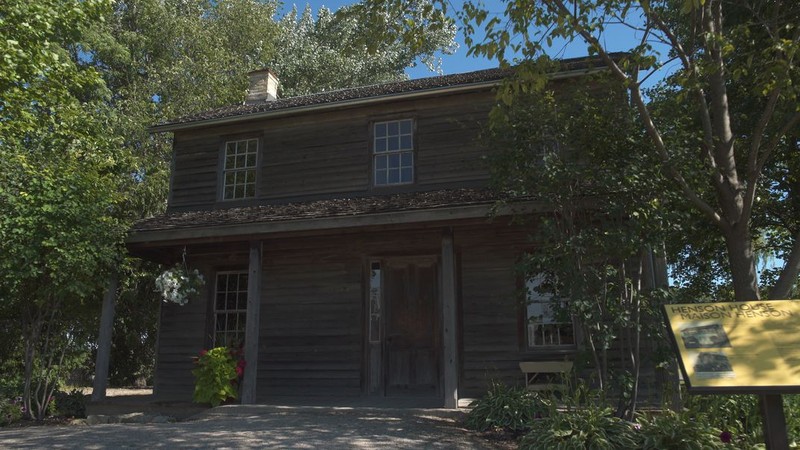 Backstory and Context
Harriet Beecher Stowe, an ardent abolitionist born in Litchfield, Connecticut in 1811, first published "Uncle Tom's Cabin" in 1851, with it originally appearing as a serial in The National Era, an abolitionist periodical, then in book form as Uncle Tom's Cabin 1852. In book form, it sold 3,000 copies on its first day of publication, requiring 17 printing presses running continuously to meet demand. According to the marker, the book produced "deep resentment in the South," as it condemned slavery; however, the book's popularity simultaneously became a vital tool for both Abraham Lincoln and the abolitionist movement.
Inspiration for the book's setting came from the estate of Revolutionary War Veteran General Thomas Kennedy Sr. While there are mixed accounts of the exact numbers of slaves and acres he owned, it is estimated he enslaved around 200 people at the time of his death, and owned thousands of acres of land, making it one of the largest plantations in the South. The cabin that formed the basis of Stowe's book is said to be an actual structure that once stood behind the plantation. While Stowe did visit Kentucky as a resident of Cincinnati, Ohio while collecting material for the book, there is speculation as to whether or not she specifically visited the plantation in the Paint Lick community.
Nevertheless, the plantation inspired more than the setting for "Uncle Tom's Cabin;" characters from the book were also derived from people of Paint Lick, such as Eva St. Clare, said to be inspired by Gen. Kennedy Sr.'s daughter, Nancy. The derivation of the main character, however, is more complicated. It is commonly accepted that character George Harris was written about George Lewis Clark, who was enslaved by Gen. Kennedy and one of 100 slaves willed to his son, Thomas Kennedy, Jr. Clark was originally enslaved by John Banton, owner of one of the largest counterfeiting plants ever brought to the U.S. just several miles south of Paint Lick, before he was caught and sold to Kennedy. After Gen. Kennedy Sr.'s death, he escaped to Cambridge, Massachusetts, to live with the family of Stowe's sister, making him a likely subject for the character of George Harris.
Yet, despite this "common knowledge" of Clark, in Stowe's "The Key to Uncle Tom's Cabin," in which she speaks of inspiration for the book, she acknowledges Reverend Josiah Henson as the true inspiration for Harris, claiming "A last instance parallel with that of Uncle Tom is to be found in the published memoirs of the venerable Josiah Henson . . . now pastor of the missionary settlement at Dawn, in Canada." Henson, born around 1789 near Port Tobacco, Maryland, was himself enslaved. After being sold several times from a young age and separated from his parents, surviving a deadly illness, and raising money to buy his own freedom only for it to be taken, Henson eventually escaped with his wife and two youngest children in 1830, trekking over 600 miles to Canada. There, he helped start a freeman settlement called the British American Institute in Dawn in 1841, which became one of the final stops on the Underground Railroad. Henson returned to the U.S. multiple times, guiding 118 other slaves to freedom.
A preacher, he befriended Abolitionist Samuel Atkins Eliot, who helped him write his memoir, "The Life of Josiah Henson, Formerly a Slave, Now an Inhabitant of Canada, as Narrated by Himself," in 1849. On one of his trips from Boston, Henson visited a woman who would write a book of her own, Harriet Beecher Stowe. A later edition of his memoir recalls:
"I was in the vicinity of Andover, Mass., in the year 1849, where Mrs. Harriet Beecher Stowe resided. She sent for me and my travelling companion, Mr. George Clark, a white gentleman, who had a fine voice for singing, and usually sang at my meetings to add to their interest. We went to Mrs. Stowe's house, and she was deeply interested in the story of my life and misfortunes, and had me narrate its details to her. She said she was glad it had been published, and hoped it would be of great service, and would open the eyes of the people to the enormity of the crime of holding men in bondage. She manifested so much interest in me, that I told her about the peculiarities of many slaveholders, and the slaves in the region where I had lived for forty-two years. My experiences had been more varied than those of the majority of slaves..."(1).
Josiah Henson died in Dresden, Ontario, in 1883 at age 93. Not only did he never receive profit from Stowe's book, he also became a source of mockery from white men in Blackface during minstrel shows, in which they portrayed him as a "a hunchback who spoke poor English" and who would betray his own race for his owner's favor. His funeral was one of the largest in Dresden's history.
As for "The Key to Uncle Tom's Cabin," Abraham Lincoln borrowed the book from June 16, 1862 to July 29, 1862, during which time he drafted the Emancipation Proclamation. He also distributed 100,000 copies of Uncle Tom's Cabin during the presidential campaign of 1860 to stir abolitionist support, which likely helped him to be elected. The cabin in Paint Lick was torn down in 1927, but the history surrounding the location and book remains.
Sources
Brock, Jared. The Story of Josiah Henson, the Real Inspiration for 'Uncle Tom's Cabin', Smithsonian Magazine. May 16th 2018. Accessed August 30th 2020. https://www.smithsonianmag.com/history/story-josiah-henson-real-inspiration-uncle-toms-cabin-180969094/.
Harriet Beecher Stowe - Uncle Tom's Cabin, U.S. History. Accessed August 30th 2020. https://www.ushistory.org/us/28d.asp.
Kentucky: A Guide to the Bluegrass State, Accessed June 22nd 2020. https://books.google.com/books?id=VqQtnAKMQH0C&pg=PA257&lpg=PA257&dq=uncle+tom%27s+cabin+paint+lick+kentucky&source=bl&ots=hSMDTFO43M&sig=ACfU3U0zgoHPyykInPJH20rP3eqwismpug&hl=en&sa=X&ved=2ahUKEwiCquDr8pbqAhVLKawKHYMbD304ChDoATALegQICRAB#v=onepage&q=uncle%20tom's%20cabin%20paint%20lick%20kentucky&f=false.
Kocher, Greg. In Garrard, murky history as tourist lure, Lexington Herald Leader. December 1st 2008. Accessed August 30th 2020. https://www.kentucky.com/news/state/kentucky/article43984359.html.
Kratz, Jessie. Harriet Beecher Stowe: A Fighter for Social Justice, National Archives. March 8th 2019. Accessed August 30th 2020. https://prologue.blogs.archives.gov/2019/03/08/harriet-beecher-stowe-a-fighter-for-social-justice/.
Marker: Uncle Tom's Cabin Site, Paint Lick, Kentucky, Roadside America. Accessed June 22nd 2020. https://www.roadsideamerica.com/story/24046.
Roadside History: A Guide to Kentucky Highway Markers, Accessed June 22nd 2020. https://books.google.com/books?id=-bl4FNDXxqQC&pg=PA98&lpg=PA98&dq=uncle+tom%27s+cabin+paint+lick+kentucky&source=bl&ots=o1TLjH56Hp&sig=ACfU3U1Lu_6PIsD7pIpULjpmf9OxmEihrw&hl=en&sa=X&ved=2ahUKEwiCquDr8pbqAhVLKawKHYMbD304ChDoATAKegQIChAB#v=onepage&q=uncle%20tom's%20cabin%20paint%20lick%20kentucky&f=false.
Village of Uncle Tom's Cabin, Accessed June 22nd 2020. http://utc.iath.virginia.edu/saxon/servlet/SaxonServlet?source=utc/xml/responses/articles/n2ar19ds.xml&style=utc/xsl/utcprint.xsl&print=yes&clear-stylesheet-cache=yes.
Image Sources
National Archives

Library of Congress

Boom Documentaries

Additional Information