Jackie Robinson and Pee Wee Reese Monument
Introduction
Jackie Robinson is best known as a hero of baseball. He paved the way for African American baseball players like Hank Aaron, CC Sabathia, and more. Jackie was born in Cairo, Georgia, on January 31, 1919, and was the youngest child. On April 15, 1947 Jackie Robinson broke baseball's color barrier on his way to a ten-year Hall of Fame career with the Brooklyn Dodgers. He faced a lot of hatred with death threats, games being cancelled because he was on the field with his white counterparts. A man named Pee Wee Reese helped Robinson and help him get through tough times during this period. During Jackie's rookie year, the crowd targeted Robinson with racial slurs. Reese approached Robinson on the field and put his arm around him. This showed respect and acceptance to the public for an African American in Major League Baseball. This act is depicted in the monument in Coney Island, New York.
Images
The statue of Jackie Robinson and Pee Wee Reese outside of the Brooklyn Cyclones Stadium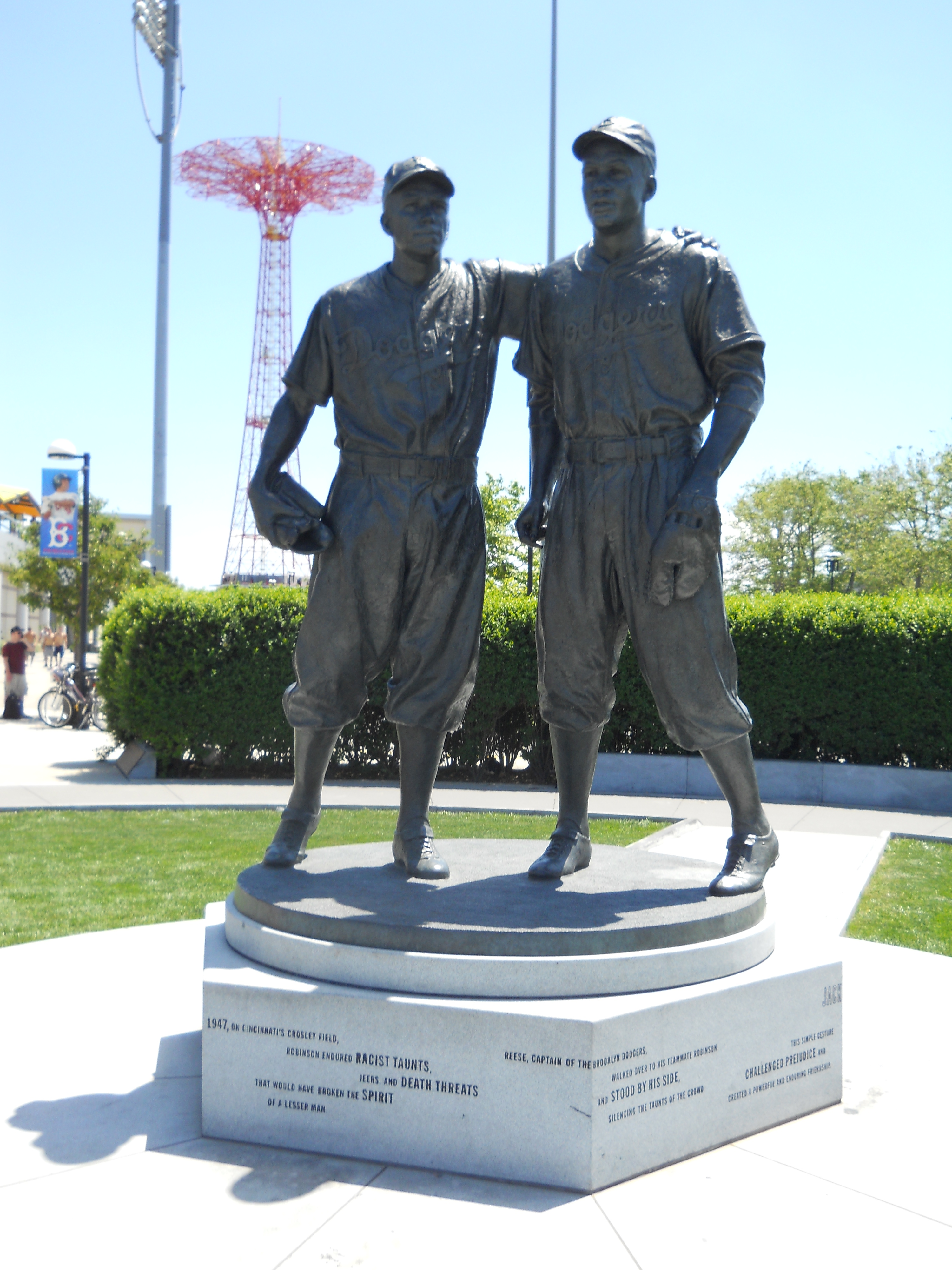 A picture of Jackie Robinson and Pee Wee Reese sitting in the Dodgers dugout during a game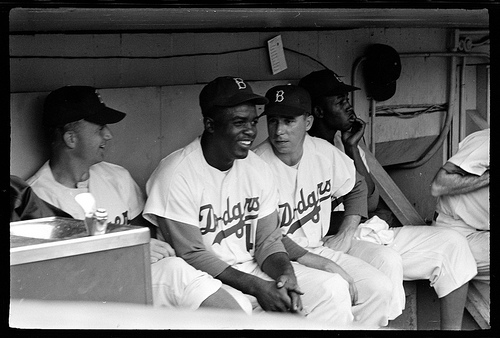 Backstory and Context
Jackie Robinson was a known for being a civil rights activist, a brave and courageous person and a hall of fame baseball player. Jackie attended UCLA where he was a multi-sport athlete and he ended up to enlist in the United States Army. While in the Army, he was taken to court and discharged from the Army because he refused to give up his seat on the bus. Jackie then turned to professional baseball and then played one season in the Negro Baseball League. Then he received a call that change his life and elevated broke barriers in baseball.
The President of the Brooklyn Dodgers Branch Rickey took a chance on Jackie. In 1947 at the age of 28, Jackie began his professional baseball career. He excelled on the field but faced discrimination throughout his career. Jackie was called a lot of names, hate mail and death threats. The Dodgers shortstop Pee Wee Reese befriended Robinson.
Pee Wee Reese believed in segregation and believed in what Jackie Robinson could do for the good of the game of baseball. In the first months of Robinson's career came a time on the baseball field that would be the biggest action towards segregation since Robinson broke the color barrier and became the first African American Major League Baseball player. During the 1947 season, Reese walked across the field toward Robinson in front of the thousands of fans. Reese walked up next to Robinson, put his arm around him and said that everything would be OK and to just play the game. Reese let Robinson know that you are not alone and that I have your back. This was a legendary moment in baseball, American and African American history. Doing this, this showed that African Americans should be treated equal. This moment is enshrined by a statue of the two with their arms around each other. This statue is in Brooklyn, New York outside the Brooklyn Cyclones Minor League Stadium.
Sources
Dorinson, Joe. Great Figures in Black Baseball: Jackie Robinson Revisited, Accessed March 3rd 2020. https://search.proquest.com/docview/1366067239?accountid=14925.
Halpern , Steven. Blackout-The Untold Story of Jackie Robinson's First Spring Training, Accessed March 3rd 2020. https://search.proquest.com/docview/905091379?pq-origsite=summon.
Sheldon Grimes. "Jackie Robinson and Pee Wee Reese Monument." Clio: Your Guide to History. March 3, 2020.  Accessed March 3, 2020. https://www.theclio.com/entry/10756
Additional Information