Black Stag Brewery & Pub
Introduction
Black Stag Brewery opened in 2018 within Lawrence's Marsh Building, a modern structure that was built at the former location of a turn-of-the-century grocer and warehouse. The brewery is owned by John and Kathryn Hampton and William Myers. The building is owned by the Marsh family and offers a restaurant with an eclectic American range of menu items, along with historically-themed microbrews such as Founding Fathers Tavern Ale.
Images
Black Stag Brewery's main image on their Facebook page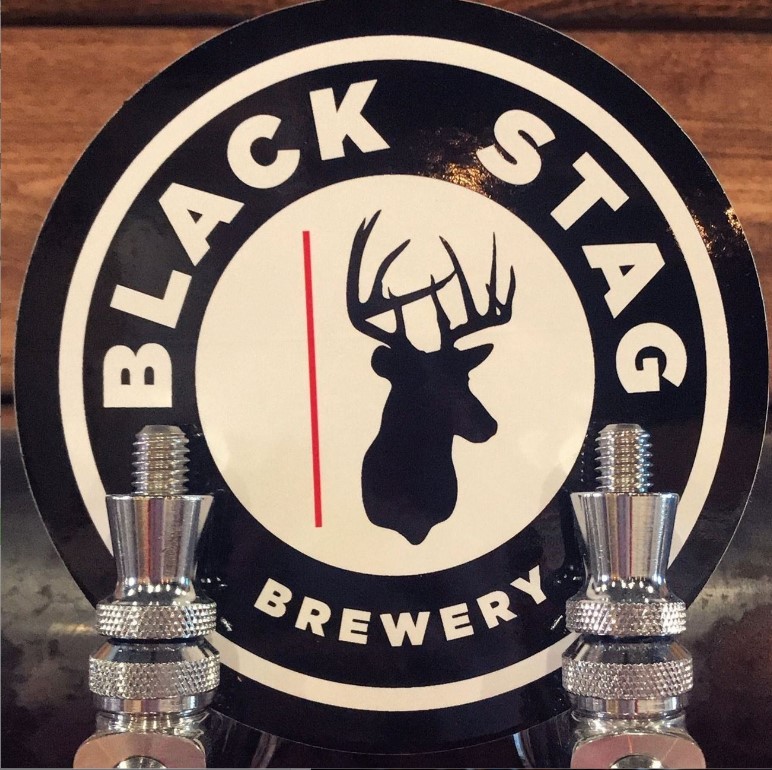 Previous building at 623 Mass. St. (arrow; stone with brick front facade) in 1918 (Sanborn Map Company 1918 p. 2)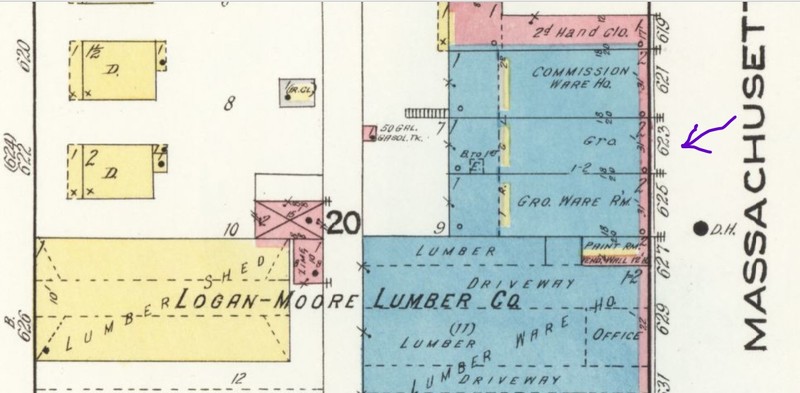 Backstory and Context
The building that stood previous to the current building at 623 Massachusetts Street was a three-part commercial structure of stone with a brick facade flush with the sidewalk. That building housed a grocery store at 623 in 1918, connected by an interior doorway to a grocery warehouse to the south (625). The separate commercial space at the north end of the building (621) was a commercial warehouse space. Since this older building no longer stands, this location is not part of the Lawrence's Downtown National Register Historic District, which only includes the southeastern corner of the 600s block of Massachusetts (Liberty Hall/Bowersock Opera House at 642-646 and the former Interurban building/now a coffee shop at 638).
The present building that holds Black Stag Brewery is known as the Marsh Building and is recessed from the sidewalk. The modern building was the location of M & M Office supply before plans to establish this new brewery were announced. The location, right across the street from Free State Brewery(just north of the former Interurban building), didn't phase the owners, who were confident that Lawrence had room for another microbrewery. John Hampton came from a bio-pharma background and saw its similarities to brewing - both used fermentation; he began brewing in 2013. John moved to Lawrence in 1985 and married Kathryn, a local, a few years later. Kathryn is a practicing attorney with marketing and law degrees from Kansas U. and has a knack for picking the best craft beer recipes. Bill graduated from Kansas University with a chemistry degree and returned to town to retire in 1995. 
A number of craft beers are available at Black Stag Brewery. Their Founding Fathers Tavern Ale is based on a popular drink from the colonial era, a cream ale made with barley and toasted oats. Windmill Dunkel is a dark beer (dunkel is German for dark) with balanced flavors of chocolate, bread crust and caramel. Mt. Blue Belgian Wit is a light beer named after a hill south of Lawrence; the light beer is a wheat beer originating in Belgium, with hints of orange and coriander.
Sources
Black Stag Brewery. Black Stag Brewery, Facebook. June 22nd 2020. Accessed June 26th 2020. https://www.facebook.com/BlackStagBrewery/.
Black Stag Brewery. Home page , Black Stag Brewery. June 1st 2020. Accessed June 26th 2020. https://www.Blackstagbrew.com/.
Lawhorn, Chad. "Plans filed for new microbrewery on Massachusetts Street...." Lawrence Journal-World (Lawrence, KS) May 9th 2018. Town Talk sec.
Sanborn Map Company. Insurance Maps for Lawrence, Douglas County, Kansas.. New York, NY. Sanborn Map Company, 1918.
Image Sources
https://www.facebook.com/BlackStagBrewery/

https://www.loc.gov/item/sanborn03009_006/

Additional Information