Leeton
Introduction
During the 1730s, this land was part of a 4,142-acre parcel belonging to Major George Turberville. At this time, Turbervllle, Willoughby Newton, Robert Carter, and members of the Lee family owned most of the land in western Fairfax. In colonial Virginia, that wealth was built through the labor indentured servants in the 17th century and enslaved people in the decades and centuries that followed. As many as 45 enslaved people in the 1730 grew tobacco, fruit and other farm products here. That uncompensated labor enriched the Turberville family. Not easily visible from the road, the water pump marks the driveway to Leeton, a Turberville family home built here possibly as early as 1793. It remains a private residence, please stay on the public road.
Images
Patents and Northern Neck Grants of Fairfax County. Color emphasis added byby the author.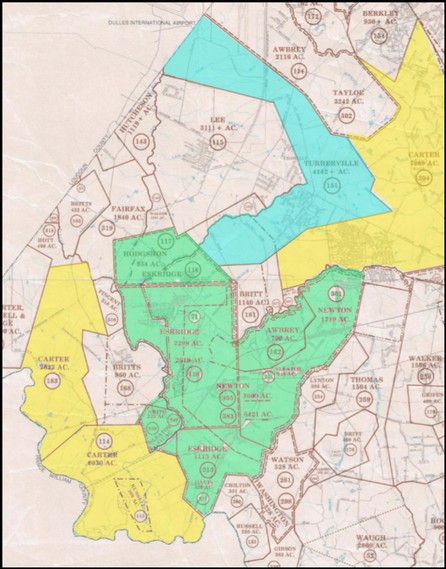 Reunion of Mosby with some of his men. Pictured from left to right are Fount Beattie, Lygurgus Hutchison, John Mosby, and George Turberville.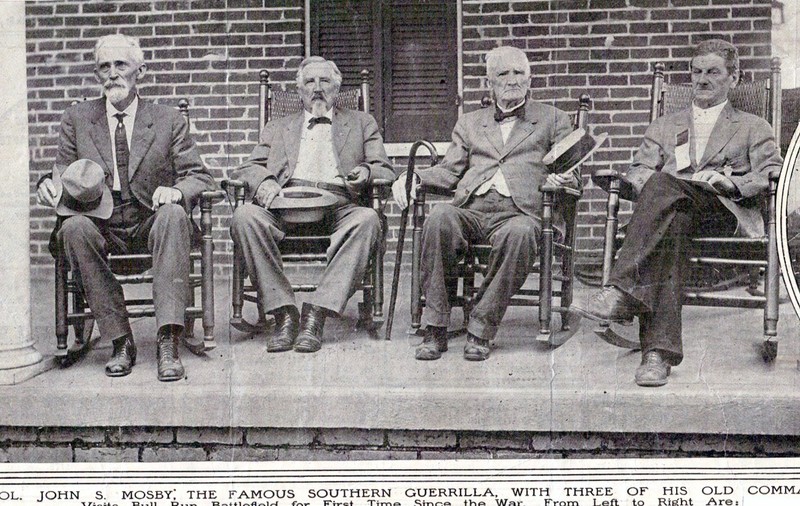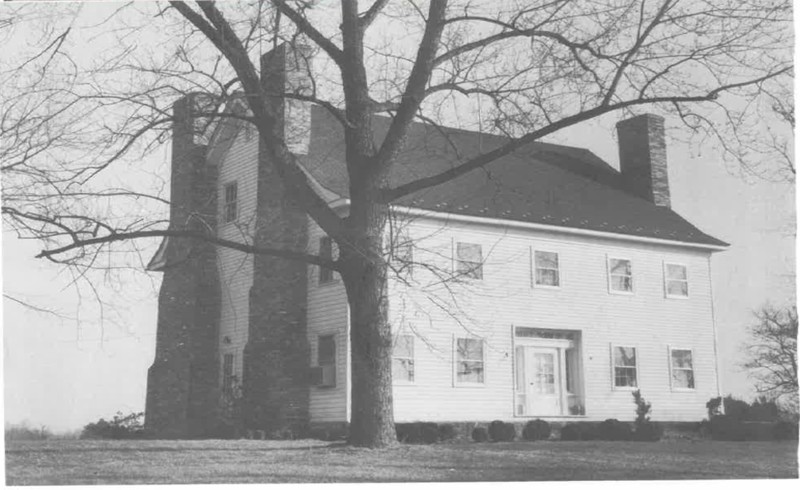 Backstory and Context
Most of the colonial landowners in Fairfax did not live on the large parcels of land they owned. Land was purchased to grow cash crops, to yield rents, and to provide an inheritance for the large families such men often enjoyed. Major George Turberville may never have set foot here, but his great-grandson, George Richard Lee Turberville was born here at Leeton in 1845.
Only in his teens as the Civil War began, George was nonetheless caught up in the conflict. On July 30, 1861, he noted the Union Army camped in Centreville was preparing an attack and alerted his uncle John DeBell, and his neighbor James P. Machen. Machen and DeBell rode through the woods all night, arriving in time to warn the Confederate Army as the morning of the First Battle of Manassas dawned.
Young George soon joined Mosby's Rangers. Mosby recruited young men from Northern Virginia, using their local knowledge and neighborhood ties to organize raids that effectively harassed Union troops in the area from 1863-65. Mosby's men also captured people of color and sold them into slavery. George was captured and imprisoned twice during his time with Mosby. Each time he was released on parole he returned to Mosby's unit until he was wounded and captured in 1864. George moved to Texas for a while after the war, but returned to Leeton and is buried here with other members of his family. Leeton was sold out of the Turberville family in 1952. After the Civil War, Mosby spoke forcibly against those Southerners who attempted to claim that the Civil War was not about slavery. He also grew to support freedom for former slaves and other goals of the nascent and biracial Republican Party in the South. "Like most Southern men, I had disapproved the reconstruction measures and was sore and very restive under military government" Mosby stated. The former Confederate raider explained "since my prejudices have faded, I can now see that many things which we regarded as being prompted by hostile and vindictive motives were actually necessary, in order to prevent anarchy and to secure the freedom of the newly emancipated slave."1
Sources
Russell, Charles Wells . The Memoirs of Colonel John S. Mosby. Norwood, MA. Little, Brown, and Company, 1917.
Virginia Room, Fairfax County Public Library, Vertical file on Leeton.
Find a Grave. Memorial for George Richard Lee III. Accessed via website, 6/21/2020: https://www.findagrave.com/memorial/179180803/george-richard_lee-turberville
Image Sources
https://www.fairfaxcounty.gov/history-commission/sites/history-commission/files/assets/documents/resources/map.pdf

Patricia Prickett Hickin, https://www.wikitree.com/photo/jpg/Beatie-32-5

Virginia Room, Fairfax County Public Library.