Battle of Camden Historic Site
Introduction
This National Historic Landmark is maintained by the Historic Camden Foundation and includes a variety of markers as well as interpreters and programs that share the history of the pivotal battle that occurred here during the American Revolution. On August 16, 1780, American forces suffered a significant defeat at the Battle of Camden. Following a victory at Saratoga, Horatio Gates was selected to lead an untrained army that failed to stop British regulars. Many of the militia fled in defense leading to the capture of other soldiers. The victory confirmed Britain's control of the Carolinas and vital military supplies in the area and marked a demoralizing low-point for American forces in the South.
Images
American forces clashed with British troops but soon withdrew from the battlefield in a panicked retreat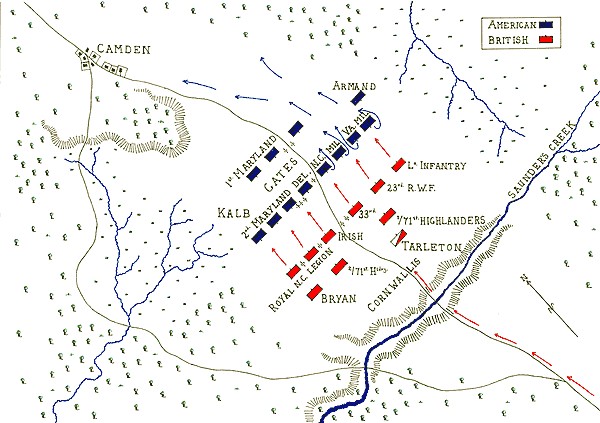 artist rendering of the battle of Camden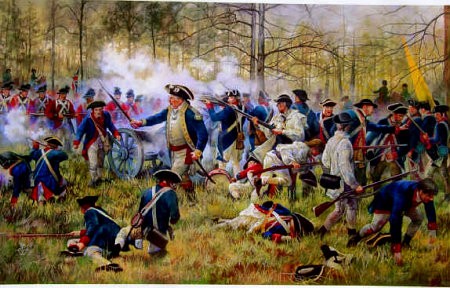 Battle of Camden Historical Marker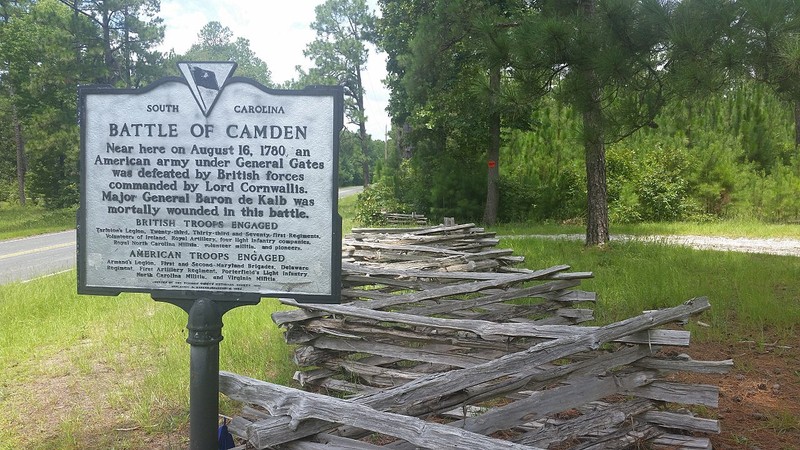 Backstory and Context
The Battle of Camden involved a total of nearly six thousand troops, with approximately 3,700 militia and American troops and 2,230 British regulars. The result was a devastating American defeat. In 1780, control of South Carolina and vital supplies in the region were at stake as General Cornwallis moved his British forces into the area in hopes of rallying pro-British colonists. Cornwallis first secured Charleston before establishing a supply depot and garrison at Camden and moved to secure the back country.
Horatio Gates's victory in Saratoga led the Continental Congress to promote Gates over German-born Major General Johann de Kalb. Upon taking command, Gates opened a letter from Thomas Sumter addressed to de Kalb detailing British postings in Camden. The letter mentioned only 700 men in the British garrison, and Gates made the decision move his army.
In July of 1780, Gates marched into South Carolina. Cornwallis received news of Gates's invasion and moved his army and vacated his headquarters in Charleston to meet Gates's army in Camden, where they collided on August 16, 1780. Gates's force outnumbered Cornwallis's forces, but most of these troops were untrained militia and Gates was not strategic in his movements nor in his battlefield decisions. Instead of moving his troops in a defensive semi-circle, as his senior officers recommended, Gates moved straight through hostile territory for a head-on assault. In 18th Century warfare, the most experienced units were commonly placed to the right of the line. Gates followed suit, positioning veterans from Maryland and Delaware on the right, while his more inexperienced Virginia militia led by Brigadier General Edward Stevens were on the left and the North Carolina militia were lined up in the center. Cornwallis took the same approach, with one of his best line officers, Lieutenant Colonel James Webster, leading the experienced 23rd and 33rd Regiments of Foot on the right. By Gates placing his militia where he did, the most inexperienced of his soldiers would face the more seasoned British regulars.
Another one of the mistakes Gates made was the decision to put his command group far in the rear where he could hardly see the action on front line. Cornwallis, however, placed himself nearer the front. As the British advanced with bayonets on the left side of the Americans, the Virginia militia turned and fled, running through the North Carolina's center, who quickly dispersed with the Virginians, ultimately collapsing the Americans' position. On the right side of the line, the Continental Regulars from Maryland and Delaware, under the command of de Kalb, were left to fend for themselves as Gates and the rest of the army fled. Surrounded and overwhelmed, many joined the retreat.
700 American Continentals reformed at Hillsborough, North Carolina. At the end of battle, Americans had 1,900 casualties, with 1,000 of missing or captured. The British result was 68 dead, 245 wounded, and 11 missing or captured, resulting in a total of 2,224 casualties between both sides. De Kalb was severely wounded and died three days later in Camden. Captured Patriots were held, with General Griffith Rutherford being among those captured, and some were executed. Two months after the Battle of Camden, Major General Nathanael Greene accepted command of the Southern Department, eventually leading to British surrender at Yorktown in Virginia. Over 450 acres of Battlefield are now owned and managed by Historic Camden. A historical marker was erected in 1954 by Kershaw County Historical Society.
Sources
Maass, John. The Battle of Camden, August 16, 1780. U. S. Army Center of Military History. September 07, 2009. Accessed November 10, 2017. https://www.army.mil/article/25637/the_battle_of_camden_august_16_1780. 
Buchannan, John. The Road to Guilford Courthouse. New York, York, John Wiley and Sons, Inc., 1997.
Ward, Christopher. The War of the Revolution. New York, York, Skyhorse Publishing, 2011.
Camden, American Battlefield Trust. Accessed September 10th 2020. https://www.battlefields.org/learn/revolutionary-war/battles/camden.
Camden Battlefield and Longleaf Pine Reserve, Historic Camden Foundation. Accessed September 10th 2020. https://www.historiccamden.org/camden-battlefield/.
Isenbarger, Dennis. Camden, Battle of, NC Pedia. 2006. Accessed September 10th 2020. https://www.ncpedia.org/camden-battle.
Battle of Camden, Historical Marker Database. Accessed September 10th 2020. https://www.hmdb.org/m.asp?m=11255#:~:text=The%20marker%20shown%20replaced%20the%201954%20marker%20in%201974.&text=Also%20see%20.%20.%20.-,1.,of%20Camden%2C%2016%20August%201780.&text=The%20battlefield%20was%20listed%20as%20a%20National%20Historic%20Landmark%20in%201961..
Additional Information