Cableland
Introduction
Designed in the Postmodernist architectural style, this mansion located in Denver is a massive mansion commissioned by Cable TV pioneer Bill Daniels. The mansion was named Cableland after Daniel's work of innovating in Cable television on the west coast. Taking up some 19,500 square feet, it is one of the few homes remaining designed in the Postmodern style. Externally designed by Lawrence Pepper and internally designed by Andrew Gerhard the mansion is a time capsule of the 80s with most of the old technology still intact. In 1998 Daniels donated the mansion to the city for use as a home for the Mayor of Denver, to date no Mayor of Denver has stayed in the mansion. Instead, the building is used to host fundraising meetings and events, generating millions for charity each year. In 2019 the building was added as a historic landmark of Denver.
Images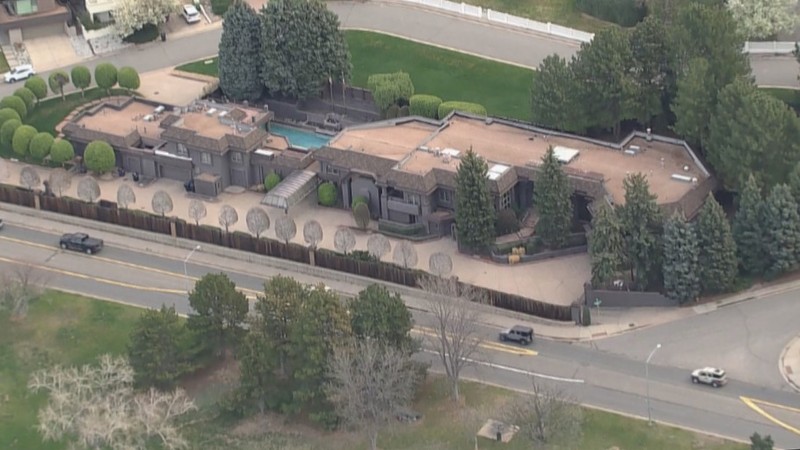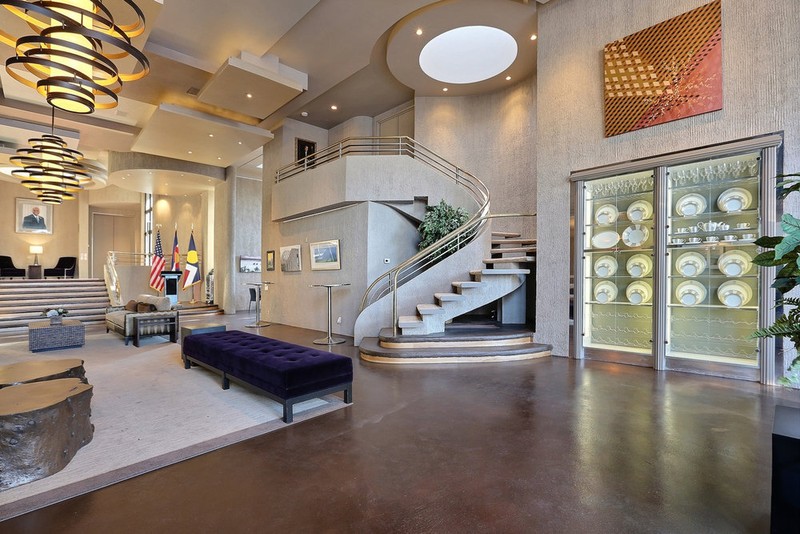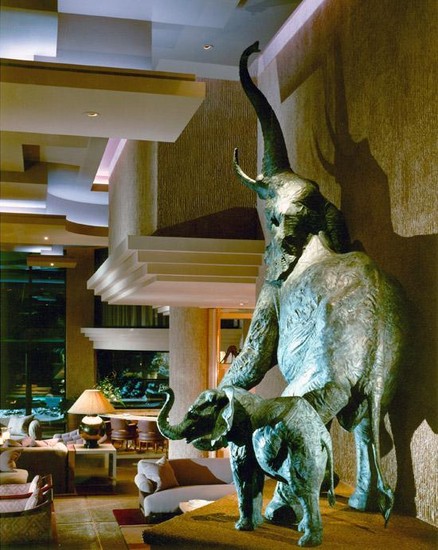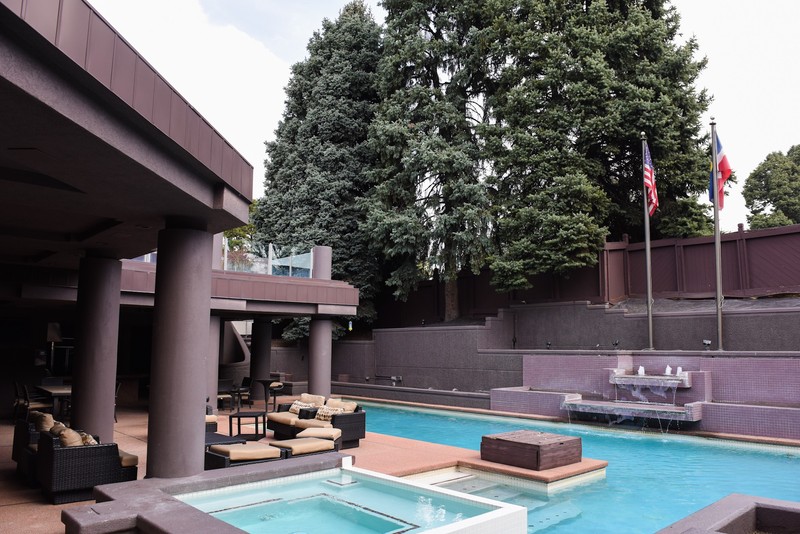 Bathroom in living quarters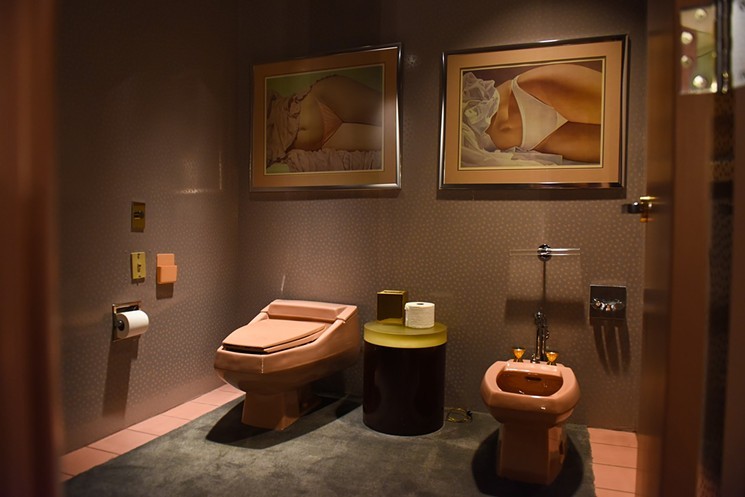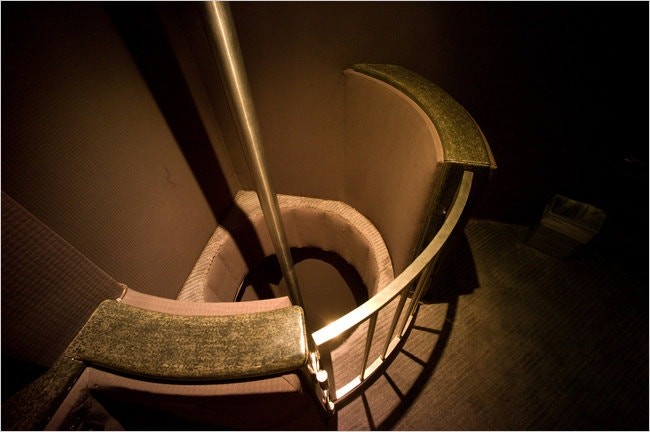 Cableland Mansion outside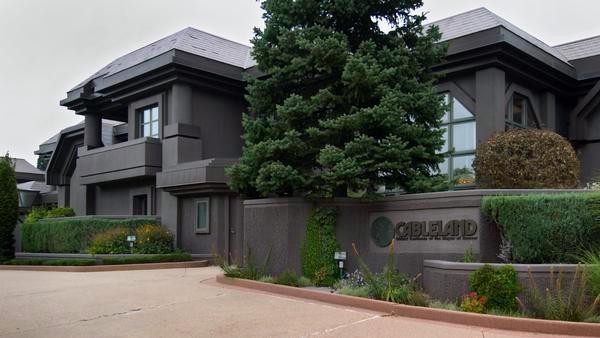 Backstory and Context
Built for Cable TV billionaire Bill Daniels, Cableland stands as one of many mansions that exist in the greater Denver area, unique for its Postmodernist Architecture. It was built between 1986-1987 by architect Lawrence Pepper and interior designer Andrew Gerhard. Originally the plot of land that the mansion sits on was bought by Daniels and his wife in 1967, this purchase was originally two buildings that were then combined into a single dwelling. In the 1980s Daniels hired Gerhard and Pepper to remodel this combination building into a grander piece of work that would become Cableland.
The building itself cost Daniels over $8 million to construct, with money being no expense to him. In his personal career, Daniels was an early pioneer in cable television, starting one of the earliest cable operations in 1952. To back his new business Daniels also began a career as a financial broker, setting up a financial network and making financial deals with other members of the cable industry at the time.
From its completion, Daniels used Cableland as a venue to host charity events and parties. Loaning the space to various charities and organizations under Daniel's ownership. Between September 1987 and December 1988 over $3 million was raised for charity organizations by events hosted in Cableland. Eventually, Daniels saw fit to donate the building to the city of Denver for use as a residence for the Mayor of Denver. The building was reluctantly accepted by the Denver city council, though no Mayor has since used the Mansion as a place of residence.
Today the mansion still sees use as an event venue for the city and as host to meetings for charitable organizations, being used for many fundraisers. Since 1986, $20 million has been raised at events hosted at the mansion. In 2019 Cableland was recognized as a local landmark for the city of Denver by the Landmark Preservation Commission.
Sources
Bill Daniels Bio, Cableland. Accessed November 17th 2020. https://www.cableland.org/bill-daniels-bio.
Cableland Foundation. Application for Landmark Designation, Denver Gov Landmark Preservation Commission. January 1st 2019. Accessed November 17th 2020. https://www.denvergov.org/content/dam/denvergov/Portals/646/documents/landmark/designations/Cableland_Landmark_Designation_App_signature%26photos.pdf.
Cableland Official Residence of the Denver Mayor . Accessed June 23rd 2020. https://www.cableland.org/in-the-news/denvers-cableland-now-historical-landmark.
Gounley, Thomas. Council poised to dub 'Cableland' a landmark, giving mayoral mansion another layer of protection, Business Den. April 16th 2019. Accessed June 23rd 2020. https://businessden.com/2019/04/16/council-poised-to-dub-cableland-a-landmark-giving-mayoral-mansion-another-layer-of-protection/.
Morfitt, Karen. Denver's 'Cableland' Now Historical Landmark, CBS 4 Local News. May 2nd 2019. Accessed June 23rd 2020. https://denver.cbslocal.com/2019/05/02/denvers-cableland-now-historical-landmark/?fbclid=IwAR1I0HoIL6J1R5anL5_gykDDDmrMlREFmPpqLANWTjdsMUk3wFqkCzgVhcg&utm_campaign=true_anthem&utm_content=5ccc3b6ce506e70001072cf2&utm_medium=facebook&utm_source=social.
Additional Information