Holy Resurrection Cathedral
Introduction
Holy Resurrection Russian Orthodox Cathedral was established in 1794 and elevated to Cathedral status in 2001 by Bishop Nikolai of the Orthodox Church in America. The Cathedral is a well known landmark in the community. The current church building is the fourth and was built in the 1940s after a devastating fire destroyed the previous church.
Images
View of Holy Resurrection Russian Orthodox Church cupolas, Kodiak, Alaska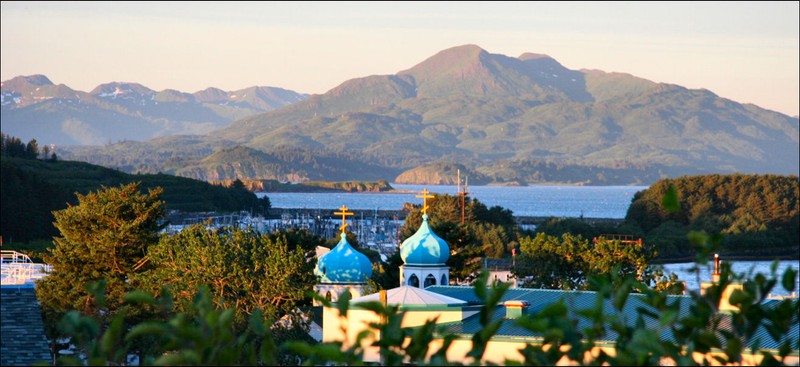 One of the church's distinctive blue domes rises towards the blue sky in this photo of the Holy Resurrection church in Kodiak.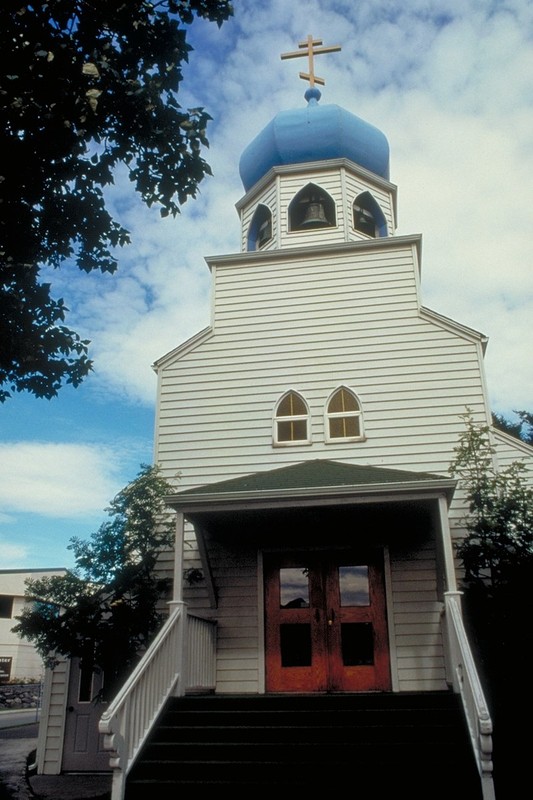 Backstory and Context
Archaeological evidence suggests that the Kodiak Archipelago has been home to the Alutiiq for at least 7,000 years. The first European to discover Kodiak Island was Stephan Glotov, a Russian explorer. He discovered the Island in 1763, and was followed by James Cook, fifteen years later.
Eastern Orthodox missionaries settled on the island by the end of the 18th century, establishing the congregation and continuing European settlement of the island. 
Currently, the Cathedral contains the holy relics of St. Herman. The beautiful lampada which burns continuously above his reliquary was a gift to the Cathedral from His Holiness Patriarch Alexis II during his visit to Kodiak in 1993. Holy oil from this lampada is used to anoint those who are sick and suffering and is distributed freely to pilgrims who come from all over the world.
Sources
Holy Resurrection Cathedral, Orthodox Church in America. Accessed June 18th 2020. https://www.oca.org/parishes/oca-ak-kodhrc.
Image Sources
Wikimedia Commons

Wikimedia Commons

Additional Information