Pearl High School
Introduction
Pearl High School located in Nashville was founded in the 19th century. It was the first African-American High School in Tennessee. The school was formed from an elementary school that was found in 1883. This high school is important to the African-America history in Nashville.
Images
Martin Luther King Jr. at Pearl High School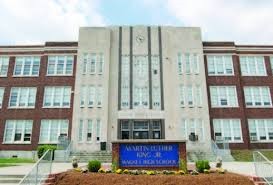 Original Pearl High School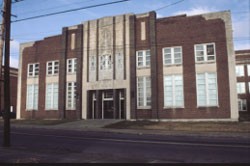 Backstory and Context
The architect of the school was McKissack and McKissack, which was the first architecture firm owned by an African-American. In the 1930s is where the first location was built, but in the 1950s it moved to the spot where it stands today. Seven students made up the first graduating class. Pearl had close links to the Civil Rights Movement at Fisk University, and Tennessee A&I State College nearby. On April 19, 1960, students joined in a march on Davidson Courthouse. Their goal was to challenge Mayor Ben West to end segregation of lunch counters in Nashville.
Pearl High School was also known for its music, fine arts, and sports. The most significant event in sports occurred in 1966 when Tennessee school sports became integrated. Their basketball team won the State Championship title in 1966. Five of the players received scholarships, one of them being Perry Wallace, who was the first African-American to play in the Southeastern Conference. Famous athletes also came from this school, such as NFL's Joe Gilliam, and NBA player Ted McClain.
In 1969, the school district decided to bring in white teachers to integrate the facility. It wasn't until 1972, when Black and white students went to Pearl High. The school closed in 1983 and reopened in 1986 with the new name Martin Luther King Jr. Magnet School. In 2001, the name changed again to Martin Luther King Jr. Magnet at Pearl High School.
Sources
Jen Stoecker and Carroll Van West. "Pearl High School." National Park Service - National Register of Historic Places Nomination Form. October 15, 1966. https://npgallery.nps.gov/GetAsset/41c1a495-a410-40b3-9200-226caf06a73f/.

"Pearl High School, Nashville, Tennessee." National Park Service - African American History Month. Accessed February 24, 2016. http://www.nps.gov/nr/feature/afam/2003/features.htm#pearl.