Windsor Hotel (1880-1960)
Introduction
Once a symbol of Denver, the Windsor Hotel was demolished in 1960. One of the first hotels in the city to offer electricity, the Windsor featured gambling rooms, ornate spaces for banquests, a bathhouse, and a ballroom with what may have been the first floating dance floor in the U.S. Many celebrities and statesmen stayed here, including four presidents and "Calamity Jane."
Images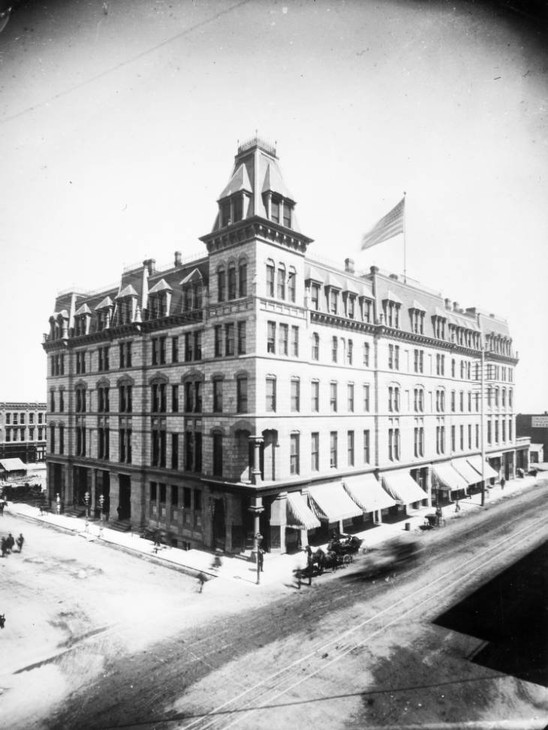 Backstory and Context
In 1880 the Windsor Hotel opened on the NE corner of 18th and Larimer as the first true luxury hotel in Denver. City boosters saw the hotel as a symbol of the city's rising prospects with its five-stories and 400 guestrooms. Many local and national figures were entertained here, but like many other luxury downtown hotels of its size, changes in transportation that saw the decline of traffic at downtown rail depots and the rise of interstate hotels reduced the viability of maintaining such a lavish building and the hotel was eventually torn down and replaced with a parking lot in 1960 followed by a modern high-rise office building.
The hotel was constructed with sandstone from Fort Collins and rhyolite from Colorado Springs. The hotel features a grand entrance on Larimer and a "ladies entrance" on 18th. Each entrance had an iron porte-cochere to allow for carriages and it was reportedly the first hotel in Denver to be wired for electricity in latter years. Murals of local celebrities by Herndon Davis adorned the walls and have been preserved and relocated to the Oxford Hotel.
The hotel was centrally located and offered a corridor that ended at shops on Larimer, a car barn on Arapahoe, and and one to a palatial marble bath. The bath had Turkish, Russian, and Roman pools. The hotel also offered a barbershop, hairdresser, and a restaurant supplied by the hotel's own farm and hunters who brought in wild game. However, the hotel was best known for its gambling and gaming rooms and the ease with which one might obtain alcohol during prohibition.
The Windsor was a center of Denver social life and the hotel of choice for politicians and other famous visitors. A few tall tales continue to circulate such as one story that suggests the bar refused service to "Calamity Jane" after saying she needed to sit down at a table "like a lady" and prompting her to fired a gun in protest. Another story suggests that a prominent socialite once dropped a diamond and platinum necklace down a toilet in the hotel following a marital argument. Among the most famous hotel guests were Sir Henry M. Stanley, Mark Twain, John L. Sullivan, Robert Lewis Stevenson, Marie Dressler, Sarah Burnhart, Lillian Russel, and presidents Grant, Cleveland, Roosevelt and Taft.   
A hotel of this size and opulence naturally found its business model hemmed in by the hard times by the 1930s. A renovation project in the 1940s saw a return of some of the hotel's lusted, but that decade also saw the start of a pattern that would doom many similar downtown hotels: the decline of rail traffic. In 1959, the Garrett Lumber and Wrecking Co acquired the title and held an auction of the hotels fineries. In 1960, the aging building was demolished and replaced with a parking lot.
Sources
Searles, Denis M. Larimer Street: What's Around the Bend on Last Stretch of Denver's First Center?, Las Angeles Times. April 18th 1993. Accessed June 18th 2020. https://www.latimes.com/archives/la-xpm-1993-04-18-me-24211-story.html.
Windsor Hotel , Denver Public Library. Accessed June 18th 2020. https://digital.denverlibrary.org/digital/collection/p15330coll22/id/76258/.
Fetter, Rosemary. The Windsor Hotel Denver, Soapy Smiths Soap Box. April 2nd 2012. Accessed June 18th 2020. [Link redacted due to site closure and malware]
Additional Information