Mound Cemetery
Introduction
Marietta founder Rufus Putnam wanted to protect a mound, called the Cronus, in town that had been constructed by people of the Hopewell culture. To do so, he suggested a cemetery be built around it. The cemetery became known as the Mound Cemetery starting in 1791. Many Ohio officials and Revolutionary War veterans were buried in the cemetery.
Images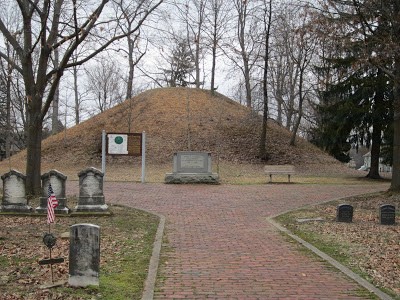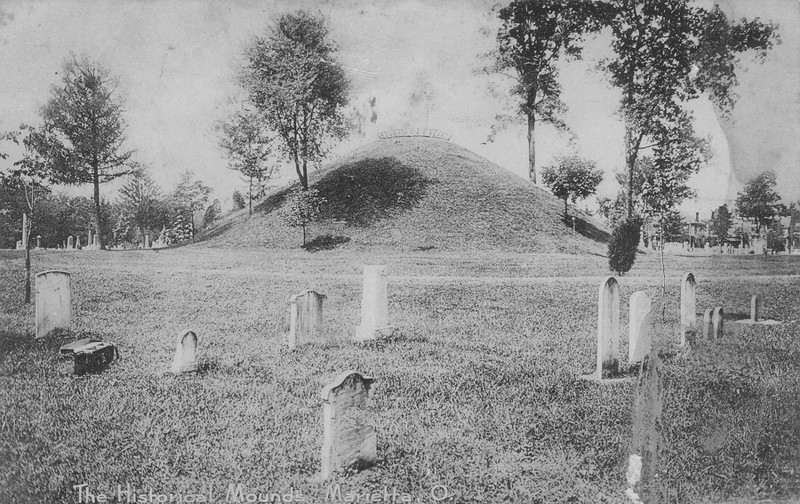 A gravestone with the names of famous figures.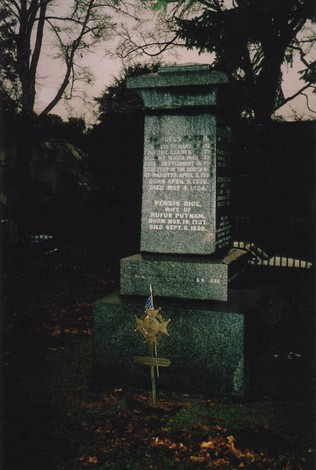 Many notable figures buried at the site of the Mound Cemetery.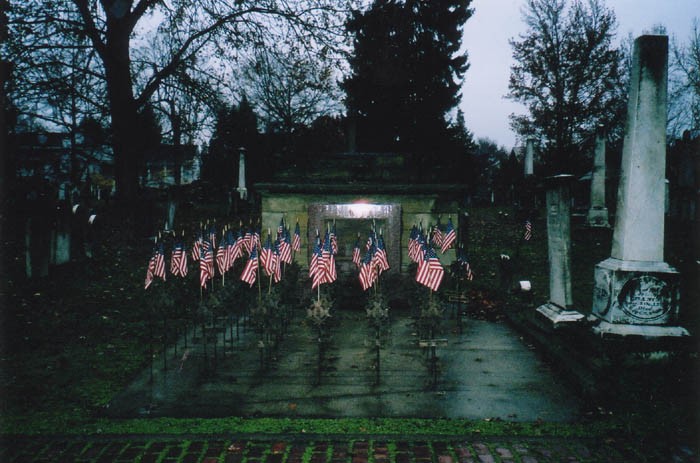 Backstory and Context
The colonial mound was called Marie Antoinette Square until 1791; it was then designated as Mound Square. Its perpendicular altitude is 30 feet, and its base is a circle, 375 feet in circumference. Back then, it was surrounded by a moat 15 feet wide and 4 feet deep. It was also defended by a parapet 20 feet thick and 585 feet in circumference. The Great Mound that is the center of this cemetery is referred to as Conus. It is part of an Ohio Hopewell complex that is believed to have been built between 100 BCE and 500 CE. There are several other mounds that are part of the complex.
The city of Marietta was founded in 1788 by members of the Ohio Company of Associates like Rufus Putnam. Many were Revolutionary War Veterans and officers, most likely high-ranking. Founders like Rufus Putnam wanted to protect the Cronus, so they established a cemetery to protect it. In order to preserve the mound, the founders of Marietta decided to lease it to General Rufus Putnam for twelve years under certain conditions. The whole square was to be surrounded by mulberry trees with an elm at each corner. The base of the mound was to be encircled with weeping willows, with evergreens on the mound. The circular parapet outside of the ditch was to be surrounded by trees, all within the square to remain undisturbed by the plow and seeded down to grass. Also, the whole area had to be enclosed with a post and rail fence.

There are thirty Revolutionary War soldiers buried in the cemetery, including eighteen officers (five Captains, three Majors, five Colonels, four Generals, and a Commodore). Other famous and notable figures are buried in the Mound Cemetery include Rufus Putnam, who fought in the French and Indian War and then was a General of the United States from 1796 to 1803. He later became a delegate to the Ohio Constitutional Convention. Return Jonathan Meigs spent his life in democratic politics in Ohio. He served as a Justice of the Ohio Supreme Court, Federal Judge, United States Senator from Ohio, and the fourth Governor of the State of Ohio. Abraham Whipple was the man who fired the first shot at the British on the water. He was the twelfth commissioned officer in the US Navy. He was also a founder of Marietta. William Augustus Whittlesey was a member of the Ohio Legislature and then a United States Representative to Congress from Ohio's 13th district.

Archaeologists from the Cleveland Museum of Natural History excavated a section of the Capitolium mound in 1990. They determined that the mound was in fact constructed by peoples of the Hopewell Culture.

Here are other Revolutionary War soldiers that were buried at the Mound Cemetery:
Col. Robert Taylor, First Burial Here
Gen. Joseph Buel
Maj. Ezra Putnam
Andrew McAllister
Ephraim Foster
Gershom Flagg
John Holt
Surgeon Jabez True
Griffin Greene, Sr., Quartermaster
Col. Ebnezer Sproat
Col. William Stacey, Sr.
Gen. Benjamin Tupper
Maj. Anselm Tupper
Maj. Joseph Lincoln
Capt. Nathaniel Saltonstall
Nathaniel Dodge
Col. Enoch Sheperd
Jeremiah Thomas
Samuel Hidreth, Sr.
Judge Dudley Woodbridge
Sala Bosworth
Levi Lankton
Col. Ichabod Nye
Ephraim Emerson
Capt. Josiah Munro
John Green
James Hatch
Capt. Joseph Rogers
Matthew Kerr
Capt. William Moulton, Jr.
Nathan Evans
Gen. Joseph Willcox
Simeon Goodwin
Sources
Protect the Past: Mound Cemetery. The Marietta Times. Accessed February 20, 2017. http://www.mariettatimes.com/news/local-news/2014/08/protect-the-past-mound-cemetery/.

Cotton, Willa Dawson. Sketch of Mound Cemetery. Edition Third. Marietta, Ohio. 1925.

Mound Cemetery. Forgotten Ohio. Accessed February 20, 2017. http://www.forgottenoh.com/Cemeteries/mound.html.

Mound Cemetery (Marietta, Ohio). Wikipedia. Accessed February 21, 2017. https://en.wikipedia.org/wiki/Mound_Cemetery_(Marietta,_Ohio).


Additional Information