Fayette Opera House
Introduction
Just 6 miles north of Ohio Turnpike Exit 25 sits the Fayette Opera House. This building is a staple of Main Street Fayette, having been a part of the community for over 100 years. Throughout its history, the Opera House has served many different purposes, including housing the jail as well as hosting traveling theater shows. Now the Opera House is owned by the Fayette Community Fine Arts Council, who have been the stewards of this iconic structure since its purchase in 1978 (Fayette Community Fine Arts Council, n.d.).
Images
Exterior of Fayette Opera House (Mitton, 31)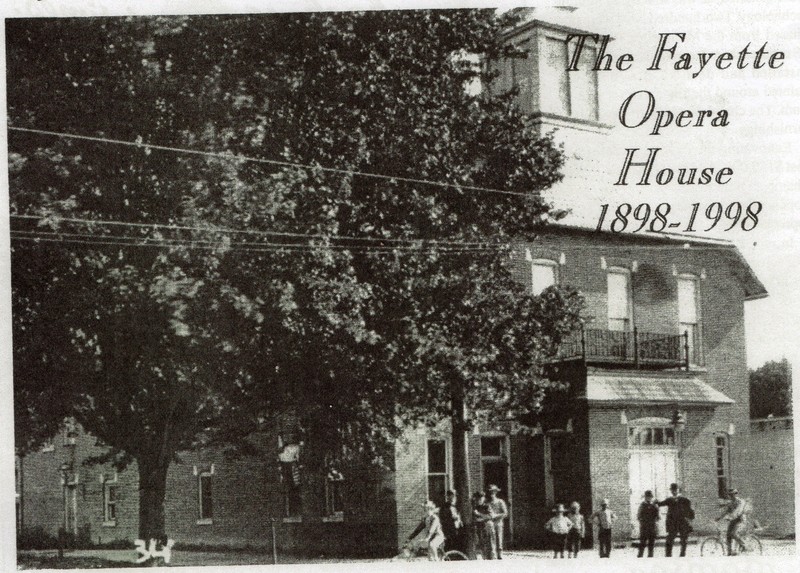 Interior of Fayette Opera House (Bean Creek Valley History Center)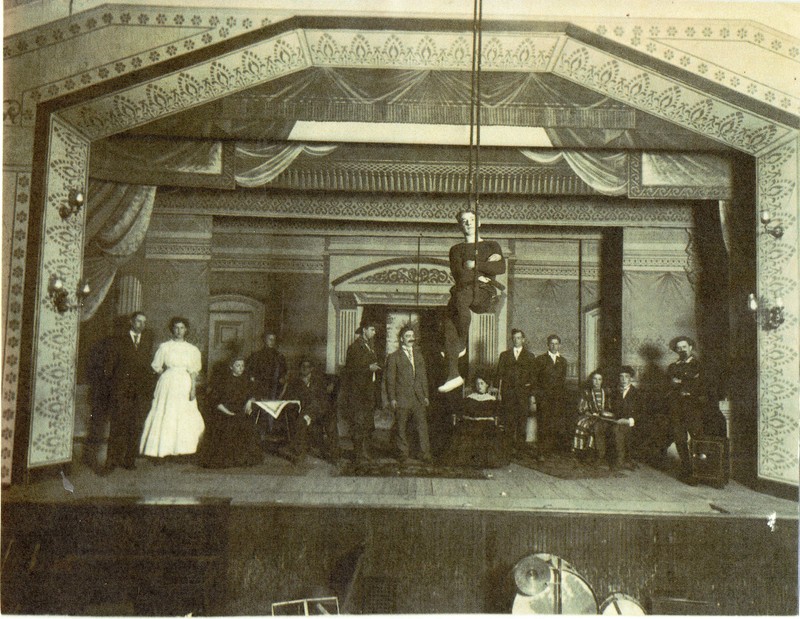 Backstory and Context
Opera houses were the cultural center of the town during a time when entertainment often came in the form of traveling groups of musicians and artists. These buildings hosted live theater, music, and vaudeville acts that traveled throughout the country, bringing big city entertainment to small towns. The Fayette Opera House was no exception. It was considered to be a big night when people were able to attend a show at the local opera house (Mitton, 31-32).
In the spring in 1898, the Fayette Opera House opened its doors. It cost $4,450 to build but it was a good investment in the town. Fayette University used the theater frequently, until 1905. This usage helped keep its doors open. The Fayette Public Schools also used the building from 1926-1950 when an auditorium was needed. They even used the building for high school classes one year. Many local organizations also held their meetings at the Opera House, including revival gatherings. As the center of entertainment in Fayette, dances, picture shows, stage plays, and boxing matches occupied its stage. The Opera House was a multi-purpose building that also accommodated the fire department, post office, jail, and some commercial businesses (Mitton, 31-32).
In the 1950s, Ray Sigg purchased the building and quickly sold it to George Ziegler. Ziegler used it for commercial purposeless. As time went on, the Opera House became a warehouse. Post-World War II prosperity and the accessibility of automobiles changed the situation. Because people were able to get around more freely, they started to visit places outside of their own town. This brought a love of arts back to Fayette. In 1975, several citizens decided to bring back some of the art that once filled the town, creating a Fine Arts Council. The town had lost its movie theater and the opera house was being used for storage, so they did not have access to fine arts (Mitton, 31-32).
The director of the Fine Arts Council Tom Spiess said "The building was in disrepair when we bought it" (Mitton, 31-32). They paid Ziegler $34,00 for the building. Work to conserve and preserve the building started right away.The second floor was restored to be used as a theater while the first floor was converted into a multipurpose space with a kitchen and office. Members of the council and others volunteered their time, money, and skills to bring the building back to its former glory. As for the theater itself, stage curtains, sound, lighting, and a decorative tin-ceiling were installed. The featured chandelier is original. Renovating the opera house cost a total of $150,000 (Mitton, 31-32).
The Fayette Opera House is actively adding to their programming. Currently, they host an artists series that brings professional artists to the town. They also have a Steinem-Nyce series that encourage civic engagement and discussion. Due to a donation by resident Don Glasgow, the opera house has four historic reed organs. National and international professionals come to perform on these organs during the Glasgow Reed Organ Series. The Fayette Opera House has been renovate to serve a modern community and engage the public through fine arts and discussion, just as it did over 100 years ago (Fayette Community Fine Arts Council, n.d.).
Sources
Bean Creek Valley History Center, Fayette, Ohio
Fayette Community Fine Arts Council. Fayette Opera House. Fayette, OH: Fayette Community Arts Council. (n.d).
Mitton, Sheila J. "Fayette's Opera House Opened In the Spring Of 1898." Bend of the River, Mar. 2006, pp. 31-32.
Additional Information