First Battery Armory
Introduction
Manhattan's First Battery Armory was built between 1901 and 1904 and served as an armory until 1977. At that time, the building was renovated and began to be used as a television studio for ABC. Though the building's interior was extensively renovated, much of its castellated exterior remained intact. In 2012, the television studio was demolished and the building was renovated for use as commercial office space. The building is listed on the National Register of Historic Places and is also a New York City Landmark.
Images
The Battery as it appears today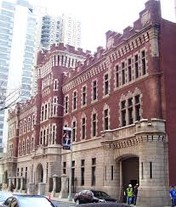 Close-up view of the Battery's entrance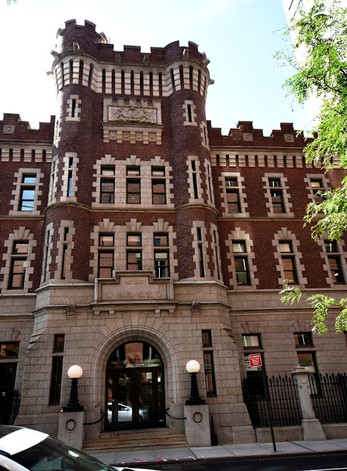 Backstory and Context
New York's First Battery was one of a number of militia groups formed throughout the United States in the years following the Civil War to manage domestic peacekeeping and to intervene in labor disputes, which became increasingly common in the late nineteenth century. Up until 1900, the battery was located above a saloon on West 44th Street. The battery's captain, Louis Wendel, was well-connected in city politics and Tammany Hall, and when a commission was formed to establish ten new armories in the city, Wendel used his influence to secure a new headquarters for the First Battery.
Construction on the new armory began in 1901. The project was awarded to the architectural firm of Horgan and Slattery, which also had numerous Tammany Hall connections and was regarded as the favored firm for most public projects. The firm itself was often a source of controversy, with the New York Times once publishing an editorial that questioned whether the architects existed, and if they did, how they had the resources to complete every major city project.
The building was designed to be reminiscent of a medieval castle, complete with a turret and crenelated facade. It was something of an unusual design for the time, as most armories built in the early twentieth century were beginning to depart from the battlement-like design that dominated armory design for many years.
Though designed as the headquarters of the First Battery, the building largely served to host public entertainment events. Wrestling and boxing matches, in particular, were common occurrences in the building up through the 1940s, by which point military use of the building had almost completely ceased.
In 1976, ABC acquired the building and began renovations to convert the property into a television studio.During the renovation of the building, much of the original interior features were either destroyed or substantially altered. The exterior, however, remained largely as it was when the building was completed in 1904. In 2012, the building was again rehabilitated for use as a commercial office space.
Sources
First Battery Armory , NPS Gallery. Accessed June 16th 2020. https://www.nps.gov/nr/feature/places/pdfs/13000028.pdf.
Miller, Tom . 1904 First Battery Armory--No. 56 W. 66th Street , Daytonian . September 29th 2015. Accessed June 16th 2020. http://daytoninmanhattan.blogspot.com/2015/09/the-1904-first-battery-armory-no-56.html.