St. Mark's Episcopal Church
Introduction
St. Mark's Episcopal Church is a historic church situated at the corner of Main and 6th Streets. Built in 1890, it was designed in the Romanesque Revival style, featuring a buff colored stone exterior, and a square bell tower. St. Mark's is also notable for being the church of Anaconda founder and copper magnate Marcus Daly and his wife, Margaret. The church is listed on the National Register of Historic Places.
Images
St. Mark's Episcopal Church was built in 1890. "Copper King" Marcus Daly and his wife, Margaret, were early members.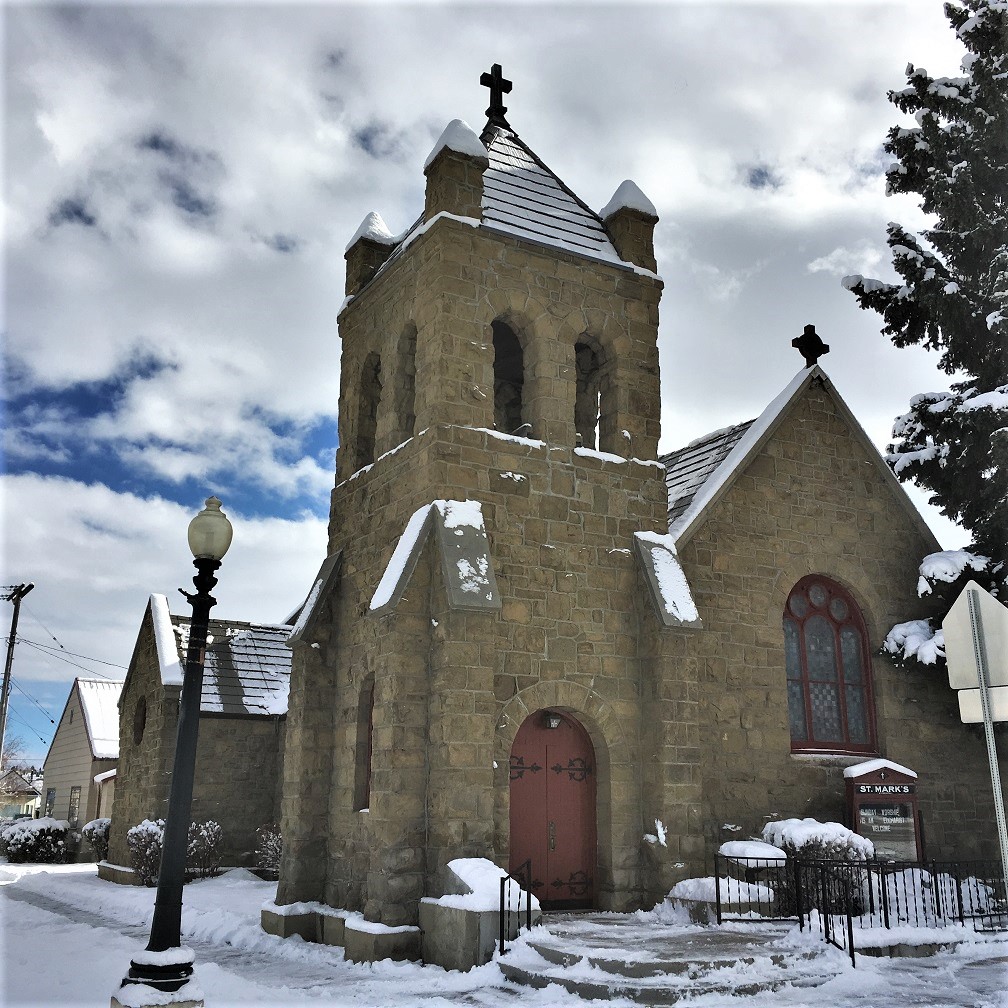 Backstory and Context
Marcus Daly founded Anaconda in 1883 around a smelter he built that processed copper ore from the Anaconda Mine in Butte. The smelter was the main economic driver for the town, attracting workers and businesses. As a result, Anaconda grew rapidly. Among those who arrived were Episcopalians who were ministered by priests from Deer Lodge or Butte. The bishop in Helena also visited the town. For the first several years before the church was erected in 1890, the congregation met in another church and even above a saloon. Interestingly, during a baptism at the saloon, water for the ceremony was poured from a beer mug.
The rocks used to build the church were from a quarry close to Garrison, which is 35 miles away. In 1892 the church was forced to close as a result of the smelter shutting down and the priest moved to Nebraska for three months after not getting paid. Fortunately, St. Mark's reopened the next year and a new priest joined the congregation. Margaret Daly donated a pipe organ to the church in 1896.
Sources
DeHaas, John N. "St. Mark's Episcopal Church." National Park Service - National Register of Historic Places Nomination Form. December 29, 1978. https://npgallery.nps.gov/GetAsset/6c9d8aee-516e-4965-a342-5cecc3013684.
"St. Mark's Episcopal Church." VisitMT.com. Accessed June 17, 2020. https://www.visitmt.com/listings/general/registered-historic-site/st-mark-s-episcopal-church.html.
Image Sources
Jon Roanhaus, via Wikimedia Commons: https://en.wikipedia.org/wiki/National_Register_of_Historic_Places_listings_in_Deer_Lodge_County,_Montana#/media/File:Saint_Mark's_Episcopal_Church_NRHP_78001682_Deer_Lodge_County,_MT.jpg

Additional Information