Billy Sunday Baseball Field
Introduction
Built in the 1930s, the Billy Sunday Baseball Field was home to the Nevada High School baseball team for over 80 years. Billy Sunday, the field's namesake, was born in nearby Ames and lived in Nevada for a few years before beginning his professional baseball career. Sunday played for three different professional teams over seven years. Following his baseball career, Sunday became an evangelist and traveled the United States to preach to millions of Americans.
Images
The baseball field in the 1940s before it was named to honor Billy Sunday.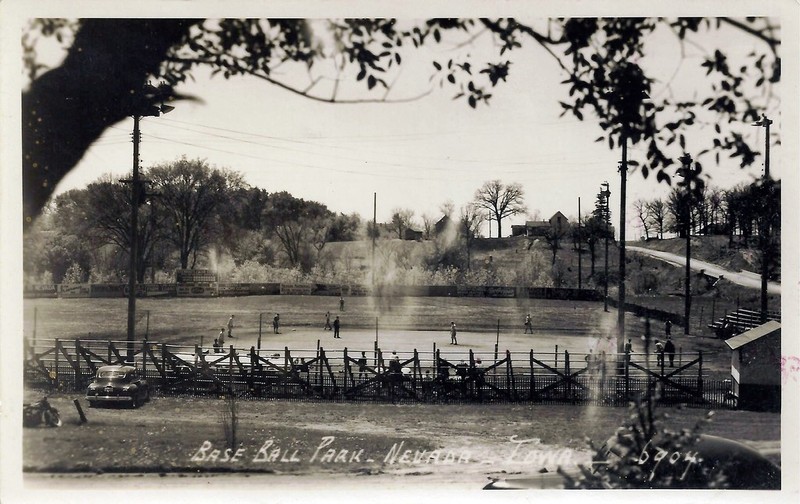 Billy Sunday in his uniform when he played for the Pittsburgh Alleghenys from 1888 to 1889. The team is now called the Pittsburgh Pirates.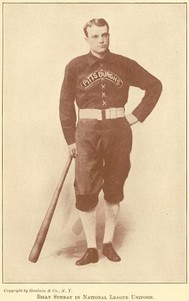 Billy Sunday delivering one of his passionate, energetic sermons in Boston in 1916.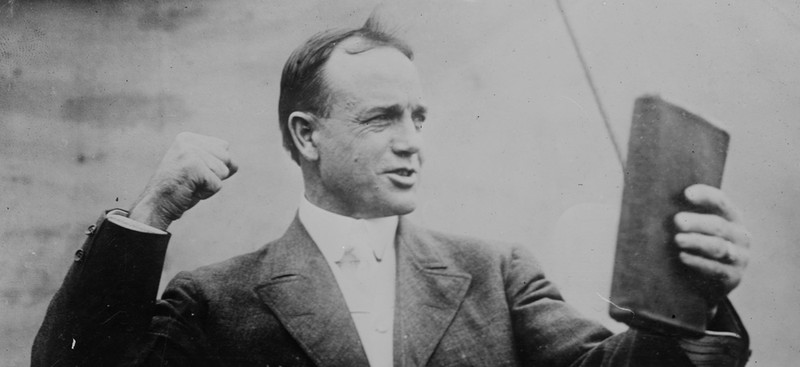 Billy Sunday speaking at a large revival. Tabernacles, or tent-like structures, were built just to house the thousands of people who would travel to hear him talk.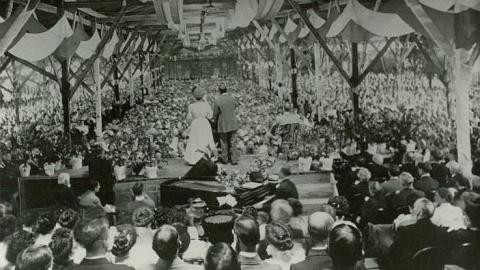 Backstory and Context
The Billy Sunday Baseball Field was constructed in the 1930s to serve as a consistent playing location for Nevada's semi-pro baseball team. The field was originally located on the west side of S14, but was soon relocated to its current location, just east of S14. The Nevada High School baseball team began playing at the field around 1934, which prompted the addition of dugouts and lights. The field was officially named to honor Billy Sunday in 1963. A concession stand would later be built by the Nevada Athletic Boosters in the 1970s and expanded in the 1980s. 
The Nevada High School baseball team continued to play at Billy Sunday Field until 2019, when a new baseball field was built in the southeast part of Nevada. Although the field is currently not in use, it is well known throughout Story County. Kris Corbin, past President of the Nevada Community Historical Society, commented that if "you ask anybody that played baseball in Story County, all of them will know you are talking about Nevada when you mention Billy Sunday field" (Corbin). 
William Ashley "Billy" Sunday was born south of Ames, IA on November 19th, 1862 during the beginning of the Civil War. Billy's father, William Sunday, served in the Civil War as a Union soldier and died shortly after Billy's birth. Billy's mother, Mary Jane Sunday, was left with the responsibility of raising Billy and his siblings. She remarried several times in an effort to support the family. However, none of the marriages were long lasting and the Sunday family continued to struggle financially. When Billy was 10 years old, he and his older brother Ed were sent to the Soldiers' Orphans Home in Davenport, IA. 
Sunday lived at the orphanage for approximately four years, leaving at age 14 to return to his family farm outside of Ames. After a disagreement with his grandfather, Sunday moved to nearby Nevada, IA. He was fortunate to work for Colonel John Scott, Iowa's Lieutenant Governor at the time. Sunday worked in Colonel Scott's stables in return for housing. While in Nevada, Sunday attended Nevada High School and played on a town baseball team. He soon became well-known for his speed and ability to run the bases. After a few years, Sunday began to play on the Ames baseball team and soon moved to Marshalltown to continue playing. Adrian Anson, a manager for the Chicago White Stockings and a native of Marshalltown, heard about Sunday's talent and watched him play. Anson was impressed and offered Sunday the opportunity to try out for the Chicago team. 
In 1883, at age 20, Billy Sunday signed onto the Chicago White Stockings as an alternate outfielder. Despite having impressed Anson with his speed, Sunday played minimally during his first season in Chicago, playing "in only 14 games, collecting 13 hits with 18 strikeouts" (Knickerbocker). Despite this, Sunday proved his speed in several races outside of baseball, gradually earning him more playing time. By his third season with the Chicago White Stockings, Sunday played in 46 games in right or center field. In total, Sunday played for the Chicago team for five years, from 1883 to 1887. 
Towards the end of his time with the Chicago White Stockings, Sunday started attending Jefferson Park Presbyterian Church and formally committed to his faith in 1887 at the Pacific Garden Mission in Chicago. In 1888, Sunday was purchased by the Pittsburgh Alleghenys. He was well liked by Pittsburgh fans for his church attendance and personality. His popularity led Sunday to play in a total of 120 games in 1888. While in Pittsburgh, he began teaching at the local YMCA and teaching Sunday School at a local church. A hip injury caused him to miss part of the 1889 baseball season, allowing him to only play in 81 games. During his injury, Sunday's religious involvement remained a constant aspect of his life. 
In August of 1889, Sunday was traded to Philadelphia as a backup outfielder. Consequently, he did not play much during the 1890 season. Instead, he continued to invest in the local YMCA, as well as the YMCA back in Chicago. Following the 1890 season, Sunday decided to stop playing baseball to accept a job at the YMCA in Chicago. Over his seven year professional baseball career, he became known as the "fastest man in baseball" (Mass Moments). 
After ending his baseball career, Sunday began focusing on religion with the intent to share his beliefs with the public. At the Chicago YMCA, he served as the ""Assistant Secretary of the Religious Department" (Knickerbocker). This position included leading prayer meetings, organizing speakers and interacting with the community. Through this job, Sunday met J. Wilbur Chapman, a well-known evangelist at the time. Sunday accompanied him on a revival trip across the Midwest, from 1893 to 1895. Sunday began preaching on his own, holding his first individual revival in Garner, IA in 1896. His baseball fame and popularity easily attracted an audience. Sunday went on to be officially ordained as a Presbyterian minister in 1903. 
In the following years, Sunday traveled across the nation and preached to the public. He was able to personally connect with his audiences and was described as "down to earth" (Ames History). "His plain, direct speech appealed to ordinary people" and made his message attainable for the general public (Longden). Sunday encouraged churches to be active in their communities and in social issues. He once said that "a church is not dropped down on a street corner to decorate the corner" (Ames History Museum). He was active in social issues, supporting labor unions, sex education and women's right to vote. Sunday strongly supported the prohibition movement and is quoted as saying "whiskey and beer are all right in their place, but their place is in hell" (Mass Moments). Sunday was integral in the passing of prohibition in Michigan and Colorado in 1914 and 1916 respectively. 
Although Sunday was generally loved by the public, he did face criticism from conservative church leaders. They disapproved of his language and delivery of sermons. One specific minister stated that ""any cultivated person [should be] terribly revolted by the extreme sensationalism, the coarse jokes, the super-slang . . . and the dancing dervish contortions of the revivalist, where perspiration seems to be confused with inspiration." Despite these negative opinions, Sunday had a successful career as a "baseball evangelist" (Ames History Museum). In total, he held over 300 revivals across the nation before his death in 1935. The largest revivals occurred in Des Moines, Boston and New York City. Sunday himself estimated that he spoke with 100 million people during his lifetime, convincing approximately half a million to become Christians. Through his sermons and baseball career, Billy Sunday made Christianity relatable and accessible to the American public. 
Sources
Billy Sunday, Ames History Museum. Accessed June 18th 2020. https://ameshistory.org/content/billy-sunday.
City of Nevada Historic Preservation Committee. Billy Sunday Field, Going the Social Distance 2020. Accessed June 18th 2020. https://www.goingthesocialdistancenevada.com/billy-sunday.
Corbin, Kris. Personal interview. 19 June 2020.
Evangelist Billy Sunday Draws 70,000 to Boston Revival, Mass Moments. Accessed June 18th 2020. https://www.massmoments.org/moment-details/evangelist-billy-sunday-draws-70000-to-boston-revival.html.
Knickerbocker, Wendy. Billy Sunday, Society for American Baseball Research. Accessed June 18th 2020. https://sabr.org/bioproj/person/billy-sunday/.
Longden, Tom. Billy Sunday, Des Moines Register Data Central. Accessed June 18th 2020. https://data.desmoinesregister.com/famous-iowans/billy-sunday.
Image Sources
Nevada Community Historical Society

Ames History Museum

Mass Moments

Ames History Museum.

Additional Information