The Doneen Building
Introduction
Pioneer farmer, mule breeder and land developer John Doneen purchased real estate in Wenatchee and Douglas County during the late 1800s and early 1900s. One parcel was the corner of Palouse Street and Wenatchee Avenue containing four wooden buildings. One was a water company office from 1902 to 1921, when it became a feed and seed store. A second building was a photo gallery from 1902 to 1908, when it became a cobbler shop and then a meat market. The third building offered office space from 1902 to 1928. The fourth had served as a restaurant, the a cobbler shop in 1905 then a restaurant again from 1909 to 1928 The Claasen-Weinstein Investment Company leased land on the northeast corner of Wenatchee Avenue and Palouse Street from John Doneen for the construction of the Doneen Building. In 1929 they signed a lease for 99 years at a cost of $600,000. After Doneen demolished the wooden shops, the partnership erected a large stone block and terra cotta six-story building on the site for $250,000 to be rented to medical and other business clients. Work began on the six-story building on April 22, 1929. The Doneen Building, designed by Earl Morrison and constructed by Howard S. Wright, was the first steel and concrete structure in Wenatchee and contained an elevator and parking garage. It demonstrates elements of Art Moderne, Gothic, Art Deco and Beaux Arts architectural designs popular in the late 1920s. By 1929 standards had modern equipment and featured terrazzo floors, and terra cotta ornamentation at the top. A service garage was in the basement. An open house was held on October 29, 1929. It was billed as the medical, dental, and commercial center of North Central Washington. Puget Sound Power & Light had its offices on the first floor.
Images
The Doneen Building by artist Betty Bell.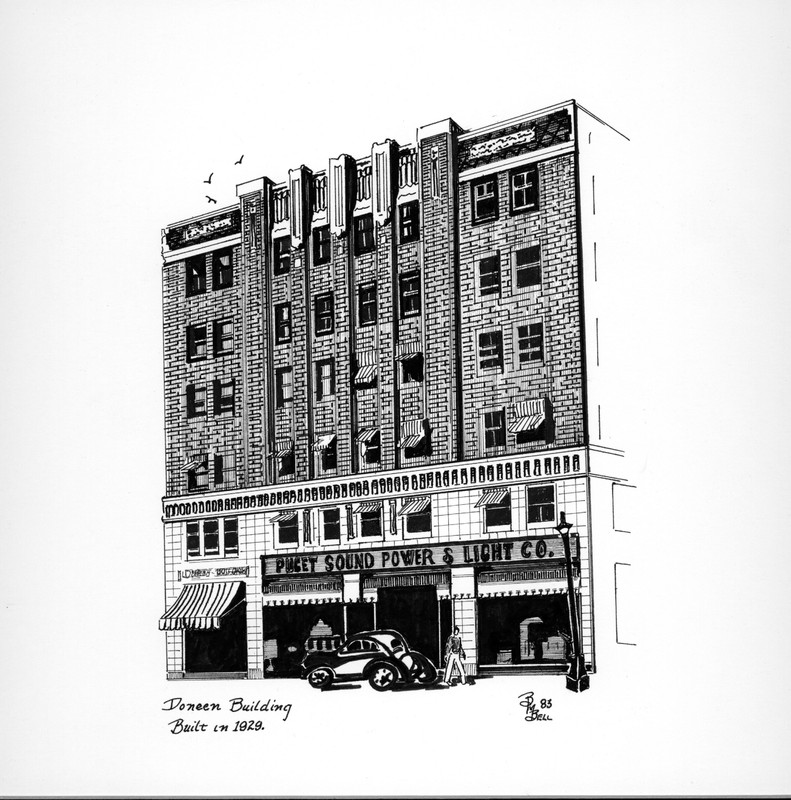 The Doneen Building and it's longest occupant Puget Sound Power & Light
Backstory and Context
Schools Depended on the Band Box
For 37 years, school band programs throughout North Central Washington depended on Jim Mathews and his Band Box music store in Wenatchee. The store's school music service provided instrument sales, rentals and repairs; accessories; sheet music; lessons; and uniforms, thanks to Mathews' tireless travel between Yakima, Oroville, Ritzville and Leavenworth.
"I had to keep a presence with all the schools," Mathews recently said. "Personal contact was crucial. My business was based on trust, respect and prompt service." He was constantly on the go in his large Ford delivery van, paying calls on music teachers and school officials: dropping off rental instruments, picking up instruments to be repaired, delivering music stands, giving advice.
"When I'd call on a band director, he might have a student in his class who was having trouble with a trombone or saxophone," Mathews said. "I'd take the kid into a practice room, listen to him, spot the problems and get the kid on the right track. This was appreciated."
Mathews was born in Wenatchee and started playing music at age nine when his father gave him a little cornet. He graduated to a full-sized trumpet, which he played in the Wenatchee High School marching and concert bands (as trumpet principal chair). At Washington State College he majored in music education and played in the symphonic, marching and pep bands and the orchestra.
From 1959 to 1961 he worked as a music instructor in the Manson schools, then spent four years at Eastmont School District as supervisor and director of bands. He moved to Seattle in 1964 to study the business side of music. While calling on a college friend who directed a junior high school band in Bothell, Mathews met his buddy's co-worker: an English teacher named Lorrie Frazier. He was smitten, and asked her to the Seattle Opera that night. This date led to a whirlwind courtship, happy marriage and lifelong business partnership.
John Taylor of Barnhart Music in Wenatchee offered Jim a job as "road man" (servicing schools) at double the wages he was earning in Seattle, so the couple moved to Wenatchee in November 1964. Three months later, Taylor and his wife Eileen sold the Mathewses half of the store. The Taylors continued to sell pianos, organs, guitars, amps, TVs and stereos upstairs while the newcomers took over the band instruments and educational side of the business, operating in the basement.
The two couples shared the Barnhart Music space at 17 South Wenatchee Avenue for two years. This building later housed LeRoi's Jewelers and sported a large, handsome clock on a pole outside the entrance. Bob Yetter, a well-known local music educator, became the chief repairman while Jim was the schools front man and Lorrie was office manager. 
In an effort to attract mid-summer shoppers in the mid-1960s, Wenatchee downtown businesses held a series of "Crazy Days." Merchants would put tables out on the sidewalks and fill them with items whose prices had been slashed. The owners and employees of Barnhart Band Box got the idea of forming a German band and parading around the streets to drum up business. Mathews played cornet, John Taylor and Kirk Horton played clarinet, Bob Yetter was trombone, Ray Bowers beat the bass drum, and friend Harold Ottison played tuba. Lorrie Mathews and Carol Siler donned dirndls and held a banner with the store's name on it; the men also wore Bavarian clothing. "It was a blast," Jim laughed. "We marched through restaurants and bars, too. One tourist in the Cascadian Hotel bar said, 'Wow, Wenatchee is a really fun town!'"
The Taylors retired from the music business in 1966 and Jim and Lorrie moved to the Doneen Building at 5 North Wenatchee Avenue, on the corner of Wenatchee Avenue and Palouse Street. They rented most of the street level space from the Claassen Weinstein Company and renamed their store the Band Box. The business expanded to include guitars, amps and other instruments.
After 11 years, the Mathewses wanted to buy a building of their own. "The 88-cent Bonanza store was leaving the old Rialto Theater building, owned by Dave Gellatly Senior," Jim recalled. "Dave was a great guy, played the xylophone. He sold the building to us in 1977. I lured a contractor into partitioning it." The couple now had 12,000 square feet at 5 South Wenatchee Avenue and leased 7 South Wenatchee Avenue to various businesses, including Paula's Bridal Boutique.
The move brought back fond memories for Mathews. "As a kid I spent many a Saturday afternoon with my buddies at the Rialto, eating popcorn and watching movies all afternoon," he said. "Green Hornet, Batman, Tom Mix, and plenty of cartoons – all for 12 cents; it was great." 
The Band Box spent 34 years at this site, which came to be known as the Mathews Building. Business was so good, thanks to Jim's attentive service to schools around the region, that he opened a second store in the Tri-Cities. This store operated for 10 years. At the height of Band Box business, in both locations, Jim and Lorrie had 17 employees – their children, Pete and Tanya, among them.
Their chief competitor was Don Lamphere, who had inherited Belmont Music from his father, Beany. "Don had a good store, too, and was a hard worker as well as a great musician and teacher," Mathews said. "We were head to head on the school instrument service." He felt that having two music stores within the same block "couldn't be better" for business.
Throughout its tenure, the Band Box provided free emergency repair service and instrument and equipment loans to band directors and students participating in Washington State Apple Blossom parades. 
Mathews continued to play trumpet as an adult. One day his friend Glenn Kelly, a music educator and conductor of the Wenatchee Valley Symphony, said to him, "Wenatchee ought to have a British brass band!" This band form originated in Great Britain in the 1840s and consists of 27 to 29 brass and percussion instruments. At the time, there were only six authentic British brass bands in the United States.
Kelly had participated in a summer brass band workshop at Marlboro, England, and had developed some contacts. Mathews, a dealer for (among others) the prestigious Boosey and Hawkes instrument company, worked through his field area representative to meet with the company president in London.
Jim and Lorrie and their son Pete piggybacked onto a Wenatchee church choir's trip to Great Britain during the summer of 1983. Jim and Pete managed to play in some brass band concerts, which they enjoyed very much. Jim had lunch with the president of Boosey and Hawkes, who agreed to provide 22 brass instruments to the fledgling Wenatchee band on a long-term lease at reasonable prices.
When the shipment arrived, the Wenatchee British Brass Band had an "instrument opening" public concert. The players Kelly had recruited sight-read the music and performed on new instruments they had never handled before. The concert was a great success and led to many years of popular performances throughout the state, including Seattle Mariners games. Thanks to concert receipts and donations by such organizations as the Alcoa Foundation and Asamera Minerals, the band retired its $32,000 debt to Boosey and Hawkes in the 1990s.
Mathews played trumpet with the Wenatchee British Brass Band for the first several years, but the band's rigorous travel schedule made it too hard for him to continue playing and run his business. He remained on the board of directors for 15 years, including serving as board chair. The band suspended operations in 2002.
Lorrie Mathews died in 1998. Jim closed the Band Box in 2002 and sold the building a year or two later. By 2004 he had expanded his family's vacation home in the Chelan area, so moved into it full-time after selling his Wenatchee home. He now enjoys puttering around on home-improvement projects, listening to music and fly fishing. 
Sources
Polk Directories. Wenatchee, WA. 1907-2006.
Rader, Chris. Schools Depended on the Band Box. The Confluence. October 1st 2013.
Image Sources
Wenatchee Valley Museum & Cultural Center Collection # 89-36-12

Wenatchee Valley Museum & Cultural Center Photography Collection # 009-70-67

Additional Information