Deer Lodge County Courthouse
Introduction
Situated prominently at the southern end of Main Street, the Deer Lodge County Courthouse has served as the seat of county government since its construction in 1900. It was added to the National Register of Historic Places in 1978 for its architecture and role as a government facility. Architects Charles F. Bell and John N. Kent designed it in the Neoclassical style. Notable features include a buff-colored sandstone exterior, and a large two-tiered domed tower with arched and circular windows, an arched main entrance with Ionic columns, and a large arched window above the entrance with a stone balustrade. The interior features an ornate staircase, decorative detailing, and frescoes and county seals painted on the dome by artists from Milwaukee, Wisconsin.
Images
Built in 1900, the Deer Lodge County Courthouse is a fine example of Neoclassical architecture. It continues to be the seat of county government.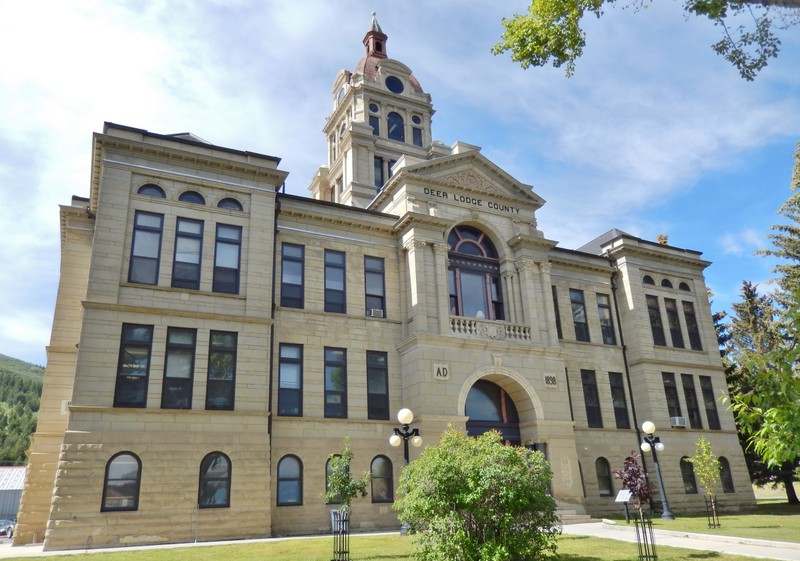 Backstory and Context
Deer Lodge County was established in 1864 when the Montana Territory was created. It was one of the state's nine original counties (Montana didn't become a state until 1889). The county was named after the valley in which it is located, what Indians called the "Lodge of the White Tailed Deer." The first county seat was located at Silver Bow before being relocated to Deer Lodge City in 1867. Anaconda became the county seat in 1896, by which time the city had grown tremendously as a result of the thriving mining industry. The planning to build the current courthouse got underway in 1897 and, as noted above, it was completed in 1900. The main courtroom is located on the third floor, as are the judge's chambers, jury rooms, and the court reporter and clerk's rooms.
Sources
"Deer Lodge County Courthouse." The Historical Marker Database. Accessed June 16, 2020. https://www.hmdb.org/m.asp?m=128113.
DeHaas, John N. "Deer Lodge County Courthouse." National Park Service - National Register of Historic Places Nomination Form. December 29, 1978. https://s3.amazonaws.com/NARAprodstorage/lz/electronic-records/rg-079/NPS_MT/78001681.pdf.
Image Sources
The Historical Marker Database

Additional Information