Wabash Avenue YMCA
Introduction
After its completion in 1913 this YMCA became a center for the assistance of newly arrived Southerners. They offered things like educational training, job training, and housing programs. The YMCA was being used by all classes and colors in the beginning.
Images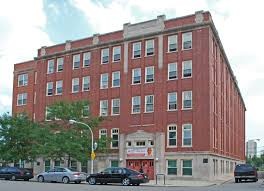 Backstory and Context
George Williams and 11 friends started to organize the first Young Men's Christian Association (YMCA), a refuge of Bible study and prayer for young men seeking escape from the hazards of life on the streets in the city of London, England in 1844. A man named Thomas Sullivan created the first YMCA in the Old South Church in Boston, MA in 1851.
The Wabash YMCA was a major social and educational center in the "Black Metropolis", the center of Chicago's African American culture in the early 1900s. Funds for its construction came from Julius Rosenwald, chairman of Sears, Roebuck and Company, who was known for his support of YMCA's throughout the country.
The Black Metropolis district thrived through the 1920s, but competition from white-owned businesses and the effects of the Great Depression led to the closure of many Black owned businesses. Declining membership due to businesses and residents moving out of the area resulted in the buildings deterioration and closing in 1981. However, in the late 1990s a nine-million dollar renovation project was undertaken to return the building to its rightful condition. They offer fall, winter, spring, and summer programs for the YMCA for all age groups now.
Sources
http://www.ymcachicago.org/wabash http://www.ymca.net/ Light in the Darkness: African Americans and the YMCA, 1852-1946 By Nina Mjagkij. This book speaks about how racial tensions and divides grew and were created in urban YMCA.
Additional Information