Denver Martin Luther King Memorial Statue
Introduction
Dedicated in 2002, this 8½-meter tall Sierra White granite and bronze memorial honors Dr. Martin Luther King Jr. Artist Ed Dwight depicted King symbolically standing on the shoulders of influential leaders and historical figures in the global movement for civil and human rights. This is the second monument erected in honor of Dr. King in City Park, the first being dedicated in 1976 which depicted Martin Luther King Jr. and Emmett Till. The artist's decision to place Till and King together led to conversations and conflicting opinions and was later placed within a nearby museum in Pueblo.
Images
Current Martin Luther King Jr. Statue by Ed Dwight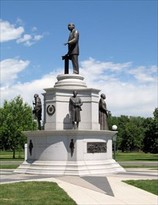 Original Statue by Edward Rose III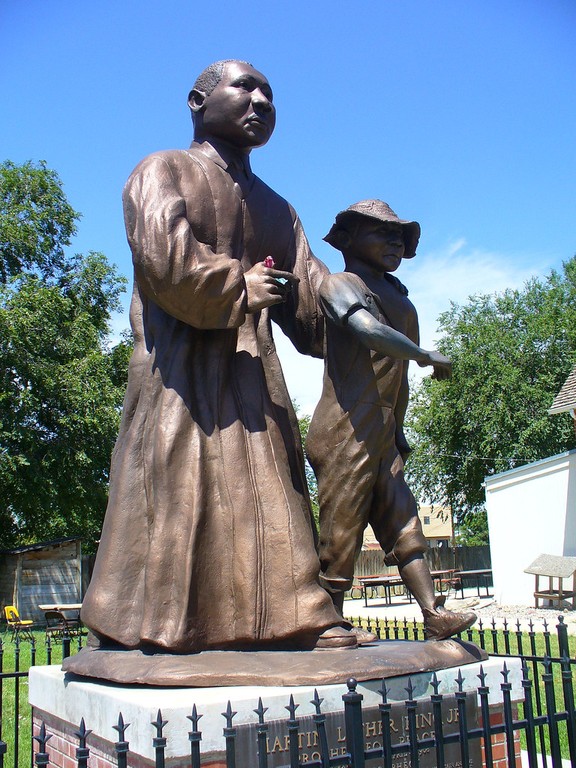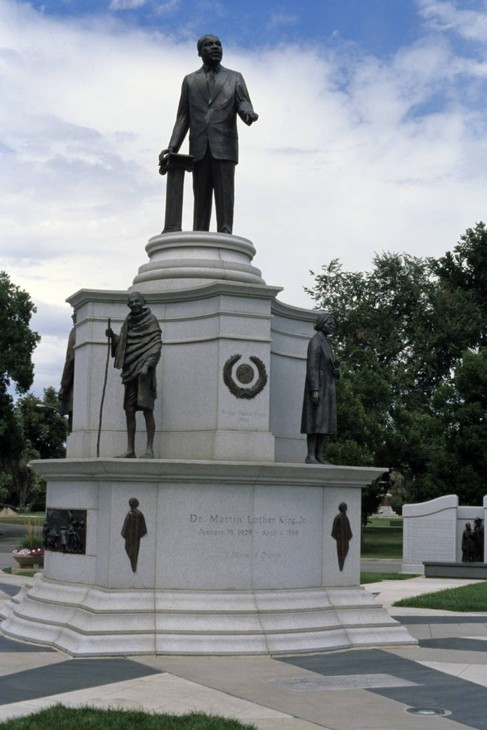 Backstory and Context
This statue replaced a previous monument honoring Martin Luther King Jr whihc had been placed in City Park in 1976. In that work, artist Edwin Rose III chose to depict Dr. King and Emmett Till, a Black youth who was murdered by white supremacists in 1955. The statue was entitled "Martin Luther King Jr., Prophet for Peace and was located in City Park for about two decades until it was moved to the basement of the Denver Art Museum. The statue was eventually transferred for display at the Martin Luther King Jr. Museum and Cultural Center in Pueblo.
The current monument is a three-tiered sculpture. A bronze Dr. Martin Luther King Jr stands on a neoclassical-style pedestal. Beneath him are four key figures who fought for human rights: Mohandas Mahatma Gandhi, who demonstrated a non-violence approach to protesting British rule in India, Rosa Parks, who sparked a 381-day boycott of the Montgomery transportation system in 1955 by peacefully protesting for the right of all passengers regardless of race, Frederick Douglas, a formerly enslaved man who became an abolitionist, political figure and freedom writer who influenced Dr. King's speeches; and Sojourner Truth another former slave who also fought for the abolition of slavery and rights for minorities and women. On the pedestal below these figures are two bronze reliefs that highlight African American history from slavery to the 1960s. The memorial site is an annual meeting place for the Denver Parade every January. 
Sources
Culver, Virginia . Statue stirred controversy, The Denver Post. May 6th 2009. Accessed June 16th 2020. https://www.denverpost.com/2009/05/06/statue-stirred-controversy/.
Martin Luther King Day, Denver Mile High City. Accessed June 16th 2020. https://www.denver.org/things-to-do/fall-winter/denver-mlk-day/.
Noel, Thomas J. Martin Luther King Jr Memorial, The Denver Public Library. January 1st 2006. Accessed June 16th 2020. https://digital.denverlibrary.org/digital/collection/p15330coll14/id/55/.