Robert Burns Memorial
Introduction
Donated to the city by the Caledonian Club No. 1 in 1909, this statue depicts Scottish poet Robert Burns. Regarded by many as the national poet of Scotland, Burns is the author of many works including "Auld Lang Syne" which is sung annually by millions to signal the closing of the year. This poet and writer from 18th century Scotland was selected by Denver's Caledonian Club as the centerpiece of this monument and reflects the way that people of Scottish ancestry often used Burns as a symbol of their nation at the time of this monument's dedication. Burns is known for his work that has inspired many, and his poems and folk stories are still recited to this day. Near the statue can be found several static displays of weaponry from the Civil War, some of which were donated by the Grand Republic Army in 1897.
Images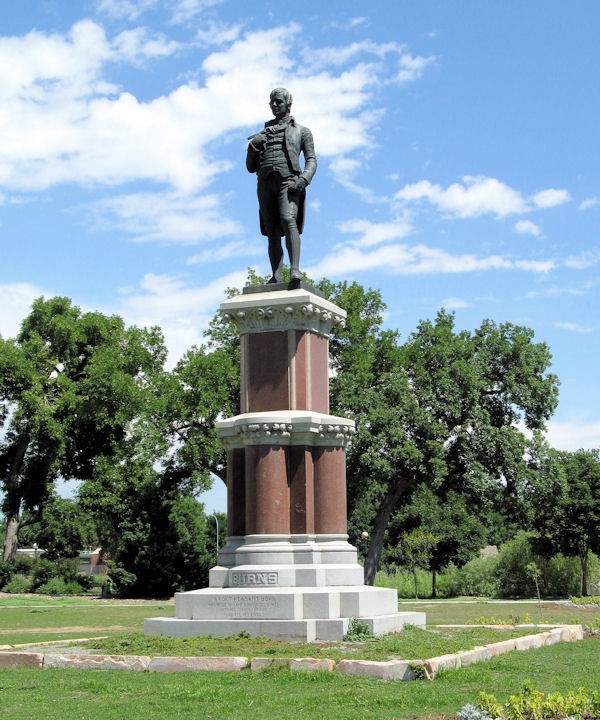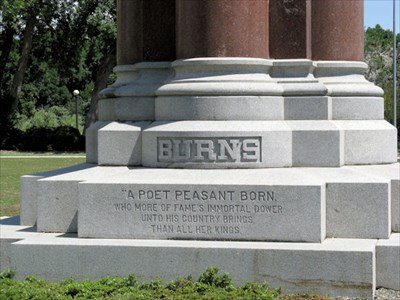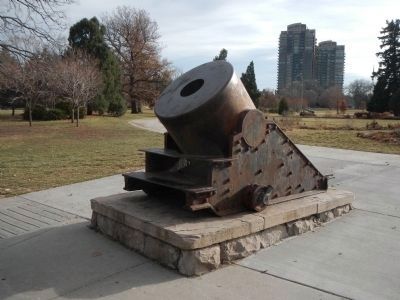 6.4inch Navy Parrott Rifle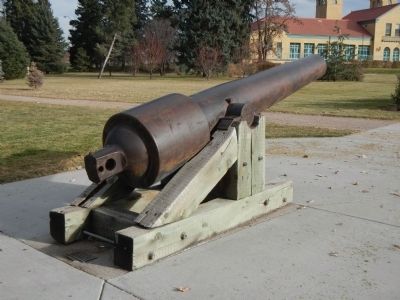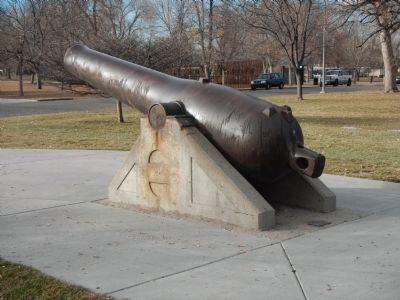 Backstory and Context
Erected in 1904 by the Caledonian Club No. 1, this statue was built to commemorate the club's rich history. The selection of Burns as the centerpiece reflects the way American citizens of Scottish heritage lionized Burns and sought to capitalize on his global prestige as a positive representation of their organization and members. Spearheaded by club member and board of Supervisors Of Denver member John Duff McGilvray, the project commissioned artist William Grant Stevenson to create the statue. The statue and its construction cost the Caledonian Club No. 1 a total between $8,000 and $10,000. 
Surrounding the Burns statue is a display of Civil War artillery that were donated in 1897 by the Grand Army of the Republic. The display that surrounds includes three pieces of weaponry, a 13-inch seacoast mortar, an 11 inch dahlgren, and a 6.4 inch navy parrott rifle.
Poet Robert Burns was born in Scotland on January 25, 1759. He came from a family of tenant farmers, part of the lower class in Scotland. In his early life lost his father, who died bankrupt and exhausted, driving Burns to resent the rigid class system of Scotland at the time. Burns is best known for a pioneer of the Romantic poetry movement, writing lyrical poetry and rewriting Scottish folk songs. In his later life, Burns became involved in several illicit relationships and had multiple children out of wedlock.
The statue has an inscription that reads:
A POET PEASANT BORN,
who more of fame's immortal dower
unto his country brings,
than all her kings.
Sources
Burns Memorial , Denver Public Art. Accessed June 18th 2020. https://denverpublicart.org/public-arts/robert-burns-memorial-3/.
Smithsonian American Art Museum. Accessed November 19th 2020. https://siris-artinventories.si.edu/ipac20/ipac.jsp?session=121514M179F9W.3098&profile=ariall&source=~!siartinventories&view=subscriptionsummary&uri=full=3100001~!14468~!0&ri=6&aspect=Browse&menu=search&ipp=20&spp=20&staffonly=&term=Stevenson,+William+Gran.
Swackhammer, Barry. G.A.R Memorial, Civil War Artillery. December 19th 2010. Accessed June 18th 2020. https://www.hmdb.org/m.asp?m=61985.
Robert Burns, Biography. March 6th 2016. Accessed June 18th 2020. https://www.biography.com/writer/robert-burns.
Additional Information